Share the Fun – Start a Co-op
I've had the blessing of being part of (and sometimes running) different sized co-ops for over 20 years. If you ask my now grown children, they will tell you that the things they did and learned in our co-ops are some of their best homeschooling memories. I can tell you that the relationships I've made with other moms at our co-ops are some of the best and longest friendships I have. So how do you start a co-op? Here are a few tips to help you share the fun!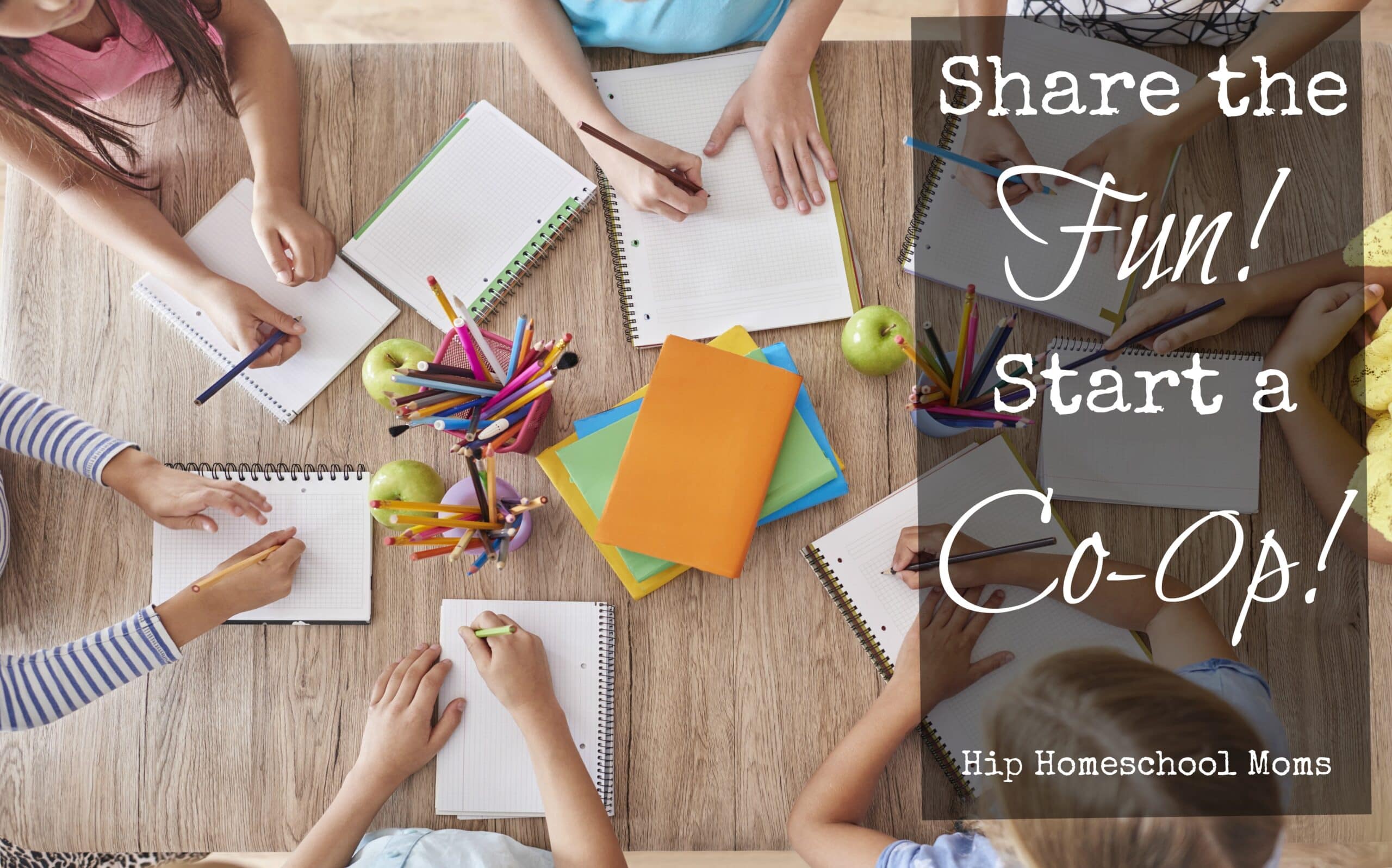 Start by networking. Find one to five other homeschooling families who are interested in getting together on a regular basis. My first co-op sprang from a group of ladies in my church. We all had children around the same age ranges and several of us had already planned regular play dates for our children together. The homeschool co-op just naturally flowed from the play group. You can also look for interested families at your local homeschool association or even the library. Co-ops that work best consist of families that have similar goals in mind.
Have an organizational meeting. Get together with your interested moms or dads and talk through a few things.
– Decide what type of co-op you want to have.
– Academics only—English, science, math, history
– Extras only—art, gym, world view, foreign language, drama, clubs
– Combination
– Decide on a place to meet, time to meet, and frequency of meetings.
– Once you determine what subjects you'd like to cover, decide who might lead them.
My first co-op, when my oldest was in the elementary years, met in my home. You can choose to alternate houses for your co-ops or check with the local library, your church, or the community center about using a couple rooms on a weekly (or biweekly) basis. We had five families in our co-op, and we met weekly from 9 AM to 3 PM from September through April (although we did a few field trips together in May). We decided to have a combination co-op where we covered the academics as well as some art and physical fitness. We also incorporated some drama into our language arts and history classes when we could. Everyone packed a lunch, and of course we had recess!
Have a planning day (or retreat!). Once you've decided what type of co-op, where, when, and who, it's time to plan a little—and to pray. You'll need to decide what curriculum you want to use (or not use) for the subjects you'll do together. We did unit studies for history, science, and language arts using just library resources, and we also chose quite a few different curriculums depending on the year. We had some classes together with all of the students, and some we separated into smaller age groups. Since each mom was only focusing on one or two subjects, we could really add a lot of depth to our topics and give older students a bit more of a challenge in combined classes. During the week, if one of my children had a question about anything in a subject I wasn't "teaching," I knew who to call if I didn't know the answer!
For our five-family co-op, we (the moms) were able to go away for an overnight retreat. We'd schedule a Saturday-Sunday in July or early August when our husbands (or our parents) could spend quality time with our children. We would pack up all of our curriculum and head to one location. Sometimes it would be one of our homes if the rest of the family was away; other times we just went camping. We'd spend a good portion of each day working through how much we wanted to cover in each subject, what the students would do at home each week, and what fun group things we'd do together to facilitate learning. Of course each of us would concentrate on the subject (or two) that we were "teaching," but having all of us there for brainstorming made planning easier and so much more fun. And we always saved some time for stress-free activities—to reward ourselves for accomplishing so much! We wouldn't always plan through the whole year, but our planning retreat gave each of us a solid overview which made implementing things during the school year much more seamless.
Don't forget to plan what your co-op day will look like. We were careful to plan in a few minutes of down-time between classes to get out the fidgets. And keep in mind that you may not cover everything you planned during your planning retreat. That's okay! It's important to be flexible. We were always tweaking our plan to fit the needs of our children—one of the many benefits of homeschooling!
Enjoy your co-op day and each other! Since each of us had chosen a subject we either knew well or wanted to learn more about, we really enjoyed "teaching" it to our children. Our kids seemed to catch our enthusiasm too. In fact, my children are all better and more enthusiastic writers than I am, and I owe that to the wonderful moms who shared their knowledge and joy of writing. We moms found that we really enjoyed the change of pace co-op day provided and that our children loved the opportunities for group activities and just being together. So co-op day quickly became an eagerly anticipated day of the week for my four children. One caution, though, be mindful of start and end times so the co-op doesn't become a burden to the host family if you decide to meet in each other's homes.
A note on larger co-ops. Our co-op grew until we started meeting in a church once every two weeks for more extracurricular type classes. We'd meet just in the morning for 3 periods. We had about 40 families join and each mom would "teach" one period, help in another class for one period, and have one period off to socialize with the other moms.
As my oldest got to the middle school years, I knew that I needed more help with certain subjects if I wanted to continue homeschooling through high school. It was then that I got involved with starting a more academic weekly co-op. In this model of co-op, families would pay a fee per class and could take only one or as many classes as they wanted. We had as many as 80 families and 200 students attend this co-op in a year. As the director of the co-op, I hired teachers (paid a nominal salary from the class fees collected). The teachers were usually moms, dads, or professionals who had expertise, training, or experience in their subject area. The teachers instructed weekly and then assigned work to be done at home the rest of the week. In this co-op model, parents didn't have any real co-op responsibilities except for tasks that they choose to volunteer for (often in exchange for tuition costs). This enabled us to have a mom's prayer and fellowship time each week and allowed younger children to use the gym facilities. Explaining how to organize this type of co-op would be another post, but I've included our most recent schedule to give you an idea.
A note about curriculum (and a shameless plug). I have used many different curriculums over the years in my co-op experience. Some work well for the group setting but are difficult for the students to use on their own during the rest of the week. Others work well for individual student work but require a great deal of effort on the part of the co-op teacher to supplement for group learning. Apologia curriculum, however, stands out as one that works well in both instances. I've used their science curriculum in my co-op science classes and their Worldview/Bible series is another clear standout. Finally, Apologia's newly released language arts curriculum (developed by Debra Bell—our friendship started at the co-op we both taught at), Writers in Residence and Readers in Residence, is designed with a co-op component. I encourage you to check out Apologia's award winning curriculum when thinking about your homeschool co-op.
Co-ops can come in all different shapes and sizes. Working with a few other moms, you can build a co-op that meets your collective needs—sharing the load and the fun in the process. Through our different co-ops, my children and I have made wonderful homeschool memories and many lasting friendships!
Vicki Dincher and her husband, Jerry, homeschooled their four children (all adults, married, and employed in science fields). She holds a master's degree in science and is the author of Apologia's student notebooks (Exploring Creation with General Science, Physical Science, Biology, Chemistry, and Advanced Biology). Vicki has taught high school and college level science since 1996 and currently teaches online with Aim Academy. Though a retired homeschool mom, Vicki stays active in her local homeschool community as a consultant to the co-op she administrated and a board member of Encore! Homeschool productions. Vicki's passion is helping students (and moms) see God's design through science and math. She can be reached at VickiDincher.com.