When Planners Don't Work – What do you do?
This year I have decided not to spend time planning. Previously when I've tried to plan, I've failed miserably, which caused multiple schedule changes and disruptions. So what will I do this year? I'm going to keep a logbook to journal our progress. The logbook will contain goals for our school year as well as specific goals for each month. This year the focus will be goal-setting.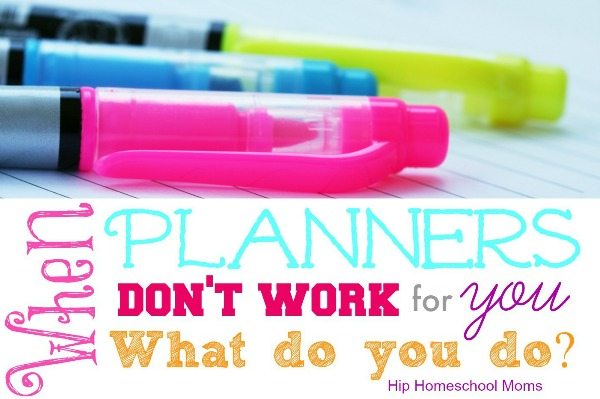 Why does planning not work for me?
I cannot count the times I've bought pretty colored planners! After a few weeks of using them, I realized planning for each day or by the week was too time-consuming, and in reality we got "off track" easily. Monthly plans seemed better, but too many changes still occurred. Let's face it- life happens and plans change. Rewriting plans constantly is NO FUN! Therefore, to avoid the feeling of discouragement, goals rather than lesson plans will be my focus.

Why are goals important?
As I was praying about our upcoming year, I realized there was no motivation to plan. In that regard, I was full of dread. I wasn't sure how I should plan; there seemed no starting point. That's when the Lord whispered to my Spirit, directing me that I needed to find priorities. I realized goals were needed to help keep the year "on track," and I could motivate myself to continue moving forward even when we hit rough patches throughout the year.
Without goals, one can do too little; without goals, one can do too much. Goals encourage focus on what is important. Moreover, specific goals can ensure that required academic topics are mastered as well as the desired Spiritual studies.
A homeschool mission statement as well as a set of clearly-defined goals will help in over-commitment to a myriad of wonderful ideas which, in reality, do not aim at any specific academic vision. Additionally, by having written goals, each task is part of the vision and will not be considered unimportant.
How does one set goals for the school year?
First, return to the goals for your homeschool as a whole. Is there a clear mission statement which focuses on the end result of your homeschool? What is the aim and purpose of this academic year?
Specific monthly goals are key to maintaining an overall mission statement. At the end of each month, return to the goals and measure success. Goals could be divided into categories such as:
Spiritual – Here I outline a plan for discipling, for teaching character, for spending time in the Word, and also for deepening my relationship with the Lord.
Academic – I list areas of academic improvement for each child also including goals in various subject areas. I also include a few topics that I wish to study or research for my own personal growth.
Planning goals for us as homeschool teachers and parents should not be neglected.
Although I've experienced failure with planning, I have found a new excitement which comes with prioritizing goals. Join me in prayerfully setting goals for a successful homeschool year!

Lexi and her husband Justin make their home in the Texas Hill Country where you will find messy art projects, dress up clothes, Nerf battles, piles of books, laughter, and lots of chocolate. She blogs about the challenges and blessings of motherhood and homeschooling 5 children (ages 7 and under) on her blog Lextin Academy.
Items that apply to this article and might be of interest:
Colorful Washi Tape (a different color per section or child)