Classical Academic Press's Writing & Rhetoric
Cassandra was given the opportunity to use and review this writing program with her children in exchange for her honest review. (Psst: They loved it!) Keep reading to learn more about this program, to find a discount code for 20% off all Writing & Rhetoric curriculum including already discounted bundles, and to enter for a chance to win!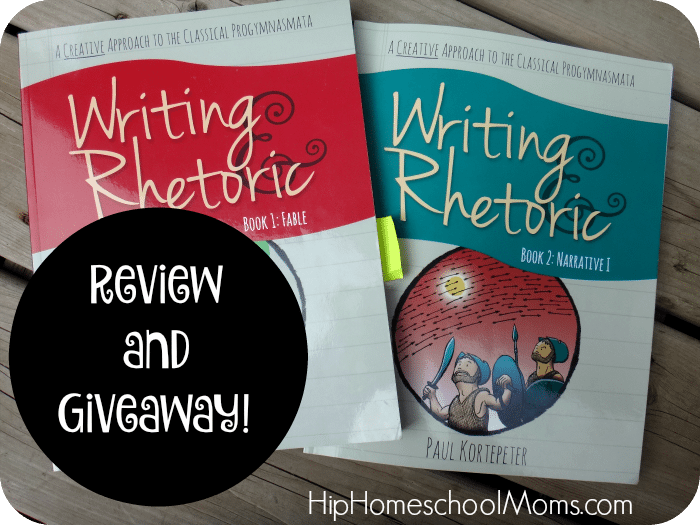 Writing has been one of the most challenging subjects for me to implement into our homeschool. I find this a bit funny, considering I love to write and have been an avid writer since I was very young.
For this reason (and because it just looked so great!), I was thrilled to review Writing & Rhetoric Book 1 and Book 2 from Classical Academic Press.
Using Writing & Rhetoric with a student who loves writing:
I used Writing & Rhetoric Book 1: Fable with my daughter. She is nine years old and takes quite easily to writing. She enjoys reading and narration and coming up with interesting and creative ideas for stories. She also enjoys constructing stories using her language skills. She's a pretty easy going girl when it comes to writing instruction. (She's essentially the perfect student who happily does anything I ask!) Because we implement much of Charlotte Mason's philosophies into our home, we hadn't done much formal writing instruction beyond daily dictation and simple written narrations (a few sentences) before this year.
Using Writing & Rhetoric with a reluctant writer:
I used Writing & Rhetoric Book 2: Narrative 1 with my son. He is eleven years old and is a very reluctant writer. He's the type of guy who counts every letter during his copywork assignments and cringes at the thought of coming up with creative writing ideas or really ANY writing ideas. He is wonderfully creative in many ways apart from writing (think constructing the Taj Mahal out of Legos from scratch…) but when it comes to the written word, he really does not enjoy the process.
It is interesting to have two children who are so very different in their thoughts about writing try the very same program. The results were just as interesting! (Psst! They both really enjoyed this program!)
A little bit about the structure of Writing Rhetoric:
Writing & Rhetoric is a Classical writing program. It starts with Book 1 (grades 3/4) and goes all the way to Book 12 (grades 8/9), with such titles as Fable, Chreia & Proverb, Comparison, Impersonation & Description, Thesis, Attack/Defend a Law.
It is a step-by-step, open and go program that walks you and your child through the process of writing well and understanding the many factors of the written word. Each lesson has many steps that are all slightly different and focus on unique skills related to understanding writing and the writing process, including grammar and vocabulary (and even some Latin roots!).
Writing & Rhetoric Book 1: Fables focuses mainly on using Aesop's fables as a springboard for the lessons. The children narrate from fables, learn grammar and sentence structure from these fables, and rewrite them using either amplification (making them longer, adding detail), summary,or by completely changing the characters and/or setting of the fable but keeping the moral.
Writing & Rhetoric Book 2: Narrative 1 expands to include many different types of narratives (stories). This includes: parables, myths, historical fiction, and a few fables. Again, students are using these various stories as the springboard for each lesson. Every lesson has a new story and a new style of story and focus. I enjoyed the mix of the various types of writing, especially for my son (the reluctant one!).
A Closer Look at the Lessons and How We Used Them
Each lesson includes a mix of the following 'parts':
Narration/Tell It Back (creating a natural sense of outline/sequence)
In this section, we are reading a fable, story, article, historical narrative, etc., and the student is expected to narrate back what she heard or learned. This is a Charlotte Mason/Classical method used to enforce comprehension and attention skill and also to lay the foundation for good oral and written skills.
In Book 1 (Fables) this included fables such as, The Lion and the Mouse, The Crow and the Pitcher, The Mice in Council, and The Dog and Her Reflection. In Book 2 (Narrative 1) this included stories like The Parable of the Prodigal Son, The Parable of the Lame Man and the Blind Man, Athena and Arachne, and The Brave 300.
Because Narration is something we've been doing for a while, this came fairly easy to both my children. I really enjoyed how it was built into the program – not many writing programs include narration, yet it is (in my opinion) so foundational to writing. It was very helpful to have the oral narration as part of weekly activities, as it made it a must-do. The stories were easy enough to narrate too, which instills a sense of confidence.
I simply read the narrative and asked for a narration, giving the child the first sentence as a starting point. On the narration day, we would often also do some of the Talk About It and Go Deeper activities.
Talk About It/Go Deeper
This is usually a series of questions and tid-bits of information and inspiration to get the child thinking and talking about the story. For example in Book 1 after reading The Lion and the Mouse, we learn the Latin root word for "fabulous" means fable. After reading The Dog and Her Reflection, children consider which adjectives best describe the dog at the beginning and end of the fable. Here we also often talk about which morals might fit a given fable and why. In Book 2, kids are asked to compare and contrast various narratives, talk about issues of morality, and consider development of character and theme. After reading The Lame Man and the Blind Man (A Parable from the Talmud), children are asked why they think the men both needed each other. They also explore the question of whether one man was more responsible for the crime of stealing figs or if they were equally responsible.
The questions stimulate thought and conversation for the children – give them something to 'chew on,' so to speak. This area also encourages comprehension as children contemplate ideas related to the story as a whole.
My kids really enjoyed this part of the lesson, especially my daughter who loves to talk about stories and ideas related to stories. I enjoyed that the questions to stimulate conversation and thinking were provided for me.
I used this section as a springboard for further discussion and also to see how well my children were grasping the concepts in the narratives. It also just got us chatting about a lot of great things – morals, choice of words, ways to express ourselves, feelings and character development, judgement, and making good choices.
Writing Time
This is Copywork and Dictation directly from the story. Copywork is a Charlotte Mason/Classical practice where children copy, word for word, a passage in their best hand writing. Dictation is when children look at a passage in order to consider the spelling and punctuation, and when they are ready, the passage is read to them while they write it (without looking).
Sentence Play, Word Play, and Copiousness
Alright, my children both LOVED these parts of this program. Absolutely LOVED them.
I can't say enough about how these sections have inspired us to really play with words and sentences in a fun and interesting way! Often we take 2 or more days simply doing Sentence and Word Play together because I found it such an enriching activity for both my children. Even my reluctant writer enjoys this part!
I'll give you some examples of the activities so you can understand better what this section is all about.
From Book 1: Fable –
For the Lion and the Mouse, children are asked to finish the following sentence while showing that the Lion is very hungry – "When the hungry Lion came to look at the Bulls, …". For example: When the hungry Lion came to look at the Bulls, his mouth watered as he licked his lips.
For The Ass and His Driver, my daughter played with a sentence by changing words while still keeping the same meaning. This is one of her favorite activities! We started with: The Ass suddenly took it in his silly head to choose his own path. After she worked with it, her new sentence read: The donkey suddenly took it in his foolish brain to choose his own way. (See the difference?)
When working through these assignments, my daughter used the vocabulary she knows as well as a Thesaurus to work with words and learn how to use harder, more interesting words to make her writing more interesting. The idea of copiousness is to add meaningful detail to writing, so we practice inserting adjectives and wording sentences as to make them more descriptive and engaging. A dog swiped a bone from a butcher's shop… turns into: A British Bulldog greedily swiped a huge chicken bone from the little butcher's shop.
From Book 2: Narrative 1 –
For The Rich Fool, children play with the following sentence: Take life easy; eat, drink, and be merry. They are then asked to rewrite it in a different way, still showing the foolishness of the man.
My son also worked with this sentence: I will rip down my barns and make larger ones. Using synonyms and different vocabulary, he created this sentence: I will shoot down my silos and construct greater ones!
The child is also asked to write sentences for the beginning, middle, and end of given stories. This would generally consist of one sentence for each part.
For The Brave 300, my son worked on descriptions. He found synonyms for words like metal, sea, storm, and tremble and used them in writing complete sentences.
This section includes such things as grammar (identifying nouns, adjectives, subject, etc.), sentence structure, finding synonyms for words and using them in proper context, building sentences to convey a point, vocabulary, writing in lists, rewriting to gain a better grasp of structure and flow, and many other skills.
Summary
Just like it sounds, this is where your child learns how to summarize a story or information. This is pretty much my son's favorite thing ever because, well, when you don't enjoy writing – what's better than making it as short as possible?! *chuckle* Here we would look at the narrative and figure out what can be cut without losing the point of the story. Often times, the lesson would ask us to cut it down to only about 6 sentences! This is a challenge but actually kind of fun and a great learning experience.
We cut strips of paper and used them to cover words and sentences until we had only our necessary sentences showing. Then we read through it to be sure it still made sense. Both kids enjoyed this activity.
This helps with narration and with understanding the 'main point' of a story or narrative.
Amplification and Rewrite
This was where my daughter (the little writer) had so much fun. With Book 1: Fable, we used the given fables and added description and detail to make the fables longer and more engaging. My daughter had a ton of fun doing this! She liked to have me type them out, and she added a picture to color or drew her own illustration to go with the story.
An example of a Rewrite activity was to change the story of The Mice in Council by using different animals. My daughter chose to use a shark and fish instead and wrote her fable around that concept.
This is the section where kids are putting into practice what they've learned throughout the other parts of the lessons. They are actually putting pencil to paper and creating their own writing.
Speak It
This included orally retelling their stories and practicing reading aloud things like sayings, poems, rhymes, etc.
Final Thoughts
I am thrilled that we had the opportunity to review this program because it's been a real winner win our home! I would really like to continue using Writing Rhetoric in the future, and my daughter is already asking if she can 'please!' use Book 2 next.
This is a very well thought out, creatively constructed, effective writing program. Not only did I see my kids really thinking and improving their writing skills – they actually enjoyed it along the way!
This program would work very well for Classical and Charlotte Mason homeschoolers but could be used and implemented by homeschoolers of many different homeschool philosophies. It is easy to use, comprehensive, and open-and-go.
I'd highly recommend Writing & Rhetoric to homeschool families with writers of all kinds–those who love to write, those who tolerate writing, and even reluctant writers. My children are both so very different, and yet they both really learned from and enjoyed this program.
Use this discount code when you order:
Use this discount code (hhm20wr) for 20% off all Writing & Rhetoric Curriculum including already discounted bundles!
Or enter for a chance to win: