Did you resolve to cultivate better quality time with your teen in 2018? Or maybe you committed to better self-care? If these resolutions sound familiar, keep reading! As a homeschooling parent, you probably already spend a lot of time reading with and/or asking your teenager to read books for academics. However, I want to encourage you to read some books with your teen in 2018 simply because it's a fun challenge and a great way to grow together!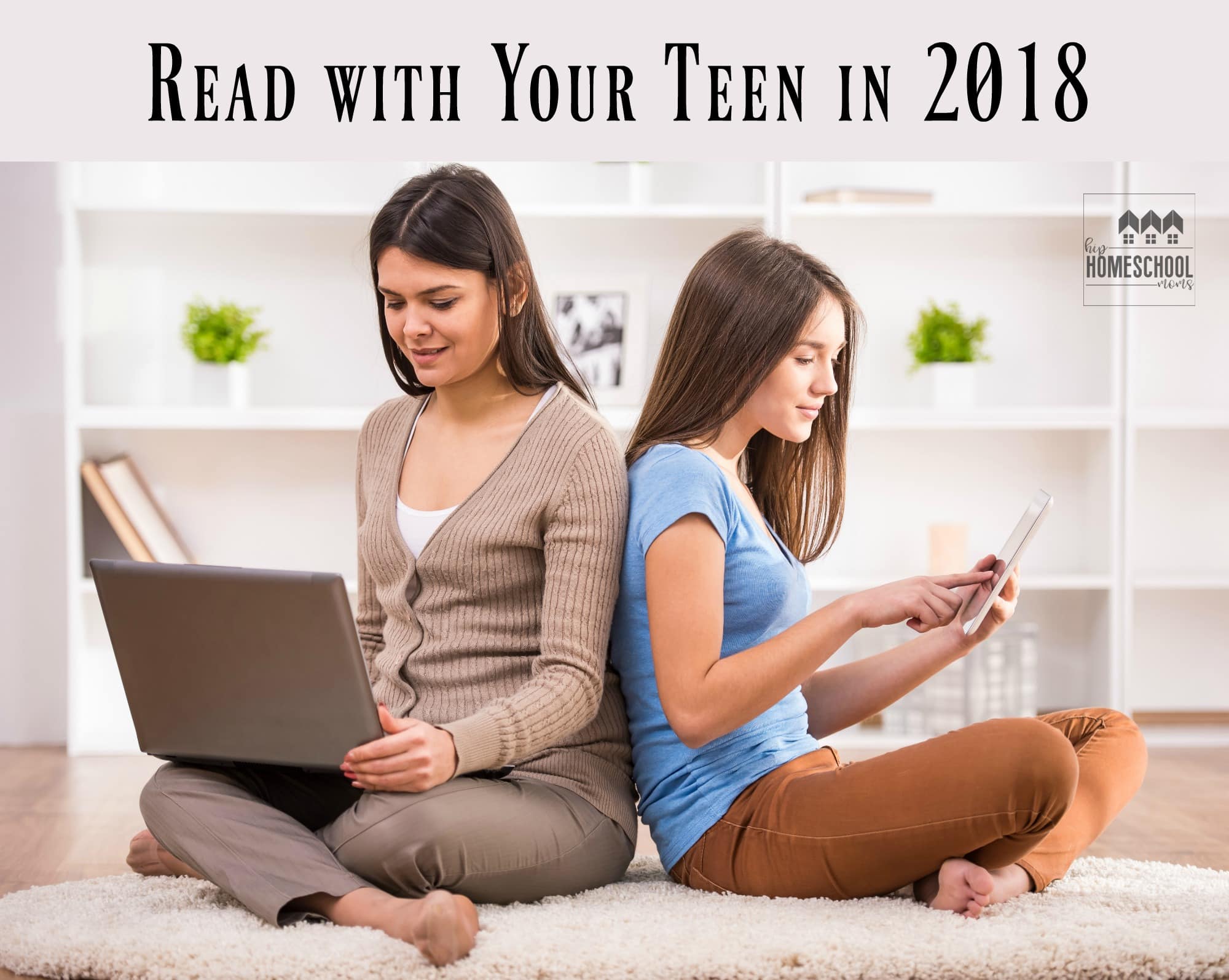 Think of this as a book club exclusively for your teen and yourself! Or if you'd rather, you can share the challenge with another homeschooling family or two and make it a social event!
With that in mind, I'd like to share four types of books (with some specific book suggestions) that are perfect to read with your teen in 2018. My hope is that reading with your teen in 2018 will start your year off well and help you and your teen grow a deeper relationship (and have some fun together!) this year!
NOTE: We suggest taking a close look at the books you and your teen read before making your selection. Different families have different standards and requirements. You might read reviews of the books before choosing to buy them or borrow them from the library. We like to use the book reviews/information on Common Sense Media for this purpose.
A Book from Two or More of These Categories:
a book you loved as a teen
a book that was popular the year you graduated from high school
a book that was popular the year you got married
a book that was popular the year your teen was born
a book you've always wanted to read but never took the time
A Classic with a Recent (or Upcoming) Movie Remake:
Reading a classic with your teen that has a recent (or upcoming) film adaptation comes with the added bonus of a movie date (and popcorn!) Need some specific ideas? The film based on Agatha Christie's book Murder on the Orient Express was released in late 2017. Additionally, the much-anticipated film adaptation of Madeline Le'Engle's fantasy novel, A Wrinkle in Time, comes to theatres in March. Both of these classics would make great choices to read with your teen this year!
A Non-Fiction Read for Self-Growth:
This kind of book will help you grow closer to your teen as you discuss challenges or desires that your son or daughter might be experiencing. From a Christian perspective, I'd recommend Do Hard Things: A Teenage Rebellion Against Low Expectations by Alex and Brett Harris. Similarly, The 7 Habits of Highly Effective Teens by Sean Covey is highly recommended text for teens who want to make a difference. However, there is a plethora of helpful books out there to help teens discover and grow during these formative years. You may just want to head to a local bookstore and ask your teen to find one that resonates most with him or her!
A Novel with a Different Perspective:
This will mean something different to different families. However, the main criteria is to choose a book that is very different for you/your teen. For instance, if you have never read a sci-fi or dystopian novel together, then try it out! Some of my specific suggestions from those genres include: Orson Scott Card's Ender's Game or Louis Lowry's The Giver. Alternatively, you might choose a novel that offers the perspective of a difficult/ historically significant time period, like The Book Thief by Marcus Zusak. The options here are really limitless because there is such a wonderful variety of perspectives available to readers. A new year is a great reason to explore a different way to see the world!
Hopefully these 4 types of books will get you thinking about your own "book club"with your teen/s. Do you like to read and discuss books with your teenager? If so, what books or types of books are on your list for 2018?