Presidential Inauguration Bingo Game Printable
It's been a long couple of years of campaigning, and there was a lot of discussion over who would win the presidential election. At times, it seemed to drag on forever, so it's hard to believe that it's almost time for the president-elect to be sworn into office! Whether you're happy or not about the outcome of the election, it's important for us to teach our children to be actively involved in the political process. And being involved means first being informed.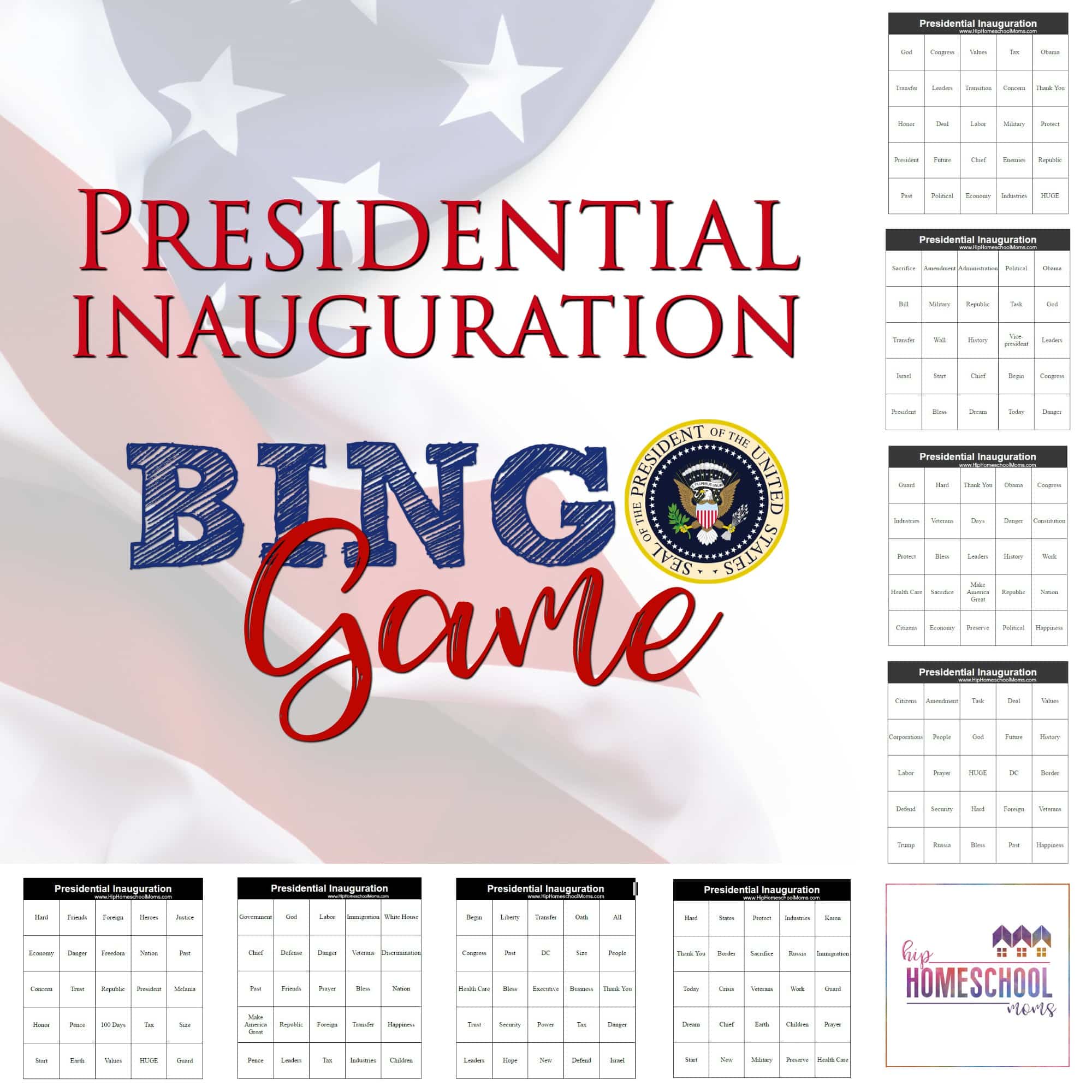 Sometimes, though, it can be hard to find ways to get children, especially younger children, interested in what's going on in politics. It's easy to say that we'd like for our children to listen to the very first speech Mr. Trump will give as he becomes our new president. But how are we going to actually get them to listen? And how can we ourselves pay more attention and really notice what he's saying? We hope this Inauguration Speech Bingo game will be the answer!
We created this game just for you, and you can download it here. Presidential Inauguration Bingo There are eight different cards in the download.
It's no secret that bringing jobs back to America (or keeping them from being moved to other countries in the first place) has been one of the topics Mr. Trump has talked a lot about during his campaign. Another has been health care and what to do about it. And what about unifying the country again? It's almost certain that he'll talk about that important subject. He may talk about Supreme Court appointments.
No matter what he talks about, you'll want your children to listen. To actually pay attention. And you'll want to pay attention as well. After all, how can we hold Mr. Trump (or any other politician for that matter) accountable for his actions if we can't remember what he said he'd do in the first place?
We created these cards by listening to President-Elect Trump's campaign speeches and various other inauguration speeches. You never know what will be in an inauguration speech, so we have taken our best guesses on what might be covered.
Our hope for this game is that it will give you and your children a reason to listen to the inaugural speech and really pay attention. We want to make it fun for you! We want this to be something you and your children remember and talk about in the coming years. If you think about it, many of our children are old enough to remember the election this year, maybe for the first time in their lives. And what a controversial and memorable campaign it has been! So let's make the inauguration something to remember too!
Download your cards above (Or right click the images below and save them to your computer).
Print them out. We made 8 different cards, but use as few or as many as you want.
Mark your cards with buttons, pennies, or cut out paper markers. Anything to cover the spaces.
Win by getting a full line horizontally, vertically, diagonally, or four corners.
Good luck! Take pictures of your homeschoolers playing Presidential Inauguration Bingo and share on Facebook and Instagram!
Use the Hashtags #365homeschool #hiphomeschoolmoms #homeschoolinauguration