Make Your Own Garden Soil Mixture
One of the hardest things about gardening is soil preparation. Preparing your soil is important! You can make your own garden soil mixture–it's much easier than you might think. The hard part is the labor that goes into preparing soil properly. However, if you skip this step, you will regret it later! Although it's laborious, the pay-off is well worth it! Why waste money on plants only to lose them later due to poor soil conditions? The bottom line is that if you don't have good soil, your plants won't grow even if you water well. Proper sunshine for at least a full 6-8 hours is also imperative.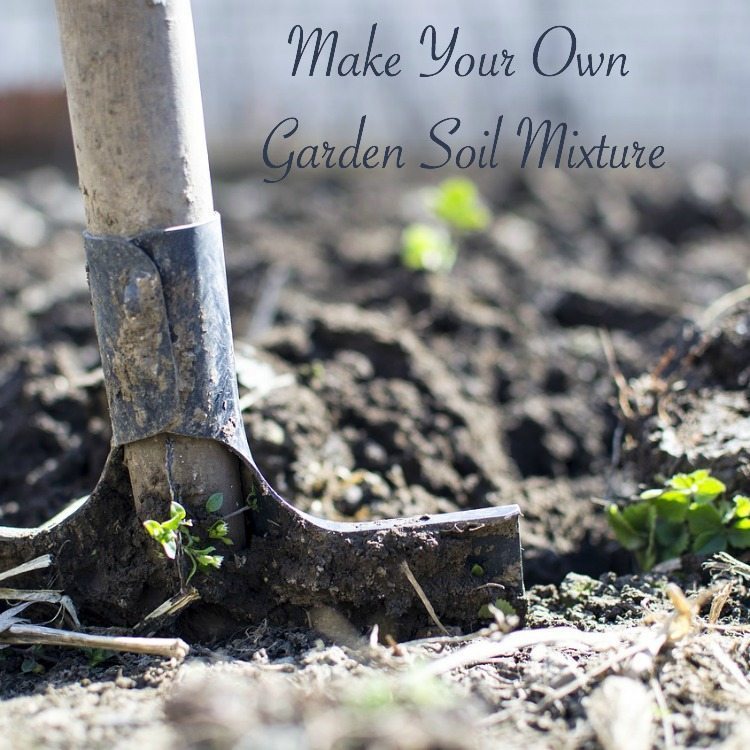 Keep reading to find links to our Free Garden Planner Pages for kids and a set of Gardening Notebooking Pages (on sale for $1.99!) to use in your homeschool!
Raised Boxes or Beds vs Garden Plot
To keep things simple, I always do some form of a raised bed or garden box so that I can control my soil. Then I don't have to do testing or wonder what my soil is composed of. I will know what it is composed of and only need to add the required nutrients. This will also considerably minimize the amount of weeds, since there will be no seeds from the outdoors if you're putting in your own soil. Unless you live in prime farmland Iowa (Which I do, and it's the best soil on earth!) then I recommend you start with boxes and fill them with your own soil mixture.
If that isn't an option, it is possible to cultivate the soil over time and get it where you want it to be. I had this circumstance more recently. In order to achieve this, I removed much of the unwanted soil because of countless problems such as crab grass and weed seeds in the soil that will take over by mid summer. Therefore, I replaced the top six inches with the soil mixture below.

How to Make Your Own Garden Soil Mixture:
It's simple, and I've had pretty good success with such an easy recipe. For areas where I plant shrubs and flowers into my existing soil, I dig ample-size holes and surround the plants with my soil mixture.
2 parts compost and manure (2 40 lb. bags)
1 part peat moss (about 1/2 the amount of the compost)
Then I add a little vermiculite. It helps retain moisture and aerates soil as does the peat moss. I just add 1-2 quarts.
Blood or Bone Meal – add a few cups of one or a cup and a half of each. You can add more if you like.
Mix Well.
If you're looking for some great Notebooking Pages to use with your children, you'll find a great set on sale for $1.99 in our store!
And you'll also find a FREE set of Garden Planning Pages for your children to use to plan their own little garden plots too!