40 of Our Favorite Quotes from Children's Books
This week we've shared posts and freebies related to literature, so we thought we'd do something fun to wrap up the week! We asked YOU in the Hip Homeschool Moms Community to share your favorite quotes from children's books. We got some great responses, and we're happy to share them with you!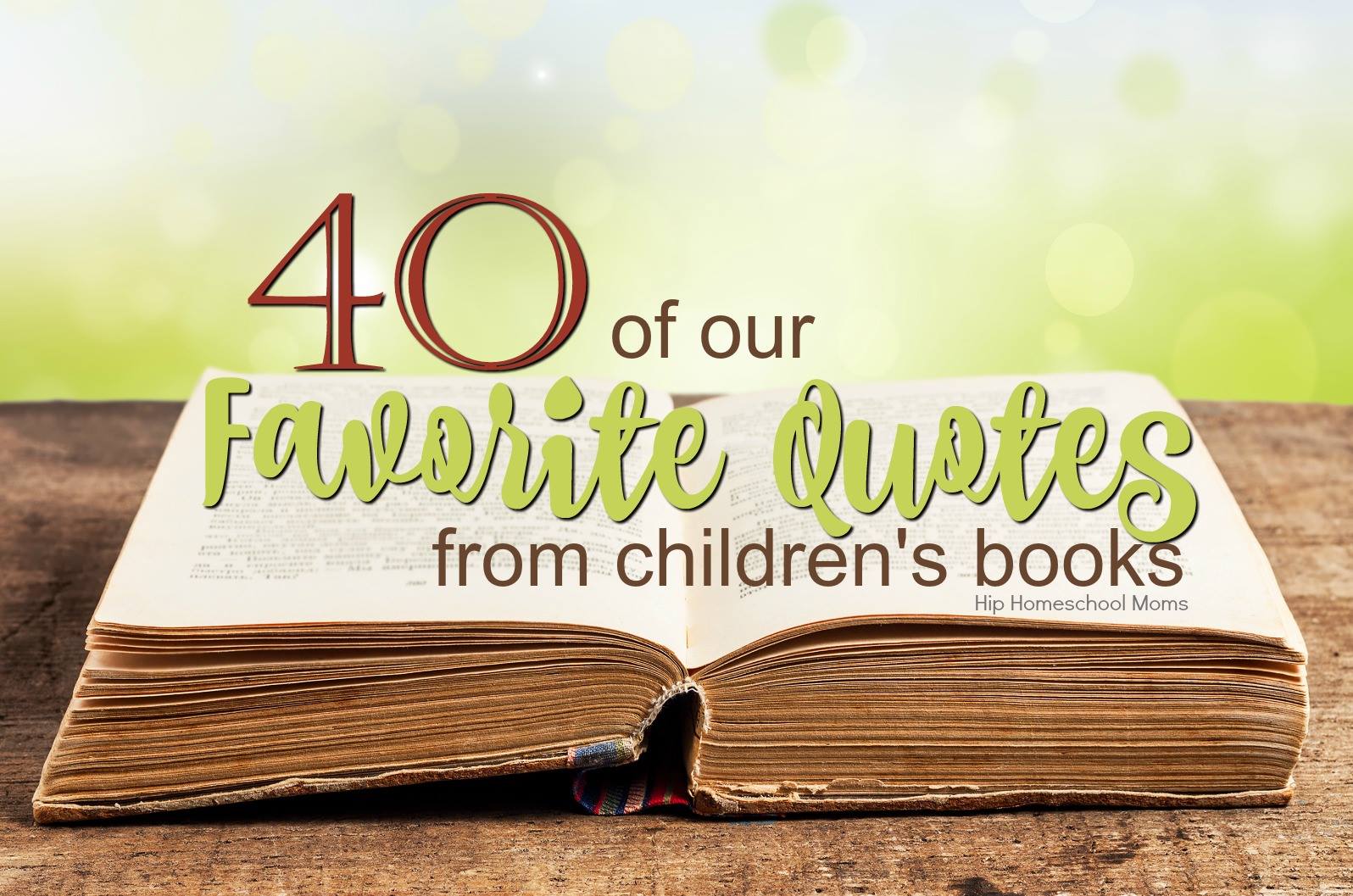 #1
"Jillian, Jillian, Jillian, Jiggs!
It looks like your room has been lived in by pigs!
Later. I promise. As soon as I'm through,
I'll clean up my room. I promise I do!"
Jillian Jiggs by Phoebe Gilman
#2
"Unless someone like you cares a whole awful lot
Nothing is going to get better. It's not."
#3
"Real isn't how you are made,
It's a thing that happens to you."
The Velveteen Rabbit by Margery Williams
#4
"I'll love you forever, I'll like you for always,
as long as I'm living, my baby you'll be."
Love You Forever by Robert Munsch
#5
"Promise me you'll always remember that you are braver than you believe,
stronger than you seem,
and smarter than you think."
#6
"If you live to be 100, I hope I live to be 100 minus 1 day,
so I never have to live without you."
Winnie the Pooh by A. A. Milne
#7
"Do you suppose she's a wildflower?"
#8
"Why it's simply impassible!
Alice: Why, don't you mean impossible?
Door: No, I do mean impassible. (chuckles) Nothing's impossible!"
#9
"You're mad, bonkers, completely off your head.
But I'll tell you a secret. All the best people are."
Alice in Wonderland by Lewis Carroll
#10
"A person's a person
No matter how small."
Horton Hears a Who! by Dr. Seuss
#11
"If you look the right way,
you can see that the whole world is a garden."
The Secret Garden by Frances Hodgson Burnett
#12
"Today you are You, that is truer than true.
There is no one alive who is Youer than You."
Happy Birthday to You! by Dr. Seuss
#13
"Never hurry and never worry!"
#14
"You have been my friend. That in itself is a tremendous thing.
I wove my webs for you because I liked you.
After all, what's a life, anyway? We're born, we live a little while, we die.
A spider's life can't help being something of a mess, with all this trapping and eating flies.
By helping you, perhaps I was trying to lift up my life a trifle.
Heaven knows anyone's life can stand a little of that."
#15
"The noses sniffed and snorted, and after a while the princess began sniffing too.
She smelled something wonderful.
It smelled like candy and lemons and cloves.
It smelled like sleeping in the sun and staying up late for a party.
It smelled like secrets and summer and beautiful dresses and the kind of folding knife
that comes with scissors and a screwdriver.
It was the smell of thousands of roses."
Dangerously Ever After by by Dashka Slater
#16
"When the first baby laughed for the first time,
its laugh broke into a thousand pieces,
and they all went skipping about,
and that was the beginning of fairies."
#17
"The moment you doubt whether you can fly, you cease for ever to be able to do it."
#18
"Isn't it nice to think that tomorrow is a new day with no mistakes in it yet?"
#19
"It's been my experience that you can nearly always enjoy things if you make up your mind firmly that you will."
#20
"I'm so glad I live in a world where there are Octobers."
Anne of Green Gables by Lucy Maud Montgomery
#21
"Age is foolish and forgetful when it underestimates youth."
Harry Potter and the Half-Blood Prince by J. K. Rowling
#22
"All that is gold does not glitter,
Not all those who wander are lost;
The old that is strong does not wither,
Deep roots are not reached by the frost."
The Fellowship of the Ring by J.R.R. Tolkien
#23
"Shall we make a new rule of life from tonight:
always try to be a little kinder than is necessary?"
The Little White Bird by J.M. Barrie
#24
"And now," cried Max, "let the wild rumpus start!"
Where the Wild Things Are by Maurice Sendak
#25
"The more that you read, the more things you will know.
The more that you learn, the more places you'll go."
I Can Read with My Eyes Shut! by Dr. Seuss
#26
"Because, this is a very great adventure,
and no danger seems to me so great as that of knowing when I get back to Narnia
that I left a mystery behind me through fear." ~Sir Reepicheep
The Voyage of the Dawn Treader by C.S. Lewis
#27
"It does not do to dwell on dreams and forget to live."
Harry Potter and the Sorcerer's Stone by J.K. Rowling
#28
"No act of kindness, no matter how small, is ever wasted."
Aesop's Fables The Lion and the Mouse
#29
"She had blue skin,
And so did he.
He kept it hid
And so did she.
They searched for blue
Their whole life through,
Then passed right by-
And never knew."
Every Thing On It by Shel Silverstein
#30
"​Listen to the MUSTN'TS, child,
Listen to the DON'TS
Listen to the SHOULDN'TS
The IMPOSSIBLES, the WON'TS
Listen to the NEVER HAVES
Then listen close to me—
Anything can happen, child,
ANYTHING can be."
Where the Sidewalk Ends by Shel Silverstein
#31
"The Sneetches got really quite smart on that day.
The day they decided that Sneetches are Sneetches.
And no kind of Sneetch is the best on the beaches.
That day, all the Sneetches forgot about stars
and whether they had one, or not, upon thars."
The Sneetches and Other Stories by Dr. Seuss
#32
"I think I can. I think I can. I think I can. I know I can."
The Little Engine That Could by Watty Piper
#33
"So…
be your name Buxbaum or Bixby or Bray
or Mordecai Ali Van Allen O'Shea,
you're off to Great Places!
Today is your day!
Your mountain is waiting.
So…get on your way!"
Oh, The Places You'll Go! by Dr. Seuss
#34
"Do you know that you are very strong?"
The Monster at the End of This Book (Sesame Street)
#35
"It is our choices, Harry, that show what we truly are, far more than our abilities."
Harry Potter and the Chamber of Secrets by J.K. Rowling
#36
"How much good inside a day?
Depends how good you live 'em.
How much love inside a friend?
Depends how much you give 'em."
A Light in the Attic by Shel Silverstein
#37
"There's no place like home."
#38
"There is no living thing that is not afraid when it faces danger. True courage is in facing danger when you are afraid."
The Wizard of Oz by L. Frank Baum
#39
"When they've finished reading, Olivia's mother gives her a kiss and says,
'You know, you really wear me out. But I love you anyway.'
And Olivia gives her a kiss back and says, 'I love you anyway too.'"
#40
"Mr. Duncan put the Maggie Pebble in an iron safe.
Some day they may want to use it, but really, for now, what more could they wish for?
They had all that they wanted."
Sylvester and the Magic Pebble by William Steig
Do you have a favorite quote from a children's book that you'd like to share with us? Please leave the quote and the name of the book in the comments below!