Kidcoder & Teen Coder Windows Programming Review
At the beginning of June we brought you our Preliminary Reviews of Kidcoder & Teen Coder- Windows Programming. We are pleased to be back to give your our final reviews as well as a giveaway from the company! The folks over at Homeschool Programming Inc. are offering up for giveaway a first-semester title (Windows Programming) plus associated instructional video, an $85-90 value – winner chooses KidCoder (intro into Visual Basic) or TeenCoder (intro into C#) based on their student's age!
Heidi's Turn . . .
We have moved through more than half of the Kidcoder – Windows Programming course now. After having reviewed many computer-based courses, I can honestly say that I feel this one is well put together.
Here are the things that stand out for me:
There has not been one time when what we needed was not covered over the course of our lessons.
All the steps needed to complete a new task are clearly explained in the video where you can watch the steps in what they call a "screencast" of that task being done in the actual program you are using (in our case Visual Basic).
Here is a link to a sample of the courses' Instructional Videos.
The difference between the Student Textbook and the Videos (from what I can tell) is that the Student Textbook contains a Chapter Review for each chapter as well as a "Your Turn" section for each chapter where you are given a task of something related to the chapters you have just completed to do in your new program on your own. The videos are considered optional but I found them beneficial, especially for the "screencasts" as it was helpful to see all the steps being completed.
What I think the program is missing:
I like to give a well rounded picture of each thing I review. I think you rarely find anything in life that is exactly what you wanted it to be. You have to weigh the pros and cons and choose what is right for you. After having been given plenty of time with this program I can honestly say that for me I only found one thing that I wish it had. The flash videos for each lesson are broken down into smaller bits so that you don't have 20 minutes of endless video to watch. Even given this fact, there were times when things would be said that we missed or steps that moved too quickly for one child or another, and we would have liked to back up just a little (maybe a few seconds). With the videos there is a pause button, but no slider bar to move forwards or backwards in each segment of video. So for all the great things I think this program is, my one little wish would be to have a sliding bar on the video so I could move back a little bit instead of having to go back to beginning of that whole segment to catch what we missed (which would equate to anywhere from maybe 1-5 minutes of time).
All in all, the Kidcoder Program is solidly done, and totally self contained so that you don't need to look elsewhere for any information or be a computer programmer yourself to use it or to have your children using it. I think it is reasonably priced for the large amount of information and engaging course material that it offers, and I was more than pleased with the amount of prompt and friendly customer service I received from the company. This is one company which offers many different computer programming course options that I think are well worth your time and money in this growing age of technology.
KidCoder: Windows Programming
course $70
course & video $85
video only $20
KidCoder: Game Programming
course $70
course & video $85
video only $20
KidCoder: Year Pack (Contains both Windows & Game Programming)
course $120
course & video $145
video only $30
Wendy's Turn . . .
Computer Game Programming for Teens! Shhhh . . . Don't Tell Them It's Educational
My son and I have been having a lot of fun with our TeenCoder Series books! I have to admit, though, that my son is way ahead of me when it comes to all things computer-related. He enjoys pretty much anything electronic, and he always has. That's why I wanted him to try out these books.
The book he used first was the beginning level book for his age level. It was the TeenCoder Series: Windows Programming book from Homeschool Programming, Inc. I did a review of the book earlier before he had finished working through the book, so you can get some preliminary information there. This book is "A hands-on introduction to the field of Windows Programming for high school students."
In this book, he started out with very simple projects and activities. Actually, they weren't extremely simple to me, but they were easy enough for him! By the time he reached the end of the book, he was doing things like creating his own to-do list on the computer, creating songs and his own song player, and eventually his own computer chess game!
I mentioned in my first review that he did come up against a problem or two here and there, but he was able to use the information available along with the Homeschool Programming, Inc. website to figure out what to do and keep on going!
He is now beginning his work on the second book which is called TeenCoder Series: Game Programming. This book is "A hands-on introduction to the field of Game Programming for high school students." I check in and take a look at his lessons here and there, but because he is able to do the work on his own, I haven't been following every single step. At his age, he prefers to do his work on his own, and that's great!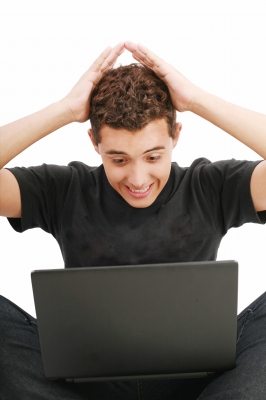 He is loving this second book because it has to do with one of his favorite things—electronic games! I try to limit his "electronics" time, but this is something that I don't mind him working on because he's learning while he's working and playing. I love that!
While he moves through this book, he's in the process of learning lots of different things that he will need to know before he reaches the final project. The final project will be a game that he will produce! He's excited about that! I can't wait to see what he comes up with!
I'll list a few of the things that he has learned or will be learning as he works in this second book. He began learning things like game proposals and design concepts, screen coordinates, image scaling, animation concepts, and those kinds of things. As he keeps going, he will learn about playing sound effects, building and solving mazes, multi-player input, and applying artificial intelligence to a computer game.
My son and I were very blessed to be given these materials to use and review in exchange for writing this review. I can honestly say from my son's work and from the progress he's made to what I've seen him learn and accomplish, this is a really great course for teens who are "into" computers and would like to learn how to use them and create things with them.
I know that my son is interested in electronics of all kinds. I want to see him use his talents and abilities the best he can. I don't want him to spend mindless hours playing computer games. This has really given him a way to use his talents and to learn at the same time.
I hope this brief introduction to this series is helpful even though I'm not very electronics-savvy! I encourage you to take a look at their website, www.HomeschoolProgramming.com to check it out for yourself if your teen might be interested.
TeenCoder: Windows Programming
course $75
course & video $90
video only $20
TeenCoder: Game Programming
course $75
course & video $90
video only $20
TeenCoder: Year Pack (Includes both Windows & Game Programming)
course $130
course & video $155
video only $30
Follow Homeschool Programming on Facebook and Twitter.