Intelliglobe Deluxe Review
We absolutely love our Intelliglobe Deluxe! My children (ages 18, 16, and 11) have always been very interested in maps, globes, and atlases. They enjoy looking at the continents and oceans as well as looking for particular countries, waterways, and other landmarks. They were so very excited when we received our globe that they could hardly wait to get it out of the box to start playing with it!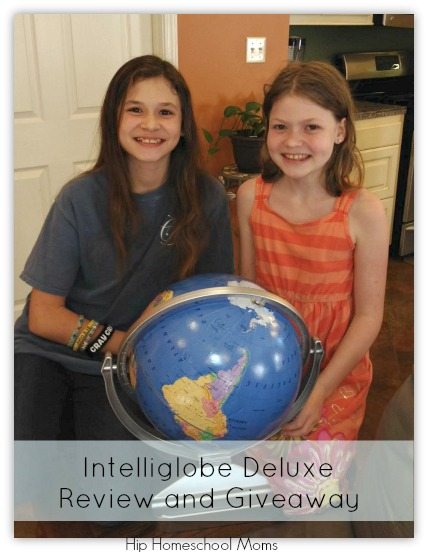 At first, I had planned to use the globe in some geography and history lessons. I quickly realized, though, that they were learning much more than I could have taught them just by playing with the globe! I probably will center some lessons around it later (and we do refer to it during lessons now) once they've played with it so long that they're ready to do some more structured learning activities with it.
One thing our family has always done–ever since I was a young child living at home with my parents–is have contests to see who knows the most states, capitals, countries, etc. I remember how my dad used to sit at the dinner table with us calling out names of states and how my sister and I would rush to be the first one to say the name of the capital. I think we may revive that tradition seeing who is the first to be able to locate the state, country, or body of water. And the great thing is that, since I don't necessarily know all of the countries and waterways, I can use the globe to check their answers! Ah….the benefits of modern technology!
The Intelliglobe comes with a wireless "pen" that is used to touch the globe to play games and get lots of educational facts. There are, according to the website, thousands of facts in 4 different languages: English, Spanish, French, and German, to be "unlocked" using the pen. Information for the globe can even be updated through the Replogle Globes website! (A cable for this purpose is included.) The globe can be used to play games, have trivia sessions (which we love to do!!) and more.
While we have explored many of the features of the globe already, there are some things we're still looking forward to doing. The globe is able to:
Play the national anthems, give facts about governments, geology, ecology, currency, language, climate, and more.
Compare flying time between cities, population of countries, and even life expectancy between countries! (My husband travels often for work, so it's really fun looking up info about the distances and flying times between cities and states.)
One of our favorites: Games including "find" challenges for cities, countries, waterways, locations, and landmarks as well as a trivia game
The globe comes with a 48-page pen-activated book full of educational facts about maps, world flags, landmarks, animals, dinosaurs, foods, explorers, and more.
If you're looking for a fun and educational toy, the Intelliglobe Deluxe is a great one to consider! I've been pleasantly surprised at how much my children have used it and enjoyed it! And my older children have learned just as much as my 11-year-old! (To be honest, I've learned must as much as my children have!)