Ideas for Staying Connected to Extended Family
The summer always brings a small break from school: going to bed later than usual and sleeping in longer the next morning, and a whole lot of swimming. My children look forward to all of those instances, but the greatest expectation of the summer is connecting with family members we do not regularly see during the year.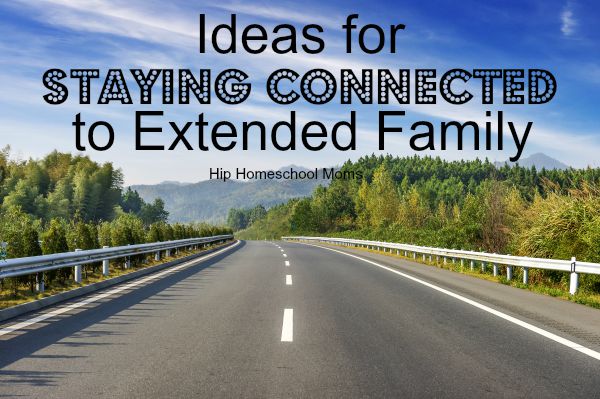 Our move six years ago placed us somewhere in the middle of the map. We are quite a distance from my parents but find ourselves living closer to our extended relatives that include many of my first cousins and their children. Our location is perfect for seeing more of our family members for quick visits and also attending family reunions.
Family reunions are exciting get-aways for us as we see parts of other states that are new to us. When we attend these occasions, it warms my heart to watch my children instantly bond with their cousins. Some they already know and have grown to love, and others they have never met before. My children and their cousins spent the reunion weekend playing. They shared stories about themselves and made plans to see each other again. Friendships that I hope will last forever were built. Those words of reconnecting soon were sincere, and they are promises that should be kept.
The friendships your children make during their childhoods and maintain into adulthood are special and precious. It is so easy to want to keep relationships strong, but often, once out of the moment of reunion, they easily lose priority.
Although my cousins and I grew up on different parts of the map, we have managed to maintain close relationships. The reason for that is because our parents, who are also close, made an effort to keep family together and connected, despite the distance. Building family relationships was important to them, so it became important to their children.
As the next generation comes along, I am doing as my parents did by making an effort to ensure my children know as many of their relatives as possible. I am also making an effort to help them keep those relationships strong. The digital age has made connecting so much easier. We may not see them each month or even several times a year, but I will do what I can to help them not lose the connections they have built. In order to help you and your children stay connected to extended family members you may have seen over the summer, I've put together a list with some ideas.
Help your children plan specific days and times to call or email (or whatever other method you choose) extended family members. If you simply decide that you want to keep in touch but don't make any kind of plan to do so, it probably won't happen.
Make an effort to take your children to family reunions, holiday get-togethers, birthday parties, graduations, and other family events whenever possible. Of course you won't be able to attend every family gathering that's planned—especially if you live far away—but attend the ones you can.
Start a Facebook group or blog or even a snail mail group for staying in touch and keeping up with what's going on in each other's lives. You might have the various families pitch in to create an extended-family newsletter each year or come up with another fun way to keep in touch and let everyone know the latest news.
Go on vacations together! I have several friends who go on vacation each summer or every other summer with their extended families. Some go to the same place each time, and others go to a new location each year. However you decide to do it, have fun! Some extra planning will probably be involved when you vacation with another family (or several families), but it will be worth it!
Create a calendar and include extended family members' birthdays and anniversaries on it. It can be a simple list, a beautiful document all fancied up, or a regular calendar that is marked and sent out to each family once a year. You can even simply set reminders on your phone or in your family Facebook group.
If you have family members who live close enough, you can plan occasional bowling nights, movie nights, mornings to play at the park, afternoon art activities, etc. Get ideas from the other families involved, and you may all learn something new and have fun together at the same time!
How do you help your children maintain strong family ties? Do you have ideas to add to the list? Please share them with us!