If you or your children enjoy arts and crafts, you've probably used Mod Podge! But that stuff can be expensive–especially if you need a lot of it or if you use it often. Below you'll find several recipes for homemade Mod Podge using ingredients you probably already have around the house.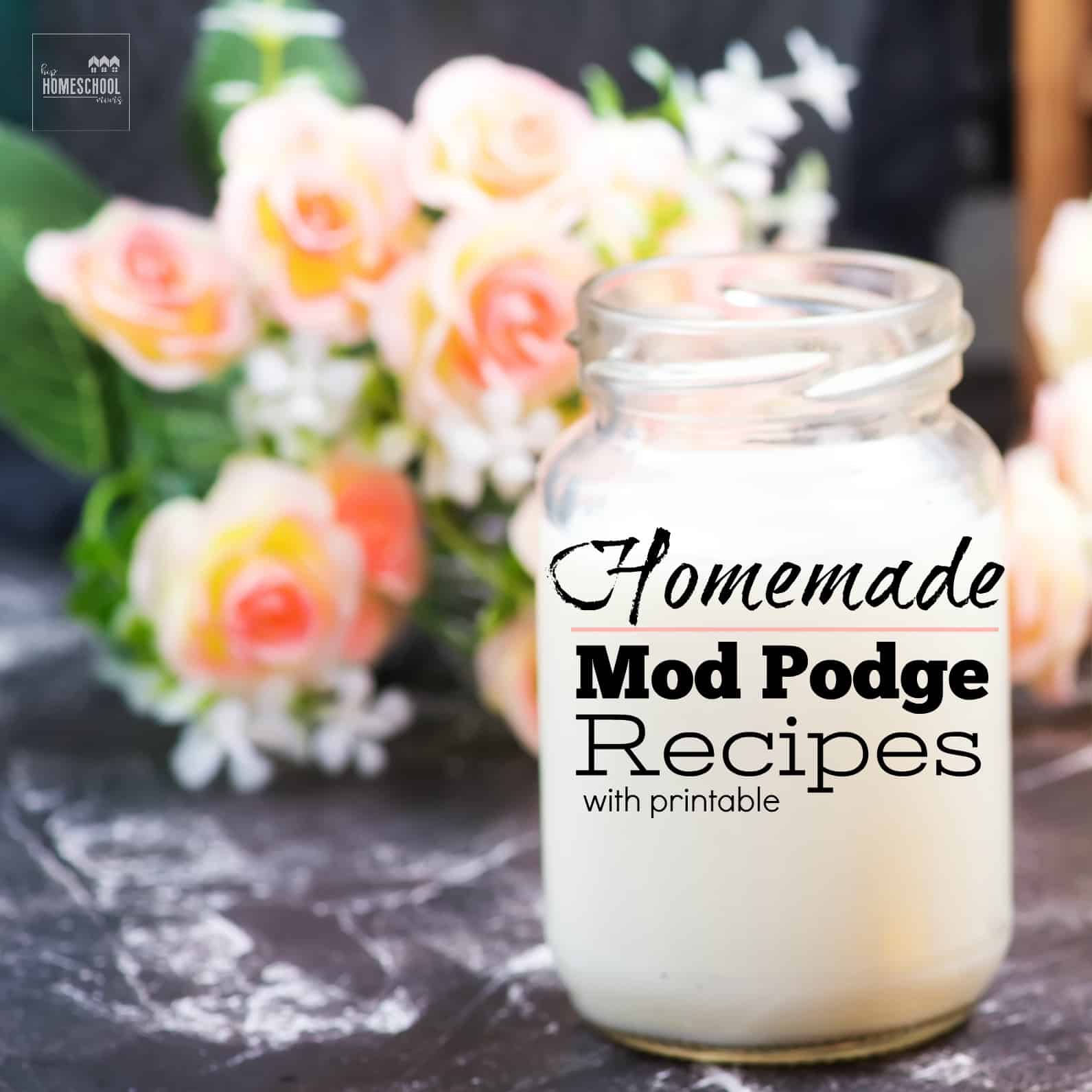 If you're creating professional art work or craft items to sell or display, it may be worth it to invest in the real thing. If you're enjoying arts and crafts with your children, though, and you don't necessarily need something of professional quality, I definitely recommend trying one of these homemade versions! You can download a printable copy of these recipes here.
Recipe #1
1 ½ cups flour (or more)
¼ cup granulated sugar
¼ tsp olive oil (or more)
1 cup water (or more)
glass jar with lid (for storage)
Start with ½ cup of the flour, ¼ cup sugar, ¼ tsp olive oil, and ½ cup of the water in a saucepan on the stove on low heat.
Add additional flour and water as needed until you reach desired consistency. (If you want a thicker result, add more flour and less water. For a thinner result, add more water and less flour.)
You may also add more oil if you'd like a shinier finish.
Stir all ingredients as you cook the mixture over low heat for 5 minutes. (Do not boil!)
Once your mixture is cooked and well combined, remove from stove and pour into glass jar. Allow to cool before putting lid on jar.
Recipe #2
white glue (such as Elmer's School Glue)
water
NOTE: For this recipe, use half glue and half water. Measure the amount of glue you need so you'll know how much water to add. If you use 8 ounces of glue, add 8 ounces of water. If you use 2 ounces of glue, use 2 ounces of water, etc.
Pour glue into a small bowl.
Add the same amount of water as the amount of glue and add to the bowl.
Stir until well combined.
Store in a glass jar with a lid.
NOTE: If you'd like a thicker Mod Podge, simply use 1/3 cup of water for every cup of glue instead of using half glue and half water.
Recipe #3
2 tsp sugar
2 tsp cornstarch
1 tsp gelatin
2 tbsp vinegar
1 cup water (divided)
Put ¼ cup water and 2 tsp sugar into a small pot. Bring to a boil.
In a cup or small bowl, mix 2 tsp cornstarch with ½ cup water.
In another cup or small bowl, add gelatin to ¼ cup water.
Stir cornstarch mixture into boiling sugar water mixture. Stir until it becomes thick and clear. Remove from heat.
Add gelatin/water mixture to the hot cornstarch/sugar water mixture.
Mix all ingredients well.
Once cooled, add vinegar and stir well.
Store in a glass jar with a lid.
Recipe #4 (Water-Resistant Mod Podge)
If you want a more water-resistant Mod Podge recipe, simply use a waterproof wood glue such as Franklin International 1414 Titebond-3 Ultimate Wood Glue and mix with water. Use less water for a thicker result and more water for a thinner result.
For a free printable of these recipes, click here!