Edmund Scientific KnuckleStrutz Geometric Funstruction Kit Review
I'm always on the hunt for educational, hands-on toys that will not end up in a garage sale 6 months after Christmas. Edmund Scientfic's KunckleStrutz Geometric Funstruction Kit is one of those toys that will stand the test of time. I have 4 boys, ages 1 through age 7. The KnuckleStrutz are for ages 6 and up. My 5-year-old son enjoyed playing with them also, but he needed help to follow the directions. The kit retails for $99.95 and can be purchased from one of my favorite science product companies, Edmund Scientific.
The GeoMorphic Funstruciton Kit contains 483 pieces called 'joints'. There are 'Axle Joints,' 'Elbow Joints,' 'Multi Joints,' and 'Straight Joints.' This kit can build 7 different models. I suggest using a veggie tray or paper plates to separate and organize the pieces. I used trays to divide the pieces out and that seemed to work well for my boys. It comes in a good size box and displays all the awesome configurations you can build on the front and back. My boys were so excited when it came in the mail!
My oldest son is 7 and he loves Legos and building activities. He LOVED KnuckleStrutz. It was much more challenging than a Lego kit, and he did need my husband's help to get the hang of following the directions. KnuckleStrutz 'joints' allow you to morph, transform, re-shape, and expand your creations in so many ways. When my kids…and um…..HUSBAND….first sat down to play, they enjoyed just playing with the joints and creating their own configurations.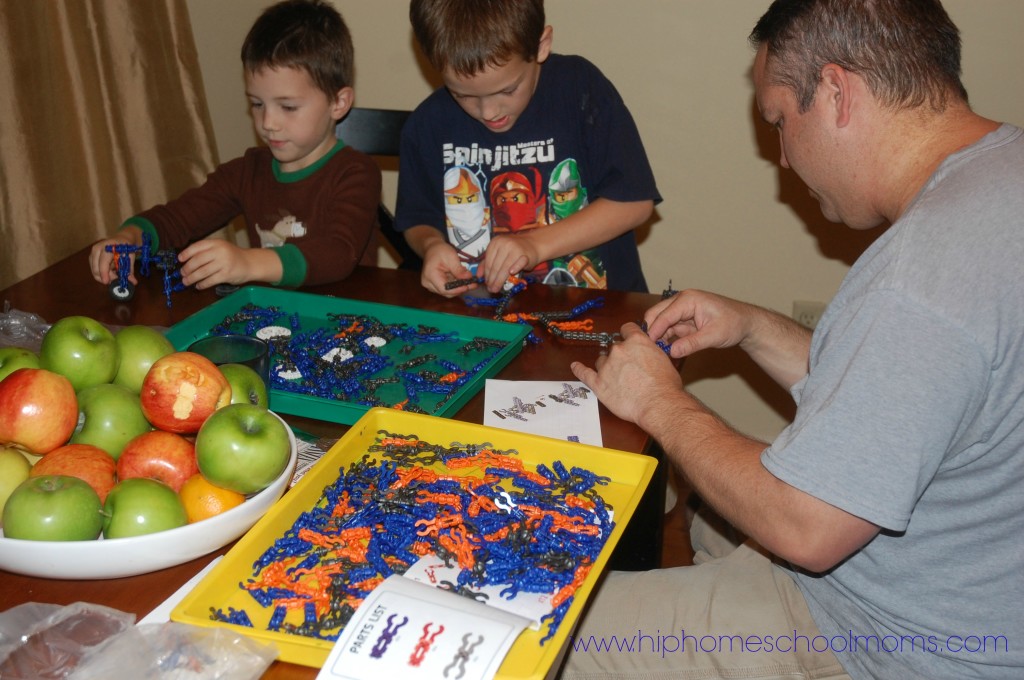 Each of the seven models that you can make with KnuckStrutz comes with a separate instruction manual with color, step-by-step instructions. I liked that. My boys were able to take a booklet they wanted to build and go to a different part of the house and work on it. My husband helped my son build the Hyper Bike, and they insisted it be tested out on a real dirt track outside. I'm pleased to say that the pieces are heavy duty plastic that were easily washed off after being outside. It's important that I buy toys that won't easily be destroyed, bent, or snapped in half. Not one of the 'joints' or pieces of this kit has failed us so far. Not a bend or a crack. Sturdy and durable is an understatement.
Besides the Hyper Bike, the KnuckleStrutz GeoMorphic Funstruction Kit from Edmund Scientific comes with directions to construct a Flexahedron (pictured below), Dragster, Xenobot, Stealth Flyer, Soccer Ball, and Sky Chopper.
KnuckleStrutz provided hours of fun for my kids, and I know it will be a toy that we'll enjoy for years to come. In an age of iPads, LeapPads, and video games, it's difficult to find a toy that will keep their interest and challenge their minds for more than 5 minutes. I was impressed by it. If you have a building enthusiast on your Christmas list this year, I highly suggest the KnuckleStrutz kit from Edmund Scientific. Buy it: You can purchase the Knucklestrutz from Edmund Scientifics for $99.95. Edmund is graciously offering HHM readers an exclusive gift of FREE SHIPPING on all orders $99 or more using the promotional code HHMSEE. Only one promotional code may be used with each order. Offer good through 12/17/2013. Promotion cannot be combined with any other offers.
Win it:
One lucky reader will receive one Knucklestrutz from Edmund Scientifics. Enter below. a Rafflecopter giveaway
Disclosure: One HHM team member received Knucklestrutz to review in exchange for an honest review.