Confessions: Our Public School to Homeschool Transition
Our journey began in June 2010. Before that day we were the average American family living in suburbia. Every morning, after dad went to work, momma would walk the kids up the hill to the bus stop. I'd wave good-bye and my heart would ache as the yellow bus rolled away with my babies. We didn't know any other way — we told ourselves. We had no choice — we thought.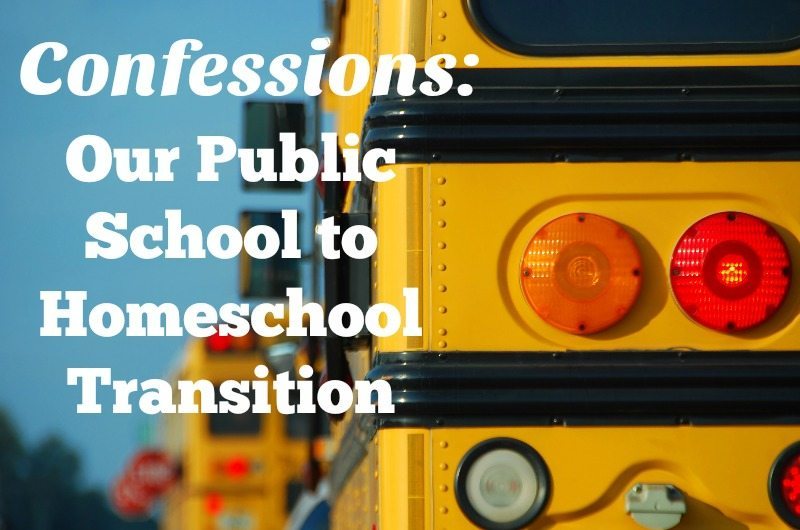 Once we decided to homeschool, we spent the first few months traveling. Since it was technically "summer break" (We started our homeschool in June that year.), we didn't worry much about academics. The only thing we really required that summer was that they read aloud from the Bible. It was amazing to watch their confidence in reading blossom. As we explored the United States on our own terms, we began even more to to embrace the idea of homeschooling.
June and July turned into August. Dad began to worry. What are we doing for school? What's the plan? How are you going to teach them? The pressure was intense. I began to research everything. I read blogs. I read every curriculum review I could find. I still didn't know any homeschoolers. With my limited knowledge, I was ready to prepare for our school year.
First, I headed to the bookstore. I knew that I wanted Apologia for Science… the rest unknown. The kind man at the bookstore answered all my questions. After THREE hours, I left with math, grammar, reading, writing, vocabulary, spelling, social studies, science, Spanish, and health curriculum — for EACH child.
Lesson learned:

Don't send a momma who knows very little about homeschooling to a bookstore with a large spending budget.
The first day of school arrived. We snapped the traditional "First Day of School" picture. Instead of walking up the hill, we walked in our front door. Let the schooling begin!
The four of us sat around our large dining room table. As we worked through the schedule, the kids put books away and pulled out the new books from the bookshelf. I tried hard to make the learning last until 3:10, the time the school bus would roll by our house. After a few days the kids were tired of the novelty and I was tired of the boring curriculum. I didn't WANT to be a teacher. I didn't WANT to manage a classroom. I didn't know there was any other way to homeschool.
Eventually we realized that we had three very different learners in our home. Learning assessments were completed. We had three kinesthetic children who learned three DIFFERENT ways. This sent my well-balanced plan into a tailspin. The crash was not pretty. By the end of the first 6 weeks, I was burned out.
Lesson Learned:

Do not recreate public school at home. Long term it is not sustainable.
We joined a local co-op and help arrived — in the form of an unschooling momma of two boys. She gently told me that I didn't HAVE to do it all. She smiled as I began to sputter questions, "What about this…" I arrived every Wednesday with my well-organized binder in hand. She giggled and said, "You won't have that by end of this term." I cried about math and writing and messing up my children, and she simply reminded me to relax. Be patient. To realize that I didn't have to DO everything. To listen to my children and my momma's heart. Slowly she began to break through. By the time Christmas break arrived, I was ready for a new start.
Lesson Learned:

Do not be a lone-ranger homeschooler. Support from veteran homeschoolers is beneficial to survival and sanity.
I'd like to write that I had an epiphany and abandoned my old ways during the Christmas break. Alas, my momma heart and my brain do not always communicate with one another. Although I had ditched the binder, I had not ditched my institutional schooling mindset.
I knew I needed to find a way to combine subjects to lessen my work load and simplify our homeschool. And then I discovered unit studies. We decided to learn about horses. The United States. Weather. My creativity soared! The kids responded with enthusiasm. They began to complain about the math and grammar and writing that I still required. We went on field trips. We explored even rainy weather. It was an amazingly FUN and exciting time!
However, Dad was not on board with unit-study learning. Pressure and stress began, and we returned to the dreaded "public-school-at-home" learning.
Lesson Learned:

If Momma and Dad don't agree on parenting/teaching styles, this will become increasingly apparent while homeschooling.
About this time, we moved into a new house. When we moved in, we set up our bookcases, tables, computers, and even a reading corner. Maps hung on the wall. Dad installed a white board for us. We settled into a nice rhythm of structured learning with a burst of unschooling at random times.
During this time, I met a momma who would become one of my best friends. She too was an unschooling momma of two boys. Through her blogging, she began to teach me how to relax. To become not a teacher, but a guide. To lay a table of learning and let the children choose what they wanted to learn. My heart began to soar at the thought of homeschooling becoming our lifestyle. Our family began to worry that we were serious about being homeschoolers.
As I reflect on our public school to homeschool transition, I am thankful for the veteran homeschoolers who helped this momma survive. My heart goes out to the public school momma who wants to homeschool her children. You are not alone.
As you can tell from reading about our first year of homeschooling, the transition is not always easy for the parents or the student(s). There are many styles of homeschooling–from unschooling to textbooks to unit studies. There is no "one right way" to do it. The right way is the way that fits your family and your lifestyle.
There is no "one right way" to homeschool. The right way is the way that fits your family and your lifestyle.
Here on the Hip Homeschool Moms site, we hope you'll find encouragement and information to help you as you transition from public school to homeschooling. Or if your children are young and you're just beginning your homeschool journey, we're here for you too!
You might consider joining our Hip Homeschool Moms Facebook Community. It's a private community (That means only those who are in the group can see who's in the group and what is posted in the group.) where you can ask questions, get support, and learn more about homeschooling and living the homeschool lifestyle.