Christmas Stocking Stuffer Ideas for Everyone on Your List
Christmas stockings can be SO much fun to put together, give, and receive! I've always enjoyed giving them because they're easy to personalize (according to what the recipient likes or enjoys doing), they don't have to be expensive, and they're truly fun to give because the receiver always has such fun digging into the stocking to see what tiny treasures are hidden inside!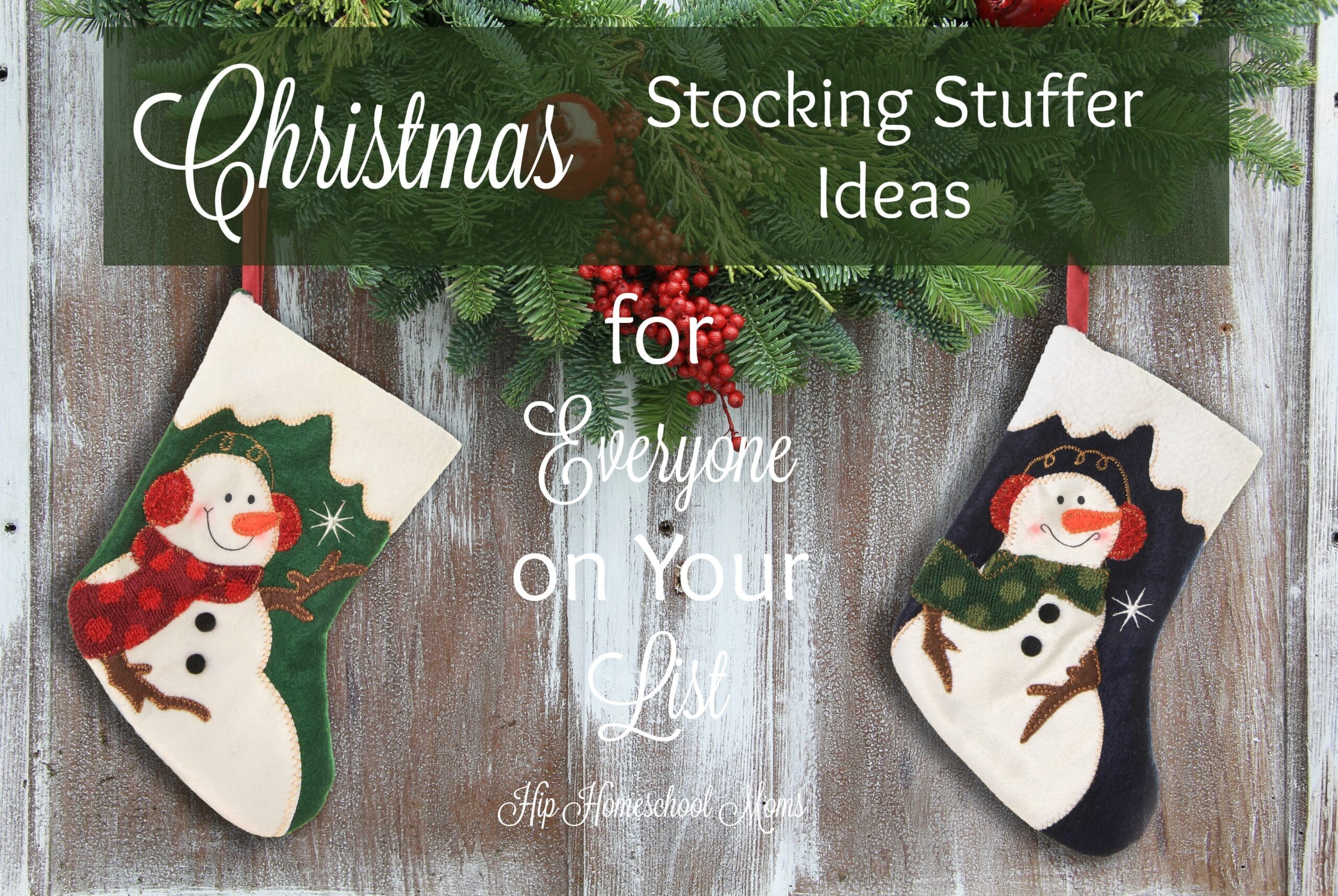 I almost always give Christmas stockings to my husband and children. And I sometimes give them to my parents and in-laws. But Christmas stockings are a great way to show others that you appreciate them and what they do for your family and for you! Do you have a really great mail delivery person? What about your children's art teacher or Sunday school teacher? Or even the cashier who always speaks to you and makes sure not to crush your bread as she bags your groceries?
Below you'll find stocking stuffer ideas for everyone on your list. Many of these ideas will work equally well for young or old, girl or boy, friend or family member (or even co-worker!), or anyone else you'd like to gift with a bit of holiday cheer!
This fidget cube is great for both for children and adults!! If you know someone who has difficulty paying attention, this will make a great stocking stuffer! It has different options on each of the six sides and is great for promoting calmness and stress reduction while increasing focus and attention.
Whether you're looking for a stocking stuffer for a co-worker or a fun gift for Dad, these ordinary pens double as dining utensils! They're food-safe and reusable too! Comes with a set of 3 pens with both original caps and utensil caps.
These ocean animal shaped molds are fun for kids or adults! They can be used for candy, baking, soap-making, or ice! Freezer, refrigerator, oven, microwave, and dishwasher safe.
Want to give your children something they'll love that encourages them to spend a full minute brushing their teeth? This Star Wars light-up toothbrush is perfect! The toothbrush lights up and flashes for one minute. Also includes sound effects such as "light saber sounds" and Rey talking. Includes a small tube of toothpaste.
This Minion contact lens case is a fun gift! There are several other cute contact lens cases to choose from too.
Your children will love these cute animal USB flash drives! Each has 8GB of storage space. There are several other fun designs (like penguins, fruit, and even a pink pig!) available too.
Have a Shakespeare lover on your gift list? These Shakespearean Insult Bandages are perfect for knaves, rascals, and scoundrels! 30 bandages in each tin.
I remember my grandmother putting Life Savers in all of the kids' Christmas stockings for many years. (But adults will love them too.) She usually gave us the traditional flavors, but to add extra fun, give these wint-o-green flavored ones. Did you know you can bite into these wint-o-green flavored ones to make sparks?! It's a great science lesson! And, of course, it's just plain fun!
How about some reindeer poop for a fun gag gift? (They're really chocolate covered raisins. Yum!)
This candy cane flavored ChapStick is a great idea for anyone who doesn't want dry, chapped lips when the weather is cold! Or you can get this set of holiday flavors (includes candy cane, pumpkin pie, and sugar cookie flavors).
Do you know someone who likes to write letters? Do your children like to write letters to pen pals or cousins? Or you can always make letter-writing a part of your homeschool curriculum and use these winter fun themed stamps to make it more fun!
And this beautiful set of color-your-own postcards is perfect for the letter-writer too! Adults and children will enjoy coloring these pretty postcards and sending them to friends and relatives. It's also a great project to do along with your kids. (If you don't want to color your own, there are lots of choices for stationery to be found!)
There are all sorts of bookmarks for the book lovers in your life! Your fairy-tale lover will enjoy these fairy tale bookmarks. There are also bookmarks for your young ballerina, for folks who love wizards and dragons, for people who enjoy reading Shakespeare, and even for those who enjoy quilting! And there are lots more to choose from!
These Christmas coupon books (with coupons to use all year long) are a stocking stuffer that most children will enjoy! There are quite a few designs and different kinds of coupon books to choose from.
Or how about this mini 2″ tin of Crazy Aaron's Thinking Putty? It's so much fun to play with! One reviewer called it "Silly Putty for adults." But kids will love it too! There are lots of colors available including this best seller: Crazy Aaron's Putty World Liquid Glass Putty. This stuff is "part toy, part stress reliever, and part physical therapy."
And speaking of silly putty, my kids and I love Silly Putty!! And of course you have to show your kids how to press it onto a newspaper to pick up the words or the cartoons or whatever else they want to lift from the paper. (Didn't you love doing that when you were a kid?!)
Another one of those classic stocking stuffers for children and adults is a Slinky. I played with mine for hours as a kid! My sister and I loved to build stairs from boxes, blocks, or whatever else we could find for our Slinkies to race down. Now and then we even got our mom or dad to join in the fun.
Many families love to play cards together! Did you know that there's a Minecraft card game? There is! There are also some other great cards games–both new and classics–like Phase 10, Skip Bo, Family Feud Strikeout, and lots more.
Another fun toy for both children and adults is this Magnetic Doodle Balls toy. It's similar to the Wooly Willy you may have had when you were a child. You know, the one where you used the little magnetic shavings to "draw" Willy's beard, hair, and mustache?
How about some Ghirardelli Limited Edition Peppermint Bark Squares? These things are yummy!! If you're not sure of what to get for someone but you want to get him or her a little something, this is a great option.
This variety pack of Dove Chocolates would make a great gift for any chocolate lover! It contains dark chocolate, milk chocolate & caramel, and milk chocolate flavors. Super delicious!