"What can I do if my son refuses to do his school work?"
"I don't know how to get my daughter to do her assignments. She just sits there for hours and doesn't get it done!"
I often hear questions like these from tired and frustrated homeschooling moms who simply don't know how to get their children to do their school work!
(And lest you think this is just a homeschool problem, I hear the same questions from many public and private school teachers too! Unfortunately, though, those teachers have much less control over their students' environments than homeschooling parents, so it may be harder to remedy the situation.)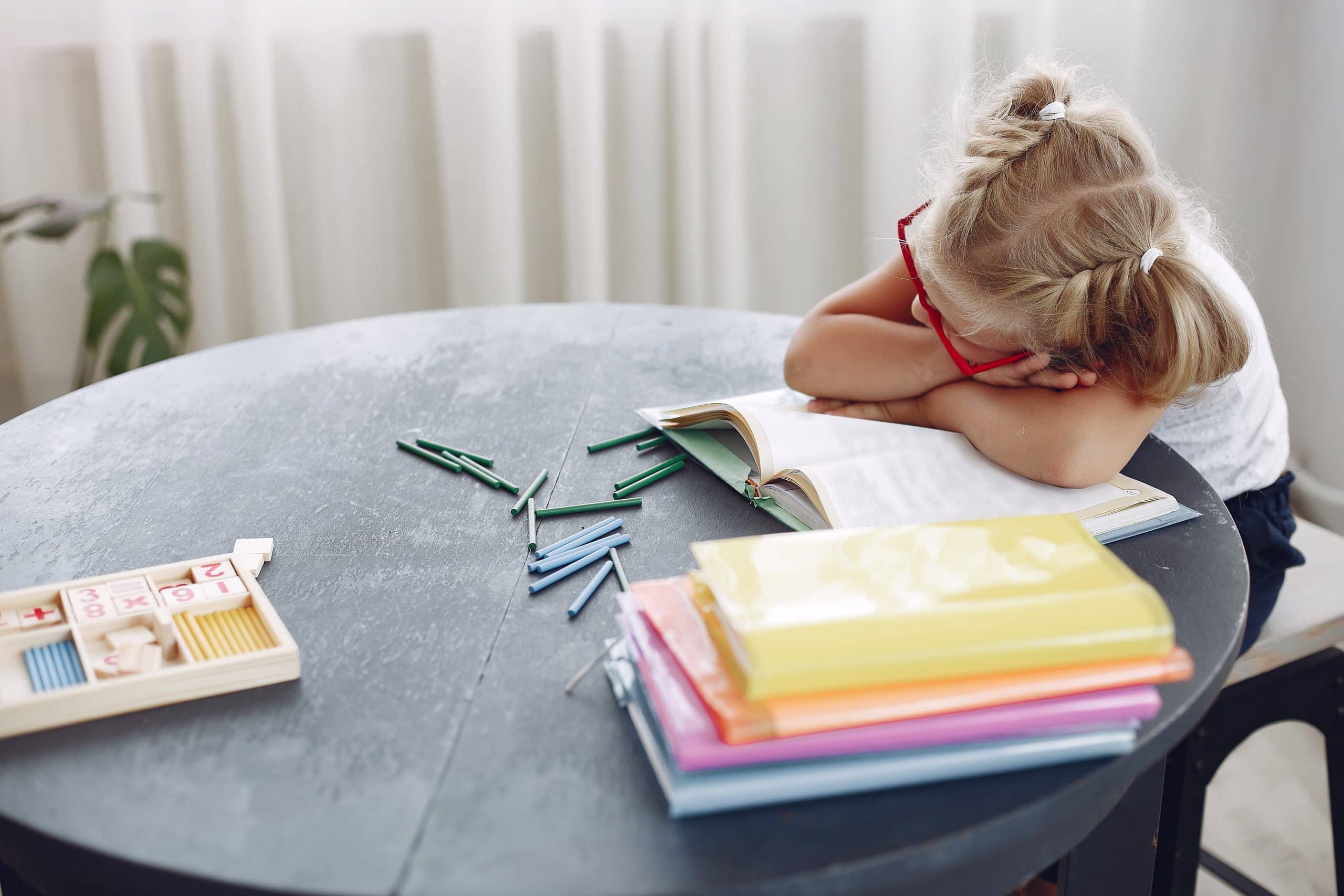 I understand how difficult it can be to get children to do their school work (I have two homeschool graduates and an 11th grader.). I have also discovered that there may be a variety of causes for this problem. It's extremely important for parents to carefully search out the reasons for the child's refusal to work, though, in order to apply the best solution.
Is there any possibility that the child might have a learning problem, eye sight issue, or learning problem that hasn't been discovered?
One thing that is important to consider is that a child's refusal to do schoolwork might not always stem from a behavioral issue. Sometimes there's a reason that certain children may really feel that they can't do it. I've known of several children who had undiscovered eye problems, physical problems, or learning difficulties that caused them to have trouble doing their school work. But children usually have no idea that school work is harder for them that it is for others, so they get discouraged. They decide that, since school is so hard, yet everyone else seems to be able to do it, they must not be as smart or capable as others. They simply don't know that school work isn't that hard for other students who don't have the same problems to overcome. Below are some common issues that might be causing the problem:
Vision, Eyesight, and Hearing
If your child is refusing to do his school work, you might want to begin by having his vision, eyesight, and hearing tested. I've know several students who had vision problems that made it very hard for them to learn to read. Once the vision problems were found and addressed, the children were able to learn to read much more easily!
The same thing is true for eyesight and hearing. Children who can't receive and process information correctly will have trouble doing their school work and may refuse to work because of frustration and because they have no idea why learning is so hard and no idea how to express that to you.
Learning Problems
Or you may suspect that your child has a learning problem. If that's the case, you can check with your *local school district to find out if they provide educational testing, or you can go to your pediatrician or family doctor to find out how and where to get testing done. It can be hard to admit to ourselves when our children have learning differences, but it's very important to admit it and get the necessary help! If not, school work and learning will be extremely difficult for your child. (I've been through this myself, so I do understand how hard it can be! But getting the necessary help makes a huge difference!)
*If you go through your local school district, be prepared to deal with school administrators who may try to talk you into putting your child into public school! Not all school districts behave that way, but some do! If you have trouble dealing with that kind of situation, have a friend or relative go with you to the school or help you make phone calls.
What if it's an attitude problem?
Talk to Your Child About It
If you are certain your child doesn't have any physical problems or undiagnosed learning problems, you may be dealing with an attitude problem. If this is the case, it may be helpful to sit down with your child at a time when you're NOT trying to get school word done–preferably a time when both of you are calm and in a good mood–to talk with him or her about it. Younger children may not be able to express why they refuse to do their work. Even older children may have difficulty putting into words the reasons for their attitudes. But it's a good idea to give your child the opportunity to express himself/herself anyway. At least the child will know you care and that you want to help. Older children may be able to explain their troubles, so it's worth taking the time to ask.
Ask for the Help of Another Trusted Adult
If your child is unwilling to talk with you about it, you may have a trusted friend, pastor, or counselor who could help. Sometimes children of all ages) find it easier to confide in an adult who is unbiased and not willing to get upset upon hearing the child's answers. Our children may be afraid to tell us about their difficulties–especially if something we are saying or doing contributes to the problem. It's absolutely worth taking the time to have your child talk with another adult who might be able to listen objectively.
Make Changes
When my son (who has graduated from our homeschool and is now 20 years old) went through a stage when he refused to do his school work, I had to take action. I had his eyesight, hearing, and vision tested. I also had educational testing done. I had already suspected that he had Asperger's and therefore knew he might have a harder time learning than other students. (Although many children on the autism spectrum are very smart, it can be very hard for them to pay attention, process information, ignore distractions, etc.)
Once I learned how to deal with my son's learning differences, I explained to him that school would be different and that we were going to make some changes that would help him. You have to make the changes that are right for your own child–which may be different from those that my child required.
In my son's case, he needed:
to be as free of distraction as possible.
to be free to work at his own pace.
to know at the beginning of each school day what he would be required to do for that day.
to work as independently as possible with me showing/telling/teaching him and then allowing him to do his work independently as much as possible. (He knew I was available to help and answer questions at any time, but he needed to be allowed to do his work in a different room than his siblings. Once his work was done, I checked it, reviewed any problems with him, and had him correct his work as needed.)
These changes made it easier for him to get his work done, but he still went through a stage during which he completely refused to do his work in spite of the changes we made. So what did I do then?
Take Stronger Action if Necessary
All children are different, so it can be very hard to make suggestions for children I don't know personally. But I can tell you what I did when my son went through a stage during which he completely refused to do his school work. I must point out, though, that I was certain at this point that there weren't any other reasons for his refusal except his attitude. He was testing the limits to see if he could get away with refusing to work. If he'd had undiagnosed issues, no amount of "being tough" would have caused him to get his work done. It is absolutely necessary to make sure there aren't any underlying issues that are causing your child's refusal to work before you take stronger action!
At one point my son realized that, once his school work was done, he was free to play, take a break, go outside, read, play video games, or otherwise have fun and do what he wanted to do. Once he realized that, he decided he needed to just skip that pesky school work and get straight to the fun part! Another time when he was older, he tried it again. Both times I took basically the same approach to getting him to do his work. I'll explain.
I began by simply explaining that his school work must be done before he could play with friends, play video games, go on field trips or activities, or whatever else he enjoyed doing based on his age and interests at the time. I hoped, of course, that he would take me seriously and do his work, but I was prepared to take action if he didn't. Unfortunately, he put me to the test right away.
The next day when it was time for school, he didn't do his work. He either sat there and did nothing or doodled or worked extremely slowly so that not much was accomplished. When the time came that I had to straighten up the house and start cooking dinner (or whatever else I needed to get done that afternoon), I told him that school was over for the day. When he got ready to play his video games, I calmly explained that he wasn't allowed to play video games that day since his school work didn't get done and that he could try again tomorrow. He was very unhappy and upset, and I really did feel awful, but I had to stay calm and not give in. It was hard for both of us!
I'm sure he thought at that moment that he would do better the next day, but he didn't. By the next day, he had renewed his efforts not to do his work in hopes that I would back down. I didn't. I (somehow!!) remained calm while he dawdled, whined, and did everything except his school work. Later that afternoon I let him know that school time was over and he was free to go. That night there was an activity (probably a church activity or homeschool get-together) that he was looking forward to going to. I had to tell him that he wouldn't be going since he didn't get done with school that day. He didn't take the news very well, but once again I did my best to remain calm and get through it.
After a few days of this, he was finally convinced that it was better to do his school work than to be denied the chance to have fun. There were still occasional days here and there that he goofed around or didn't do his work well. On those days, I had to once again deny him the chance to do whatever fun activity he next wanted to do. I didn't enjoy it, and he certainly didn't like it, but eventually he learned that doing his school work and doing his best on it was better than suffering the consequences.
There is something very important to make note of here, though. You should NEVER penalize a child for having trouble with a particular subject or assignment as long as the child is doing his or her best. Even if your child fails a test or misses all of the math problems, he should not be penalized if he truly doesn't understand it. If he goofed around and refused to listen as you taught the math concept and therefore missed all of the math problems, that is a different story. But if he really was trying his best, he shouldn't be penalized.
Was it easy to be kind, patient, and firm while my son learned that it was better to do his work than suffer the consequences? Not at all!! Was it worth it? Absolutely! Eventually he learned that it was better to do his work well the first time so that he could have the freedoms and privileges he wanted to enjoy. There were times when he did well for a while and then tested me again to see if the rules still applied, but eventually he learned to do his work, do it well, and do it in a timely manner.
Dealing with Different Personalities
When my daughter went through a similar time of refusing to do her school work, the process was very different. When I first sat her down to talk with her about it and give her the chance to explain (if she could) why she wasn't doing her school work, it turned out that she simply needed a little more direction from me than my son had needed and wanted. She didn't feel confident doing her work with the amount of freedom that my son loved and required, and she "shut down" and got nothing done because she felt overwhelmed.
This was a much easier situation to remedy, and I was glad I'd given her the chance to explain, without fear of being "in trouble," why her work wasn't getting done. In fact, my daughter is now in 11th grade, and she still likes more direction and explanation than my son did at her age. I am encouraging her to be more independent since she is older, but I've also let her know that I'll be checking on her and that I'm here if she needs help.
Do What Works for Your Family
Each family is different, and what works for one family may not work for another. But it helps sometimes to learn how others have handled problems and then think about ways their solutions might be adapted to work for your family. Sometimes solutions don't come right away. Sometimes it takes a while to figure out the problem and decide how to deal with it. Sometimes it takes more than one try. But don't give up! The success is worth the time and effort you put into it!