Football is definitely viewed as one of the more aggressive, high contact sports. Youth coaches and leagues are dealing with young children and often times their first exposure to the game.

We know first hand as our son has completed 3 years on a flag football team, and is experiencing his first season at tackle football as I write this. He is almost 9 years old and I have yet to have a person guess him over the age of 6! He is very little for his age, weighing in at 52lbs (wet)! The maximum weigh in weight for the league he is in is 105lbs. Yes, that is double his weight! Needless to say, I have received countless inquiries and looks as to my decision to let him play such an aggressive sport, given the obvious risks, and his general size disadvantage.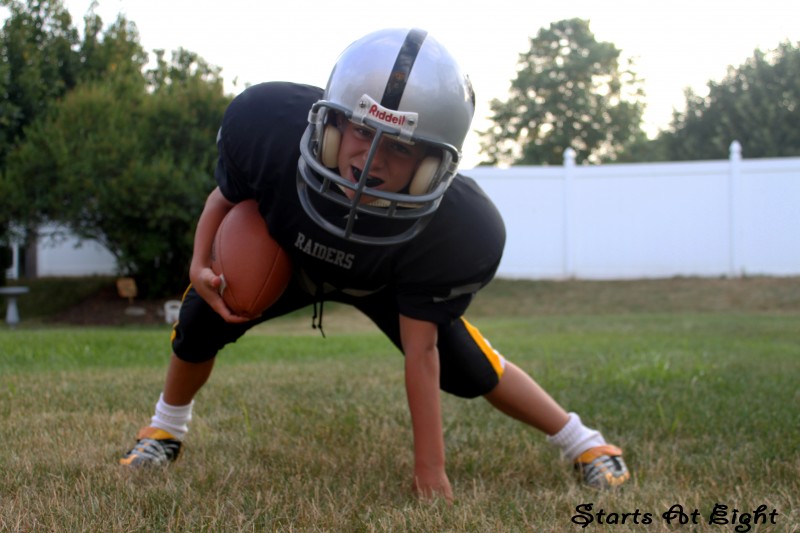 There are multiple reasons behind our decision. First and foremost is that he LOVES the game! He has a real heart and passion for it.

The second, and quite substantial reason, is that we chose with whom, and where he plays (a pick up league, a community center fun class, or an accredited organization are a few of the options). We have chosen for him to play on a team that is a member of a Youth Football League organization, and thus is governed by that. The following points are all things to consider about an organization as a whole, as well as those that participate in it.

Given the fierce nature of football it is important to take safety issues seriously. Thus, choosing an organization with a history of safety rules and regulations is important. Such rules can greatly reduce the risk of injury to your child as well as other children.

The first thing to look for is the organization's use of/and policies concerning equipment. It is not just about equipment, but also about how it is maintained and how the wearing of such gear is enforced. Injury reduction begins here. Taking into consideration such things as:

a helmet with a face guard
shoulder pads
pants with thigh and knee pads
rib cage and tail bone protection
mouthpiece
athletic supporter with protective cup
shoes with soccer type or short cleats

Within our league there are requirements about the equipment being inspected and certified before each new season is to begin. This is to ensure that not only will your child be getting a helmet, but they will receive one that has been inspected and meets the organizations safety requirements.

Almost as equally important is the conduct of the game. Ask yourself, "Are there sufficient adult coaches and referees who are familiar with the rulebook of the league?" Copies of the rule book should not only be made available to anyone participating in the league, but should also be mandatory reading. Consider carefully the philosophy of the league as well as the individual coaching staff of your child. Youth sports are not only a place to learn the sport, but are a training ground for kids to learn honesty and fair play.

As the old saying goes, "It is not about winning or losing, but how you play the game." This is true, but the nature of competitive sports is that you are there to win. Children should not be taught that winning doesn't matter, but that winning at all costs is inappropriate. It is up to coaches and parents to work together to strike a balance in this department.

Along the winning/losing line is the question of playing time. Obviously if you are playing a good team and you don't always play your best players, the odds of winning are not in your favor. Many leagues put a minimum amount that each player is required to play in a game. For instance, our son is required to be in for a minimum of 5 plays per half and there are monitors assigned from each team to make sure this happens. If it does not, the team that did not meet this requirement has to forfeit the game. Now as far as practice goes there are no rules. I was greatly relieved to hear that our coaching staff this year did not engage the policies of the previous staff for practice. They primarily practiced their "first string" while the others hovered on the sidelines and stood in as tackling dummies. I certainly would have had something to say about this. (Rather loudly I might add!) These are young children who are new to a sport and are entitled to be taught it and have hands on practice. Thus knowing what a coaches philosophy is can make a big difference, even in a league with specific rules.

Below are two of the primary organizations that are popular in our area. But if you are interested in Youth Football Leagues, you can do a simple internet search and lists of organizations in areas across the country are readily available.

American Youth Football League

Pop Warner Youth Football League

Heidi is a 34 year old, happily married wife to one self proclaimed computer geek. Through their 13 years of marriage they have added 3 children: Chloe (12), Jayden (8), and Ava (5), as well as 2 dogs: Muffin and Oscar, to the mix. When not totally engrossed in homeschooling, or taxi service for the children Heidi likes to read, blog at Starts At Eight, and chronicle their lives in photos, as well as working at new hand projects like gardening, knitting, and crochet. You can also catch her on Twitter, and Facebook!