Dear Homeschool Mom: Is Flexibility Hard for You?
Dear Homeschool Mom,
Is flexibility hard for you? I've been homeschooling for over 20 years, and I have to admit that I still have a hard time dealing with last-minute changes to our homeschool schedule. In fact, it's sometimes hard even when I know changes are coming and can plan ahead for them! But one thing I've learned over my years of homeschooling is the days that don't go according to my plan often turn out to be wonderful days of fun and learning!
For example, I remember a day almost 8 years ago that a rainy day turned into a fun learning opportunity. It wasn't part of my plan for that day, and at first I resisted changing my plans. It turned out, though, to be a day that my youngest child and I both remember 8 years later as a day of having fun together and learning about something unexpected. I will always treasure the memories we made that day!
The past couple of weeks had been a little bit crazy at our house. One thing after another had come up and thrown off our homeschool schedule. I was looking forward to enjoying a normal day of getting our school work done according to my plan. The day turned out to be very different, though, and that was a good thing!
On that particular day, my daughter and I were looking forward to getting back outside to do her school work (We have always enjoyed
doing her school work outside on nice days.) after several days of rain. But when it unexpectedly rained again that day, we were so disappointed! Because of the rain, we did her school work inside that morning (while feeling sorry for ourselves).
When the sun came out a few hours later, we decided to walk down our long driveway to check the mail just so we could get outside for a few minutes. What started out as a quick walk to the mailbox ended up throwing off our scheduled for the rest of the day! My daughter discovered that the driveway was absolutely covered with tiny snails that had left their water-logged homes in the ground as a result of all the rain. I'll bet you can guess what we studied for the rest of the day? Yep! Snails!
At first it was hard for me to let my daughter observe, collect, and play with those snails instead of having her go inside and finish her school work. Several times I almost had her set the snails free and finish school, but I resisted the urge. She ended up having a wonderful day! She learned a lot just by observing the snails. And we took the opportunity to talk about snails, why they'd come out onto the driveway that day, where they live, what they eat, why they have to live in wet environments, and so on. These are things she might never have been interested in learning about if our day hadn't been interrupted by an abundance of snails on our driveway that day!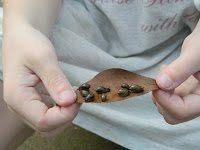 The next week, I was needed to babysit my two nephews (ages 4 and 1 1/2) for my sister. She had several important things she needed to get done, so I ended up keeping them for three mornings that week! Of course I homeschooled my older two children when my youngest child was small, but that's a little different than keeping two children who aren't normally at my house several days a week. Because of my nephews being at my house, we didn't get much school work done those three mornings.
Yes, it was hard for me to give up three school mornings to keep my little nephews. But I knew my sister
needed that time, and I knew my children were learning that people and relationships are more important than getting our school work done by lunch time. They were learning to bless someone else and to be flexible–things all of us need to learn!
As I look back all these years later, I realize something else. If you think about it, even those who work outside of the home hardly ever have a day without an interruption here and there. Flexibility really is important to all of us–regardless of whether we homeschool, work from home, work outside of the home, or whatever else our situations may be. And, while I didn't really think much about it at the time, I was teaching my children to be blessings to others who need them. After all, some of the most important reasons for homeschooling are building strong relationships with our children and teaching them to be confident, caring adults. Yes, education is important. We definitely want our children to be well educated. But just as important is teaching our children to love and care for others.
So the next time your schedule is interrupted, try not to get frustrated and impatient. Instead, try to think of it as an opportunity to learn something new, serve someone else who needs your help, and enjoy life with your children. If you can teach your children to love and serve others, they will be well on their way to being happy, successful adults!