Back to School Giveaway – Gift Certificates and a Little of This and That Wednesday {closed}
(Please be patient as this page loads; there are a lot of giveaways below!)
Looking for a list of all of our sponsors (and a list of all of the daily giveaways)? Go to the sponsor page!
Don't miss a single giveaway! See all of Wednesday's giveaways here.
a Little of This and That:
CurrClick
Welcome to Super Genius: Math on Currclick LIVE! Do you want to use Khan Academy for your Math but just aren't sure how to get started? Are you using Khan Academy but don't feel confident in your math to help your student? Or, do you just want to free up a little extra time for yourself? This class is individualized mentoring using the Khan Academy web resource for instruction and problems.
Winner will receive Super Genius Math on Currclick LIVE.
Discount Homeschool Curriculum
DiscountHomeschoolCurriculum.com offers discounted products from popular publishers such as Alpha Omega, Scott Foresman, Pearson, Prentice Hall and more. We have carefully chosen this curriculum based on reviews from homeschooling families and personal experience. Our company is owned and operated by homeschooling moms with years of homeschooling experience so you can be assured that you are purchasing top quality curriculum.
Winner receives a High School 17-subject Software Bundle.
Home Learning Institute
OVER 100 ONLINE COURSES. Our courses are standards-based across multiple states and National standards. Complete core and elective courses for Grades 5-12 includes mid-term and final exams. Each course has 18 lessons per semester. Milestone assignments provide cumulative assessments throughout the courses.
Winner will receive 90 day subscription unlimited courses online classes for one student.
Kidzmet
Kidzmet is giving away an award-winning Playbook for Learning Kits, which includes paperback copies of both A Parent's Playbook for Learning and 101 Learning Activities to Stretch & Strengthen Your Child's Multiple Intelligences, as well as a zip file with more than 30 printable templates to help with time management, project planning, and all aspects of Bloom's Taxonomy.
Winner receives Playbook for Learning Kits bundle.
Magical Mouse Schoolhouse
Magical Mouse Schoolhouse T-shirt (choose adult or child size) $15. Magical Mouse Schoolhouse reveals the educational opportunities available from Walt Disney entertainment and encourages you to stretch the boundaries of your home classroom with teachable moments found in Disney movies, Disney theme parks, Disney art, and more!
Winner will receive a Magical Mouse Schoolhouse T-shirt.
Media Angels
Teen Expo Sampler Encouragement for Teens 1-audios. A special expo sampler that is geared towards homeschooling teens. Speakers will challenge listeners on a variety of issues including worldview, peer pressures and defining objective truth. "What is the Ultimate Homeschool Expo?" Felice Gerwitz (of Media Angels Publishing) brings an ONline expo with topics for today's homeschool moms! Sign up for our eList and get a free audio every time you open an email from me! Media Angels has a vast array of books, audio downloads as well as classes, packaged and ready to go! What type of homeschool topics do we address? Homeschool teaching methods. Organization and Encouragment. Holidays and Homeschooling. Creation studies. Exceptional Children. Teen Years. Mommy Jammies Nights! Join our free once-a-month Mommies Jammies Night! Open to all moms and free of charge! August 13th at 8:30 pm est – join us live!
Raising CEO Kids
After months of interviewing, writing, and editing, The Parents' Guide to Raising CEO Kids is finally here. Jerry and I are so excited to share with you two years worth of research and over 150 personal interviews with families and CEO Kid entrepreneurs to discover the systems and strategies that helped them succeed! When our oldest child wanted to go into business, we needed to know how to support his endeavors and how to manage as parents as he succeeded. This is our gift to you, the findings of our journey to help our family and others raise CEO kids.
Winner receives a copy of The Parents' Guide to Raising CEO Kids.
Scaredy Cat / Joyce Herzog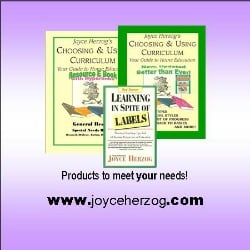 Newly revised, updated and expanded into TWO COMPANION books, the popular Choosing & Using Curriculum pair has more than ever for the veteran, the beginner and the special needs home. Your worldview, your children's learning styles and your teaching styles all combine to make your homeschool unique; make informed choices as to curriculum, lifestyle choices and find the materials you need with these two helpful books. The BOOK is a fast read that helps you focus on your strengths and your child's needs; the EBook provides fast links to informative and free web sites to make learning easier, more fun and at your fingertips!
Winner receives Learning in Spite and Labels and Choosing and Using Curriculum ebooks.
SchoolhouseTeachers.com, a division of the Old Schoohouse Magazine
Do you want to make home education F-U-N and ENGAGING for your children, and readily accessible for you? Are you looking for curriculum and planning tools to fit individual learning styles or grade levels? SchoolhouseTeachers.com is your one-stop place for planning, tracking, and lessons! You will have access to more than 60 classes plus the Schoolhouse Planners, the AppleCore tracking program, printables, and more! SchoolhouseTeachers.com provides the flexibility and options you are looking for!
Winner receives a one-year membership to Schoolhouseteachers.com.
Study Solutions
The How to Study Smarter, Not Harder! A Homeschooling Success Guide includes easy-to-follow steps for parents to incorporate into their daily routine. It's easy for parents to teach and easy for children to learn. As their children complete each chapter, they will learn how to apply study strategies that allow them to take full advantage of every learning opportunity and – most importantly – get results. Become an independent learner. Save precious time. Discover learning in a visual format. Improve comprehension and retention. Learn foundation skills before problems arise.
Winner receives a copy of The How to Study Smarter, Not Harder! A Homeschooling Success Guide.
Gift Certificates
Educents
$50 gift card. A daily deals site featuring the latest educational products up to 90% off! Educents was born out of the belief that every family deserves access to affordable educational materials. Family is the reason we started the business, and the reason we stay in business. Our family. Your family.
Winner receives a $50 gift card to Educents.
My Mardel Homeschool
$25 gift certificate. My Mardel Homeschool offers an extensive selection of resources for the homeschool family. We understand that every child is different and that it is important to customize your child's education to meet his or her needs. We admire your decision to homeschool your child and seek to help provide you with quality, Christian, academic resources. Browse through our enormous selection of courses and take your time researching our entire line of offerings.
Winner receives a $25 gift certificate to My Mardel Homeschool.
Textbooks Heaven
Offering new and used textbooks, teacher editions, teaching resources and educational software up to 90% off retail! "LIKE" TextbooksHeaven.com on Facebook for access to our Daily Deals and Sales!
Winner receives a $25 eGift card to TextbooksHeaven.com.