Back to School Giveaway – Encouragement and Bible Tuesday {closed}
(Please be patient as this page loads; there are a lot of giveaways below!)
Looking for a list of all of our sponsors (and a list of all of the daily giveaways)? Go to the sponsor page!
Don't miss a single giveaway! See all of Tuesday's giveaways here.
Encouragement:
Apologia
Today's giveaway from Apologia includes an "I Believe in Homeschooling" tote bag and coffee mug (usually only available with a purchase of $100 or more at conventions) along with two books and a coloring book (appropriate for preschoolers through about 1st grade). Good Morning God book and coloring book are meant to help your child fall in love with our heavenly Father by thinking about Him from sunrise to sunset. A Light for My Path is an ABC book based on Psalm 119, but it's also much more than that! It is beautifully illustrated and introduces the 26 letters of the English alphabet as well as the 22 letters of the Hebrew alphabet.
Winner will receive Good Morning God, tote bag, and mug.
Diana Waring Presents
Every mom needs that word of encouragement from someone who has been there, who has grownup children and can speak with assurance about the journey. Homeschool moms have an extra portion of the journey to navigate, and often wish for an mentor that will offer direction without nagging or prodding. Diana Waring has that voice. This collection includes an ebook with 8 articles written as Diana was coming to the end of her homeschooling journey, and four Mp3s of her transparent and humorous workshops.
Winner receives The Encouragement for Homeschool Moms Collection.
Media Angels Publishing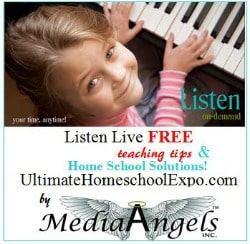 Sessions for moms to talk about the things that really matter: family, faith and more! Be encouraged in your walk as a Christian mom and inspired by these pre-recorded sessions.
Winner receives an audio set from their online expo.
Raising Real Men
Free Registration to Boot Camp 9-12: Getting Geared Up for the Teen Years – the popular LIVE interactive webinar series exclusively for parents of 9 to 12 year old boys with Hal and Melanie Young, award-winning authors of Raising Real Men: Surviving, Teaching and Appreciating Boys $39 value, on sale now for $24
Winner receives a Free Registration to Boot Camp 9-12.
Bible:
Homeschool in the Woods
The Old Testament Activity-Pak. Take a trip through the Old Testament and witness God's hand at work through amazing people and Providential events! The Old Testament Activity-Pak is loaded with 15 Lap Booking projects that incorporate creative writing, coloring, research, Bible study, and more. Designed to provide activities and encourage personal research, use it to accompany any Bible study or history program you are using! Also included is a "treasure hunt" through the Bible to find the ingredients to complete a recipe!
Winner receives The Old Testament Activity Pak Download.
Home School Adventure Company
The Bible is banned in many countries. Countless believers have sacrificed their freedom—and many, their lives—to spread the message of God's love and salvation contained within its pages. Are we exercising our freedom responsibly? Memorize the entire book of Philippians in 28 weeks! Delightful & Painless. It is easier to share the Word of God when it is etched upon your heart. Philippians in 28 Weeks™. is a delightful and painless way to commit the entire book of Philippians to memory. Five Simple Steps: 1. Read 2. Record 3. Repeat 4. Review 5. Recite This streamlined approach uses memory cards carefully constructed to present Philippians thought-by-thought, copywork verses, journal questions, weekly reflections, recitation charts to test your retention, and an optional tracking tool called "The Log."
Winner receives a digital copy of Phillipians in 28 Weeks.
We Choose Virtues
This Homeschool Kit was assembled with everything a Homeschool parent needs to effectively teach 12 Virtues. It has 5 beautiful posters, a 100 Day's of Virtue achievement chart with stickers, flash cards and so much more. The Parenting Cards included in this set were created to help you inspire and demonstrate each Virtue and turn your home or home classroom into a place where Virtue is demonstrated with both attitudes and actions!
Winner receives one Homeschool Kit.