Apologia Exploring Creation with Zoology 3: Land Animals of the Sixth Day
Apologia Exploring Creation with Zoology 3: Land Animals of the Sixth Day
Hot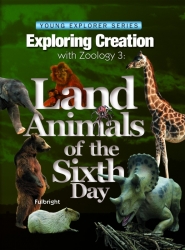 This third book in the zoology series takes students on a safari through jungles, deserts, forests, farms, and even their own backyard to explore, examine and enjoy the enchanting creatures God designed to inhabit the terrain. Exploring Creation with Zoology 3: Land Creatures of the Sixth Day will have your Family snuggling together as you discover amazing animals from primates to parasites, kangaroos to caimans, and turtles to the terrifying T-Rex!
User reviews
My child used this in a co-op setting and enjoyed it.
Cons
have to round up all your own lab/activities supplies
This was my kids favorite science so far, it is very engaging for children, and kept my attention also! It is not watered down material, but is written to be easily understood.
My kids loved the notebooking pages and the assignments didn't overwhelm them. They enjoyed this so much that the asked if they could do science first thing.
This one is good coupled with biome and or geographical studies. this was a bit technical for the younger children--held interest, but was better suited to the older students. We made our own notebook pages and used appropriate coloring book pages--fun, informative study.
The series covers the topic of zoology very thoroughly and is very easy for the kids to understand.
My daughter is really loving this entire series. These books are a great introduction to zoology. However, we didn't care for the notebook journal. She found it boring.
Cons
Not thrilled with the notebook journal
Do you recommend?
Highly recommend
A little above my 1st grader, but definitely recommend for mid to upper elementary. My kids (3, 5 & 7) all love the experiments at the end of each chapter.
Cons
Higher level than grade 1
Do you recommend?
Definitely recommend for mid to upper elementary
My daughter is dyslexic, but she wanted to do this science. It was alot of reading for me, but she loved it so much it was worth it. She liked some things about the optional notebook that you can get with it.
Pros
Alot of fun information
My children have loved the Young explorer series, but land animals has become a favorite this year. They have learned so much about land animals, and are inspired after the lessons to go learn about more species through books at the library.
Pros
Thorough coverage of content, accessible, and engaging
Cons
Experiments can be time consuming
My daughter and I loved this.
We used this book along with Answers in Genesis Properties of Ecosystems. It was great for learning about animals. The text is written sometimes in first person, so that can put you off a bit, but otherwise, great for the Elementary levels!
I love apologia! My children loved the pictures and easy to understand text.

Pros
Beautiful pictures and interesting text
We use it at our co-op. The kids loved all the pictures, and the information covered was in depth yet so easily explained. This is wonderful curriculum!
My kids loved learning about land animals, and placing the stickers on the map. We enjoyed many of the books and videos recommended with each chapter.
Pros
Beautiful pictures, informative text
Cons
Vocabulary crossword puzzles get boring. It would be nice if the activities varied.
The text is well-organized and easy and flexible to implement. We were able to work at our own pace, skimming some sections and spending more time on sections that my children were more interested in. There was plenty of information to make this a "meaty" course for the upper grades and yet, it was accessible enough that my younger children stayed interested most of the time. It does have a good variety of pictures, but I also got books from the library for each chapter so each child could look at the animals while I was reading.
We also used the Junior Notebooks alongside the text, which have some nice activities to supplement the book. There are even some mini booklets in the back of the notebook that are printed in full color. My children were frustrated that some of the spaces to write in were too small (and used the primary dashed lines) and they were overwhelmed when I tried to make them complete every activity, including the copywork. It works better when you pick and choose a few activities.
Pros
Easy to use with different levels, Flexible
Cons
A bit verbose for younger and special-needs students
I used this with my two youngest children and they loved it. Lots of pictures to make the subject interesting and lots of great material to cover the subject.
Just like the other Apologia books, I learned new things right along with my daughter. I love how these books present the material. It is easy to adapt them to any age/grade/ability.

I suggest doing the notebooks with this and the other Apologia books. They include puzzles, copywork and other things to help cement learning.
Pros
Glorifies God, great explanations, easy to read
Feels like you are up close to the animals. Very exciting.
Marilyn
Pros
Cover photo is attractive and inviting.
We did this curriculum last year with our homeschool group. My daughter loved it! I enjoyed it as well. The experiments were well thought out and made the reading even that much more interesting. Good solid Biblical creation is the foundation for this science. Although it was hard for her, due to being dyslexic, my daughter really enjoyed it. We are going to do another of Jeanie Fulbright's science books next year!
Pros
Very good Biblical perspective!
Cons
Hard for a special needs child
Do you recommend?
Highly recommend
I LOVE apologia elementary - -we used all the creation day books with the journals throughout elementary - I learned as much as my kids -
Pros
Easy to understand, interesting, great labs
View all user reviews