The Ultimate List of Dr. Seuss Activities for Dr. Seuss Day!
Dr. Seuss is one the most beloved names in all literature, for adults and children alike! We love him for his fun rhymes, whimsical creatures, and the way that his stories share big ideas in simple ways. For all of these reasons (and so many more), we continue to celebrate this special author on the day of his birth each year, which is March 2nd–otherwise known as Dr. Seuss Day!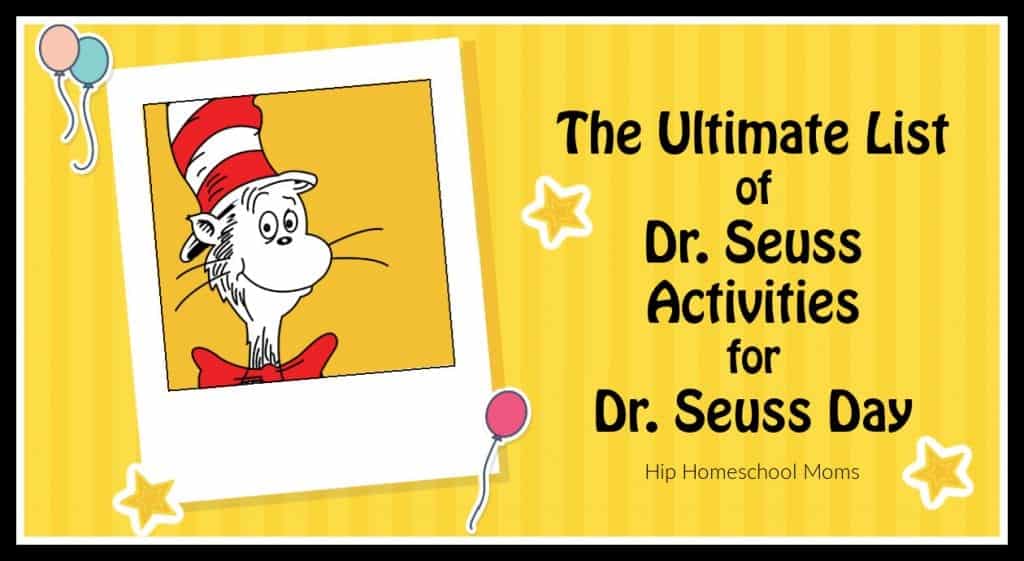 Dr. Seuss Day is also a great way to kick off March as National Reading Month. If you are looking for some fun ways to celebrate this treasured author in your homeschool this year, look no further! We've compiled a huge list of fun crafts and activities that you can use as you explore wonderful books like Cat in the Hat, The Lorax, Green Eggs and Ham (and more!) These activities are especially great for Pre-K – elementary ages. However, even your older kiddos may want to get in on the fun (after all, Dr. Seuss is pretty great no matter how old you are). Don't forget to pick up copies of his books, too. We have links to all of the activities, and the books that go with them, below. Enjoy!
This wonderful story is all about taking responsibility for the impact you can make on the world! Here are some wonderful crafts and activities to go with The Lorax by Dr. Seuss.
This printable bookmark is perfect simple craft/activity to start out with when celebrating Dr. Seuss day because you can use it when reading all your Seuss-y books! Plus, the way that the lorax marks the page by biting it is pretty silly and sure to induce some giggles.
Young kids will love this craft because they get to make their very own Truffula tree seed to hold onto while listening to the story! The craft tutorial also comes with a wonderful printable of a quote from the book that you can tie onto the "seed."

Children always love working with salt dough, and this craft shows you how to turn your child's salt dough handprint into a Lorax-inspired design. You even set in in the microwave to keep things as simple as possible. This super fun craft even leaves mom and dad with a sweet keepsake.
Here's another Lorax craft that is inspired by the shape of your child's handprint! This version, however, is more simple and uses paper (and a few other resources you probably already have at home). There's also space inside to write "I speak for the trees," inside the handprint, which will help your child think about and remember one of the book's main themes.
Young artists will love this Lorax-inspired Truffula tree tutorial, which uses watercolor paints and oil pastels! The final result is gorgeous!
Everyone loves the mischievous Cat in the Hat who shows kids how to have messy fun (and pick up when they're done). Use these fun crafts and ideas alongside this classic favorite.
Use this super simple tutorial to create party hats out of solo cups as you kick off your Dr. Seuss celebration– Cat in the Hat style!
This adorable Thing 1 and Thing 2 card craft is easy to make at home: all you need is colored paper, some little hands to trace, and the free downloadable template attached in the link. Write a special message or a favorite quote from the book, inside!
This easy craft uses materials you likely have at home already, and is a fun, quick craft to create your kiddos' favorite, hat-wearing cat!
This idea is both simple and clever: you can use the stripes on the cat's hat to spell out words. This tutorial shows you how to use it to make a "hat" for each child that spells out his or her names, but you could even use this concept to practice spelling words!
One Fish, Two Fish, Red Fish, Blue Fish is a great Dr. Seuss book to go through with your early reader and talk about the interesting and beautiful variety of things and creatures that exist in nature. We have some fun, Seuss-y fish-themed crafts that go with this book perfectly!
Paper quilling is a simple technique that creates a beautiful effect. It's also a great way to teach your child about some basic shapes. Use this fun and easy quilling tutorial to make Dr. Seuss inspired fish to go with your reading of Reading of One Fish, Two Fish, Red Fish, Blue Fish!
This craft is almost too many fun things at once: DIY edible (marshmallow) playdough, Swedish fish, bright colors and a Dr. Seuss theme?! Your kids will love this one, guaranteed.
This beautiful and creative 3D art craft will teach kids how to make their very own origami fish and get creative as they create an ocean scene with various materials.
These adorable Rice Krispies are fun to make and are the perfect treat to enjoy on Dr. Seuss Day!
Green Eggs and Ham is so much fun to read aloud and opens the door for great conversations about trying new things! Here are some of our favorite crafts and activities to go along with this book.
Kids always love slime, and this slime looks like the green eggs from Green Eggs and Ham! It's the perfect craft to enjoy making and playing with for Dr. Seuss Day. Just don't eat it because – unlike in the book – it probably won't taste good! (Check out the next activity if you're looking for something edible!)
Now these are some green eggs that your kids will definitely want to eat! These Green Eggs and Ham inspired cupcakes have whimsical white chocolate toppers that look exactly like the green eggs in the story! Bake and eat them together in celebration of Dr. Seuss Day!
This book is about how important it is to care about others even (and especially) when it's easier not to. Here are some wonderful crafts to go along with your reading of Horton Hears a Who!
This adorable cardstock Horton is simple to make and stands up on it's own, making an excellent decoration for your Dr. Seuss party!
Parents and kids will love this sweet craft which uses a child's handprint to make an elephant. The resulting art helps tell the story of Horton Hears a Who!
Kids of all ages will love this fun STEM experiment that goes along with the book!

More Dr. Seuss Activities
Here are a few more Dr. Seuss Activities from various other books that you may know and love!
Young kids will enjoy the many textures and colors of this fun and simple craft that's inspired by the Dr. Seuss book, Put Me in the Zoo!
Got any Daisy-Head Mayzie fans at home? They will love getting to be daisy-heads, themselves, after making this wearable craft!
Inspired by the book, There's a Wocket in my Pocket!, this craft is all about embracing creativity as kids build wockets for their own pockets out of a few simple materials! The tutorial encourages kids to come up with rhyming words to describe their wockets, so this craft can result in a variety of different pocket-sized creations.
This bright and whimsical quilling craft will show kids how to create their very own hot air balloon as they read Oh The Places You'll Go and dream about the future.
We hope that you find some great inspiration here to use for your Dr. Seuss Day Celebration on March 2! Do you have any Dr. Seuss Day Traditions? Which of these crafts are you eager to try this year! Drop us a comment and tell us about it!