Are you planting a garden with your children this summer? Gardening can be hard work, but it can also be rewarding! If you want to enjoy your produce and avoid having pests invade and ruin your hard work, try planting some herbs along with your vegetables. Not only will you and your family enjoy some delicious vegetables, but you'll be able to use the herbs when you prepare meals with them!
I often plant extra herbs and dry what I don't use right away. In that way, I'm able to have home-grown herbs all winter. I simply gather my herbs, wash them, and lay them on paper-towel-lined pans to dry on the counter. Once they're completely dried out (which may take a few days if done indoors), I place them in jars, make sure the lids are secure, and store them in the cabinet until I need them. Then I can enjoy flavorful, pesticide-free herbs all winter!
As you can see, planting herbs along with your garden vegetables really is a great idea for several reasons! But how do you know which herbs to plant? Below we'll give you some tips for which herbs to plant depending on which kinds of pests you have in your area and which kinds of vegetables you decide to plant.
Why use herbs instead of pesticides?
When you and your children work hard to grow a garden and are excited to enjoy what you've grown, you don't want insects to destroy your plants! Toxic insect sprays are not the only answer to maintaining a bug-free garden, though. I prefer to take a more natural approach to the problem by mixing herbs that will repel the insects in with the vegetables.
What herbs should be used to protect against which pests?
Planting herbs and vegetables that compliment each other together is what we call companion planting. When paired correctly, herbs can repel insects that would otherwise destroy the nearby plant. Here's a list of 10 herbs that repel garden pests.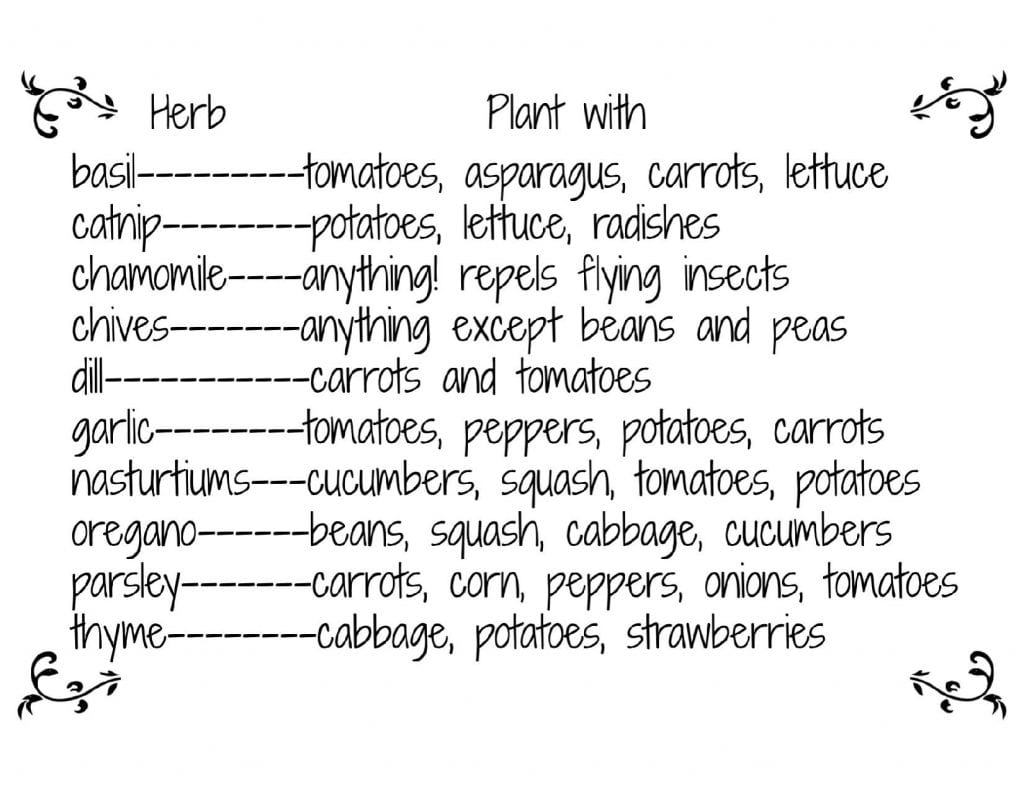 Is it too late to plant herbs to help protect my garden?
If you have your garden well under way this summer but find that pests are a problem for you, it's not too late to do something about it! Many of these plants can be found at a local store or farmer's market and planted next to the vegetables.
Other Gardening Resources You May Enjoy
Be sure grab our free kids' garden planner! It contains:
The Soil Worksheet– Soil preparation is a key ingredient for any garden, however small. You may want to have your children take notes as you research with them what to add or test in your soil.
I recommend starting with a small garden box or raised bed and adding a soil mix of 2 parts compost & manure and 1 part peat moss. You may also want to add small amounts of vermiculite, blood meal, and bone meal which can be found at local garden stores. How much you add would depend on the size box you are filling with your soil mixture. This way, you can control weeds and the content of your soil so much better. Proper soil makes for a successful garden experience.
2. The Spring Garden Plan– Use this page to draw a small design or plan for your spring garden. Below are fact boxes for spring crops and flowers commonly used. Have your children write the facts on these plants- such as what kind of conditions, spacing, and care they will need to grow their plant choices. You should actually go through the facts before your children plan their garden boxes so that they will know how much space they will need before they design the garden space.
And our Garden Notebooking Pages. They are marked down from $4.99 to $1.99 right now! Use the spaces provided for recording taxonomy as well as your observations as you grow your homeschool garden. The black and white and light color format makes printing affordable and allows for personalization as your child fills in each page. Choose from over 20 plants by common name. This packet also includes a blank page which can be printed multiple times. This PDF includes 19 total notebooking pages and is a PDF digital download product.
Other articles that you may be interested in:
Use Your Garden as an Outdoor Classroom
7 Medicinal Herbs to Grow In Your Garden
Plants that Can Help Improve Your Health
Do you make gardening a part of your homeschool? How? What are the ages of your children and what do they help you grow?