Play Educational Games Just for the Fun of It!
Games are pretty big in our house…both educational and otherwise. When Grandma joins in, we can easily have two teams, with my almost-ten-year-old joining in with one of us on the harder strategy-type games where she may need some guidance. We enjoy everything from "Uno" to "Ticket to Ride" to "Monopoly" and "Clue." But my favorite game times are when my daughter and I just throw the schedule out the window for the afternoon and play educational games just for the fun of it.
I am of the opinion (and grow more passionate about this the longer we homeschool) that games are an excellent way to educate our kiddos. Consequently, our game closet is pretty extensive, so it was really tough to narrow it down to my Top 10. There are some really awesome games that I just hated to leave out, but I'm sure Wendy and Trish would not want this article to be a list of 75+ games, it would be a mile long!! So, I narrowed it down to my top 10 picks.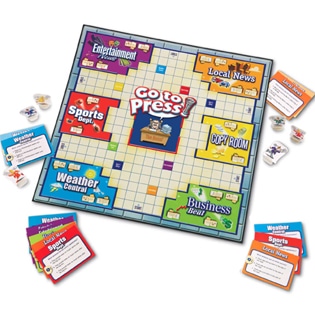 1. Go To Press
We have been playing this game for several years. Even though she doesn't miss many any longer, she still enjoys the process! Designed for ages 7-12, this totally fun game mimics the process of getting a big-city newspaper ready for publishing, while reinforcing grammar, spelling, punctuation, and capitalization along the way. Players will be given a card for each category when they arrive in the room (through a process similar to getting through the rooms in Clue!), and if they get the answer correct, they will receive the card for that room (Weather Central, Business Beat, Copy Room, etc.). The first person to get all the cards and make it to the boss's office gets to say "Go to Press!", winning the game. Designed for 2-6 players.
New to us last fall, we had the opportunity to review this awesome new board game designed for ages 11 and up. Note: my nine year old was completely capable of playing this with an adult on her team, and she thoroughly enjoyed it! So as always, use your parental knowledge of your kiddos and what they can do/will enjoy. This unique board game puts you smack dab into the middle of a Presidential campaign where players must strategize on how to reach the required 270 electoral votes. Your students will learn the ins and outs of going out on the campaign trail, when to cut your losses in one state where the electoral votes are not swinging your way, and how to protect your territory once you feel as though you've got that state cemented. Designed for 2-6 players. Our whole family highly recommends this one!
3. American Trivia
This trivia game focuses on questions in the areas of history, geography and the arts, and has two levels of questions for players with different skill levels (i.e., children and adults, younger children and older siblings, etc.). With over 1,000 questions, you are certain to learn a few new things each time you play! Designed for 2 or more players.
Targeted towards the 15 and up crowd, this is another one of those games that my daughter is capable of playing with assistance. The assistance mainly comes in because she's only been around for almost a decade, and the humor of some of the "Social Justice" and "Disappoint Big Brother" cards are lost on her until you explain it. This incredible resource is billed as "an interactive American history curriculum that helps families learn history in a FUN way." And the game does not disappoint! The content on the 500 history cards was researched heavily, making sure that this game could be used as a teaching resource. A VERY worthwhile addition to your game closet! Designed for 3-8 players.
5. Destination USA
This has to be one of my daughter's all time faves! We've had it longer than some of the others, so it's been around to get "picked" quite often! The minimum age recommended by the vendor is 8, but I have a feeling that you could help a younger kiddo navigate this one easily. The players travel around the country via different transportation methods (defined by the "driving cards") and the winner is determined by the player with the most chips at the end of the game combined with points from destination cards. This is an excellent game that gives your kids exposure to the U. S. map during the entire game. Designed for 2-5 players.
Take your knowledge of the greatest leaders of our country to the next level while having fun with a Presidential Campaign! The makers of "Hail to the Chief" have done an extraordinary job of providing different levels for the knowledge base of the players. You move around the outside of the board by answering questions about our Presidents and the Constitution while you are in the process of becoming a candidate. Then when on the campaign trail, you go from state to state answering questions in the areas of history and geography. Being the first candidate to arrive in D. C. with enough electoral votes wins you the game! Definitely one of our favorites! Designed for 2-4 players.
This one just arrived in our home a week or so ago, so I must preface all of what I am about to say with this: we haven't even played the game yet. But I KNOW based on the type of games that we love, the high quality of the materials used in this product, and the rave reviews it has received from members of the media and former Reagan staffer that it is going to be one of our new favorites. Your game includes 223 cards filled with information about the three branches of government, the powers that are granted and denied each branch, our system of checks and balances, laws from the Articles, the Bill of Rights and other amendments, and historical facts and dates. This rich educational resources is making its way into homes and schools across the country, and I believe our students will be all the better for it! Designed for 2 to 4 players or 2 to 4 TEAMS . It is adaptable even for a classroom with 2 to 6 students on a team, with 4 teams playing with one board. At game nights, 16 or even 20 people could use one game board! I believe there is a chance this one could become our #1 pick!!
8. Chronology
A unique twist on learning pieces of trivia in the categories of history, arts & entertainment, sports, and inventions & discoveries. Players must place the events on their timelines in a correct range to rack up points. The first player to correctly place 10 events wins! Designed for 2-8 players ages 9 to adult. We really enjoy this one!!
9. Linkology
Help students "link" animal facts to make important life science concept connections. This fast–paced card game asks players to match word and picture cards relating to animal attributes, reinforcing key scientific concepts and vocabulary. Easy-to-follow instructions allow for quick game play. – See more at: http://www.learningresources.com/product/linkology–8482-+animal+card+game.do#sthash.LeatAMUh.dpuf
Students match word and picture cards to make important concept connections. We have the card decks for both animal science and the human body, and I have also seen one available for the solar system. Each set includes 100 self checking cards. Designed for 2-6 players, ages 7 and up. It's a quick and easy way to get in a science lesson and have some fun at the same time!
10. Professor Noggin
This ever popular professor has been winning over kids since 2002. With an ever growing range of topics, you can now do some fun-schooling with Professor Noggin and his 38 games. Whether you are interested in science, nature, geography, or history, you are sure to learn a ton with each 180-card deck and die. Excellent for families, it has two levels of difficulty within each game. Very portable for fun on the road! Designed for 7 and up, and 2-8 players.
I hope you find some games in our list that your family would enjoy!
Do you have any great educational games you would like to share with our readers?