Schedules for Working Homeschool Moms
You work. You homeschool. You are a mom. You are a wife… or maybe not. You Live. You Sleep. You eat. You worship. And hopefully you have some fun. But what does this balance look like in REAL life? What are some working homeschool moms schedules?
In my first post in the Working Homeschool Mom series, I opened up with scheduling tips for working homeschool moms. But these tips are more general than what some may be looking for. This month I will be providing all of my working gals with REAL life schedule scenarios. Not only will I include mine, but I will be providing quotes from our fellow homeschool chicks in the Facebook Community. Many of these women are working their butts off and pulling the homeschool life off with flying colors!
Schedules for Working Homeschool Moms
First, a little about my schedule…
I have a very WEIRD work schedule. It is not dependable or routine. I do try to be scheduled for real in-person shifts the last part of the week. I tend to take call more towards the beginning of the week. As a nurse, I've cross trained in a few areas which allow for some flexibility in my schedule.
I do not need my own medical insurance as my husband already has this with his job. This has been a huge blessing and because of this I don't have to work the required time in a benefited position. I also have some other income options I am pursuing: Urban Farming (a work in progress – not at all a profit right now), Jamberry Nails Consultant, Young Living Essential Oils, and blogging. If you are interested in these, message me.
Because I am considered an on call or "per diem" nurse, I tell them what I will work and how much. I do not carry a pager but am instead put on the schedule of that month. I am not required to come in any time I am not scheduled. This is huge for homeschool.
But then there is my other job. My "Take call" job is one where I do actually have to carry my phone. I am a Sexual Assault Nurse Examiner. As you can imagine, I can get called at some unpredictable times. This one does throw a wrench into our schedule often.
And then I am also a Classical Conversations Tutor on Mondays during the normal school year.
My husband is in law enforcement and his schedule is weird too.
Can you see what I mean by my schedule being weird?
Because of this, I do not have a "set in stone" daily schedule for school. Trust me, I've tried so many different schedule plans that my kids look at me blankly when I say we have a new schedule. I like to call myself a Classical homeschooler, but I've begun to lean Montessori and a tinsy bit Unschooling because of this. But we still focus classically. This allows for more freedom. I have goals, and we do things that are highest priority first. On a good day when I am off, we start in the a.m. after eating breakfast as a family.
Our Priorities typically go…
Math
English, Grammar, Writing
Reading/Spelling
Bible (this is not first because you need to read to study the Bible)
History, Science, Health
And then the lesser difficult subjects to teach like Computer, Art, Online stuff, Music, etc.
I've tried actually plotting out our day, and it always gets interrupted so I've stopped.
On a day that I work or get called in, my kids have longer lists of chores and do things my husband can help them with. This normally entails computer software. This next go around, I am going to expect more out of my husband and kids though. It never fails that I get called at work because someone can't remember their log in so I will be creating a running list of websites and log-in info that will be posted in our school area.
We always take Sundays off because this is a day for enjoying each other and relaxing. Very rarely we will do some school though.
As for other things, my husband plays a huge part in making sure that our home does not turn into a disaster. He does most of the laundry, helps with food and prep, and helps keep the house tidy. I hire a friend every couple weeks for a couple hours to deep clean. My husband and I do spend a great deal of time together as well. The kids do a lot to help as well….but they aren't angels. 😉
Now for my fellow working homeschool moms….these are quotes acquired through Facebook.
Sarah C.
We do our book work in the morning. My two oldest sit with me at the kitchen table and do work while I work (that will last about an hour) then I play catch up the rest of the day! I don't have a typical job so I can work from the park, the car, the lake, and so forth.. MOST DAYS.. but some days are harder than others. I end up having to work for awhile after everyone goes to bed too to get everything that needs to be done…done.
Jennifer W.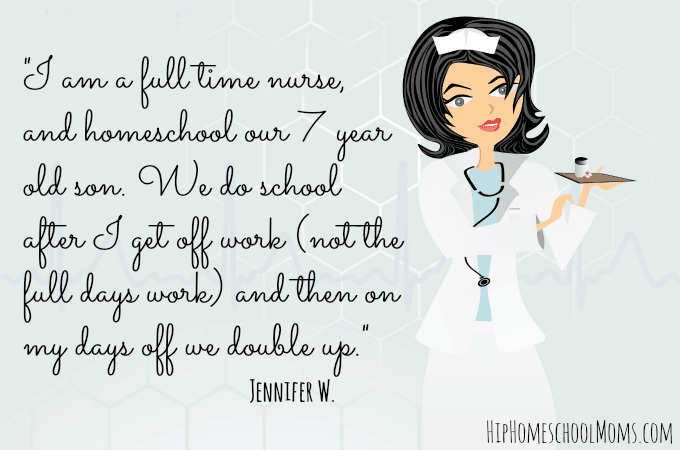 Stacy P.
I work full time and homeschool two teens. Some days I bring them to the office with me. Other days they go to the library, etc… I do lessons on the weekends, and I'm available in the evenings for extra help. They mainly work independently. On the weekends I assign all the work that needs completed that week, and then they work to finish it. It's not a perfect system, but it works for us. We don't have daily schedules and such. We're more of the "wing it" type of family, but both kids have really intense course loads and both take 12 classes a year.
Kayra J.
I work full time and my husband works part time from home. So he does the language arts/geography/ and math for the little ones while I'm at work. Then I do math for the oldest/science/history when I get home and on weekends. I also do all the planning for all 3 and keep up with grades. They are currently 7th grade and two 3rd graders.
Jennifer S.
I do schooling at night. My son does work (homework??) during the day at the sitter's. (I have to pay for my child care.) But this woman also homeschools her son, so there's assistance for my son if he truly needs it. I also teach on the weekends. My husband will teach a subject if he understands the concept.
Sharon G.
We are self employed so I take them with me to work. We have a school area set up for them, and I pop back and forth to check their work and give directions on the next step. Things that require more of my attention, like science, we do in the evenings and weekends.
Brandi P.
I did daycare in my home for several years, but that got to be too difficult with home schooling. So I work 3 nights a week in the home of someone with special needs. I am now a single mom, and we have moved in with my parents so that my mother can co-teach with me as well as provide child care.
Jamie C.H.
As you can see, being a working homeschool mom is a very diverse thing. No two homes or schedules are the same. These families have made homeschool a priority and have tweaked their lives to make it work. If you are thinking of homeschooling but doubt if it is possible because you have a job…think again. 🙂
I want to do a roll call of all the moms (or dads) out there who work in some capacity while homeschooling. Shoot a quick comment on what you do. Let us use this article as a place to encourage our fellow working homeschool moms when it comes to scheduling. I know we all find reassurance when we see what each other is doing. So, share your schedule in the comments. This will be much easier to locate than old Facebook threads.
Flood my comments with your schedules!!! I want to see a ton! I know you all are out there. 😉
Heather