The 'Real World' Argument
I've had SO many people give me the "real world" argument lately. "Eventually, they'll need to go to school." "We want them to be prepared for the 'real world' and college, and able to work in the work force."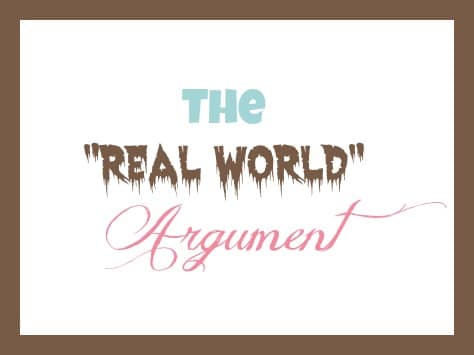 Many of us homeschoolers have now come to let these comments roll off us like water off a duck's back. However, this realization only recently happened for me. Do you have friends, family, and strangers giving you this spiel? Does it make you doubt your decision to homeschool? Let's examine the basics of a 'normal' public school education and let's decide whether this *really* prepares them for the real world. Shall we? (Yes, I'm rolling my eyes.)
A super-scheduled day in which new activities are put in front of your child 24/7. Does that teach self-sufficiency? A start-up type of attitude? I think not. If anything, it leaves our children floundering once they do complete school on how to function without their hands being held. (I realize this doesn't apply to all public-schoolers, but I'm defending for those that need defending…)
What about that age-old 'socialization' argument? I've been a public school teacher. Guess what our #1 issue was when it came to behavior reports? Children SOCIALIZING! They were there to LEARN!!!! Many times they were so EAGER to chit chat and play, but the 'system' had so much stuff we had to accomplish that they got in trouble for that. Don't most parents send their kids to school for an education? Tell them to pay attention and not 'play'? Of course. Now, if you can find the high-paying employer that schedules your assignments all day and has you and your co-workers walk in line to lunch, just let me know, mmmk?
What about grades? Old fashioned number grades? Personally, I believe in them. I can, however, see the unschoolers and non-grading homeschoolers' beliefs in grade-less schooling. In what position in the work force do you receive just a number grade with no explanation of the pros and cons of your performance? Not many. Furthermore, you usually have more than one chance to get it right. Those who homeschool have a chance to evaluate every aspect of their children's performance on a project or task. Give them feedback and allow them to improve over and over. This is nearly impossible in a class of twenty-something children.
What about college? Surely homeschoolers will struggle in this transition? Right? I don't believe so. Wonder why the drop-out rate is SO high for college freshman entrants? Most likely because the way you're expected to study and learn on the college level is so foreign to many people in the regular school system. Now, of course, many students do just fine. However, many do not. They struggle with time management, the rigors of academics, and the new schedule (which is most definitely not 7:30am-2:30pm). Add in the part-time job and extracurricular activities, and it can be very overwhelming.
For homeschooling students, most have learned to explore and think critically, and their families have encouraged learning and working at different times of day. Many have begun college courses in the middle school or early high school years. They've had time to work and volunteer to better decide on a major, which saves their parents a TON of money. And if anything is 'real world' these days, it's saving money!
What about all those elementary and high school friends?! Well, most of us can probably agree that many of our lifelong friends were made in college or adulthood. We really shouldn't worry that our children will be friendless if they don't receive the average public school education.
Those are only a few arguments for you to ponder when you receive that 'real world' comment from someone in your life. Be confident in what you are doing for your children. This IS the real world. It'll just take society a while to catch up with US 😉 !