If you have a child who struggles with fear or self-esteem issues or other similar problems, this program may be just what you need! Janyse Jaud created this program for those very reasons! Keep reading below to find out how two different Hip Homeschool Moms team members used it with their children and to find out what they thought of it. Also, you'll have a chance to enter to win a copy for yourself and your children!
Demetria's Thoughts:
We received The Magic of Think and the Stone of Courage written by thinkologist Janyse Jaud.  My six-year-old who is absolutely a whimsical child who needs a boost of courage loved it.
(I received this product  free of charge in exchange for an honest review- either positive or negative.  I was not paid for this review.  All opinions are mine and are honest.  I am disclosing this in accordance with the Federal Trade Commission's 16 CFR, Part 255.)
We wanted a curriculum that would help her with self esteem, courage, and bravery, and this unique learning set offers these concepts in a playfully adventurous way.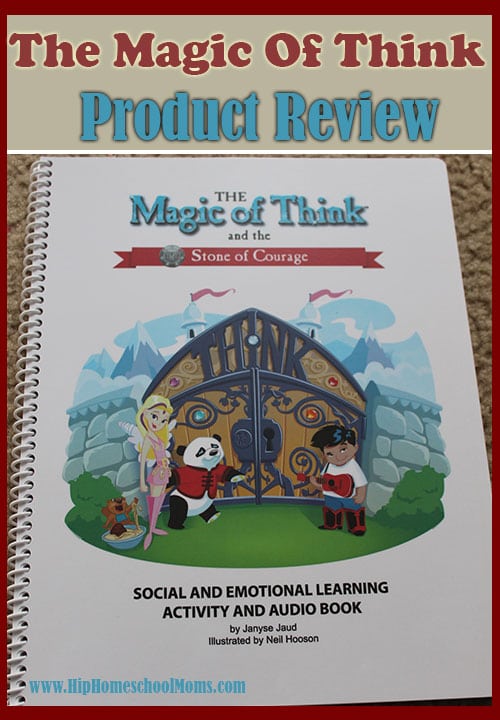 When I first opened the book and turned the pages, my daughter got so excited.  The pages are colorful and inviting.  If you have kids who love fairy tales, superheroes, and charming adventures like my kids do, then they'll be in for a treat.
The book weaves in the tales of three cute characters and a "stone of courage" all while highlighting self esteem, friendship, and emotion management.  (My daughter was intrigued by the art on each page, by the way. The illustrations are very well done.)
At the appropriate time in the story, my daughter was given the opportunity to choose her favorite character to continue on with the lesson. The three characters are just too cute–from Coochi Coo to Little Red and Aldis.
Her favorite character, Aldis, led her into a lesson on setting positive goals. My kiddo decided that her short term goal would be to learn to tie her shoes!
The workbook also comes with an audio CD.  An audio book, mentor's guide, and packages are available as well.
Many of the songs and lessons highlight character training lessons such as "keep trying and never give up" and "believe and have courage."
The music really brought the lesson to life.  After listening to and dancing along with the song on heroes, we continue with the workbook.
She begged, "Mom, let's keep going!" So we did.
The exercises are quick and easy, and they cause children to think about emotions. They'll circle, write, and follow easy directions.
Another thing I really like about this workbook is the much-needed handwriting practice my child gets.
This curriculum is also great for kids who are struggling with bad dreams at night.
It would work great with a unit study on feelings and emotions or as a stand-alone curriculum.
How To Purchase:
From the website, you can listen to a few music clips and watch a special teaser just to get you a bit familiar with the product.
You can purchase The Magic of Think and the Stone of Courage directly at their website for $39.95 or select from a variety of packages and compilations.
*Tip- with holidays soon approaching you'll probably find discounts.
I only hope they'll come out with a second set soon since my daughter is enjoying it so much! Before the week is over, we'll be finished with this workbook.
 Overall, we've really enjoyed the product.
Liz's Thoughts:
Hi, I'm Liz. Like Demetria and her daughter, we really enjoyed The Magic of Think and the Stone of Courage.  I have 4 boys ranging in ages from one to seven.  My two oldest sons, ages 5 and 7, worked on the workbook together.  One of my favorite things about the book is that it is sturdy.  The pages are thick and the spiral binding allows two children to sit and follow along together without the book closing too easily.
I was immediately happy to see a Feelings Chart in the beginning of the book.
My sons had fun imitating the faces and talking about various times when they also felt those emotions.   I plan on keeping that page open and easy to access in our classroom.  With 4 little boys, emotions can get out of hand quickly, and having a chart and lessons to refer to has already proven to be helpful.
Like Demetria's daughter, my sons are mesmerized by mystical stories and fantasies.  These books will capture your child's imagination with creative illustrations and unique story lines.  The author of The Magic Of Think, Janyse Jaud,  actually is a popular voice-over from many cartoons your child may watch.  You can check her story out here.
These books guide your child through various scenarios the characters encounter and then follow up the stories (on CD) with questions in the book.  The questions helped to check comprehension and were perfect for my younger children.
There are also extension activities to create various emotions using play dough, so you could also incorporate your younger children.
Also, what mom doesn't love a CD with built-in learning to throw on in the car while running around to all our homeschool activities?  We often took the book with us and just did the workbook in the car!  It was so quick and easy!
Math and reading are important, but the emotional health of our children should always come first and The Magic of Think is an excellent place to start!
Liz was a cheerleader swept off her feet by the football player back in high school. They've been married nearly eight years and are the proud parents to four young boys. She'd always envisioned working and sending her kiddos off to school so she could live the 'normal' American dream. However, life and the Lord surprised her and she's learning to 'redefine having it all' while being a homeschooling housewife. She enjoys finding strength from God's word, the Today show, talking on the phone with friends, and being real about finances and parenting. She's blogging about homeschooling and much more over at Watch Me Homeschool.