Spelling You See Review and Giveaway
Spelling You See as experienced by a mom and with a young daughter who needed to build confidence in her spelling abilities:
My daughter, Tori, and I reviewed Spelling You See: Jack and Jill (Level B).
I hoped Spelling You See would help give my daughter confidence in her reading and spelling, and it has been a real blessing for this purpose.
Victoria just turned eight and her younger sister (by fourteen months) reads quite fluently, much to her chagrin. Tori is a perfectionist, and she erases until she's satisfied with perfect penmanship. She's all about what's fair. She gets very discouraged by her sister's abilities and shuts down.

Spelling You See was something that was Tori's very own; she didn't share these lessons with her sister. I took time out of our days to work with Victoria one-on-one, without her sister around. I realized she really does understand her sounds and can read and spell better than she usually exhibits when her sister is witnessing.
Spelling You See gave Tori the confidence she so desperately needed.
First, I looked through the placement information and figured that Tori was well beyond Level A but not quite ready for Level C. I was correct.
The Instructor's Handbook is necessary in order to know how to use the program. Not only does the handbook tell you how to facilitate each lesson, it also contains an overview of the 36 lessons and information about important skills and concepts that will be learned at this level. In the back of the handbook, it also has more information about letter chunking, "no rule day," dictation, FAQs, and a collection of helpful resources including passages for dictation.
You will also need the Student Pack–which includes two student workbooks, a Guide to Handwriting, and a pack of erasable colored pencils.
Here's how this level of Spelling You See works:
Each daily lesson (There are 36 weeks of lessons. Each week is divided into 5 days' worth of work.) consists of two facing pages in the student's workbook.
The student and instructor read that week's rhyme together.
Then (for students who are using Student Workbook Part 1) the student copies a short phrase or sentence and fills in a set of letter boxes which focus on vowel sounds.
For students who are finished with Student Workbook Part 1 and have moved to Part 2, the student begins to learn to find vowel and consonant patterns in each passage. He or she will also begin doing more extended copywork.

Each lesson is broken down for the phonogram(s) covered and the specific information to relay to make sure it's mastered well and understood completely.

The nursery rhyme theme in Level B is fun, and we sang or chanted them and did the finger motions.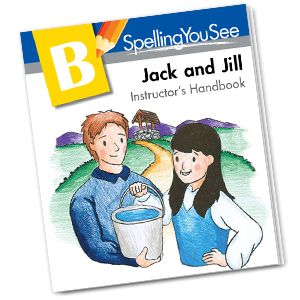 Tori and I completed the first student book in a couple evenings, orally. Her dignity was a little hurt by the workbook writing, so I didn't make her do it. We completed it like a spelling bee, and she loved the review. She can recite the phonogram rules pretty well. (We homeschoolers are well-known for tweaking curriculums to fit our students' needs! This little change was great for Tori!)
I did notice with dictation that Tori doesn't differentiate the sounds well, and that's perhaps the reason for some of the problems we've been having. She couldn't always tell which short vowel I said. Mostly, when I said O or U and CH or SH, I would have to exaggerate my pronunciation greatly, so we worked on training her ears to hear those sounds well.
The second student workbook level B was exactly what Tori needed for reinforcement of the phonograms.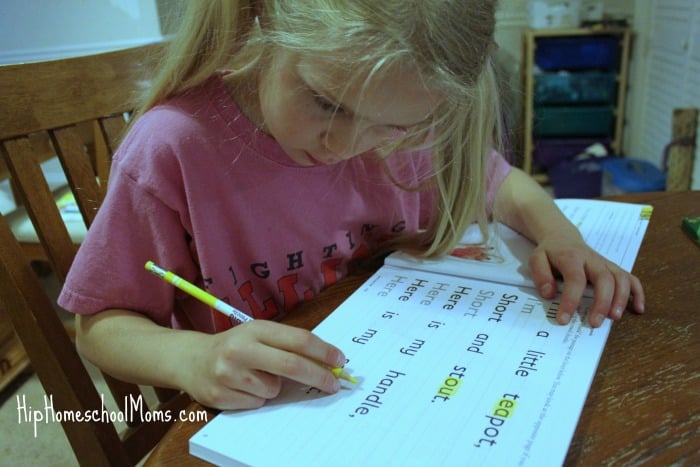 The phonograms are "chunked" and color-coded. Some chunks occasionally overlap, like the vowels and Bossy R:
Yellow – Vowels
Blue – Consonants
Purple – Bossy R (Tori's favorite!)
Green – Tricky Y Guy
Pink/red – Endings
Orange – Silent letters
Weekly Schedule –
Days 1-3 Copywork and chunking with colored pencils. Depending on how long the nursery rhyme is, this was too repetitive for Tori. 1 day was enough for her.
Day 4 No Rule Day – Draw pictures and write a story for fun – 10 minutes
Day 5 Dictation – timed for 10 minutes
I love this instruction: "Do not get sidetracked with penmanship." I agree and Tori is such a perfectionist! Her handwriting looks like a computer font.
Fun and great for visual and kinesthetic learners! The pack even came with nifty erasable coloring pencils that Tori really loved.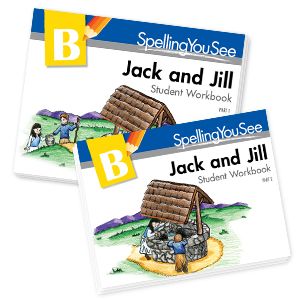 Spelling You See: Jack and Jill (Level B)
Instructor's Handbook $16
Student Pack (2 workbooks) $30
Check out sample lessons and other resources.
Spelling You See as experienced by a mom and her middle school daughter who is already a good speller but doesn't use good spelling in her written work:
My daughter, Mary Grace, is homeschooling in 6th grade this year. She learned to read early and is a super reader, and her spelling skills have always been very good too. However, I notice that even though she is a good speller when she's practicing writing spelling words or spelling them for a test, she doesn't bother to use correct spelling when she's writing sentences or paragraphs. In those cases, she just jots down the words however they sound to her without being concerned about whether they're spelled correctly. For this reason, I wanted to try out Spelling You See.
Spelling You See includes writing in their spelling program. And since my daughter doesn't use good spelling when she writes, I figured a spelling program that includes writing might be just what she needs. And even though she is a good speller, she still needs to expand the number of words that she can spell correctly. So we waited for our materials to arrive so we could try them out!
In this level of the program, called American Spirit, each lesson begins with reading a short story about a person or event from American history. (The same story is used for the entire week.) After she reads the short story, she uses a yellow colored pencil to highlight the vowel chunks. (The lesson explains what vowel chunks are. They are simply a combination of vowels that work together to make one sound–like ea and ou.) My daughter thought it was simply wonderful that the colored pencils came with the program! I guess she figures that any curriculum that comes with its own colored pencils must be more fun than other curriculums! 🙂 As she advances in the program, different colors will be used to highlight different patterns.
After she reads the story and highlights the vowel chunks, she has 10 minutes to write as much of the story as she can on the facing page in her workbook. Mary Grace usually runs out of room because her writing is pretty big. She's learning to write more neatly, though, so she's getting better at copying more of it. She does this process for the first 3 days each week.
On the fourth day, I dictate the story to her, and she writes it down. If she misses a word, we stop right then for her to correct it. We do this for 10 minutes and then stop regardless of how much or little of the story she's written. If she needs help with punctuation or capitalization, I help her. That way she can concentrate on her spelling. If she does a great job on the dictation, she doesn't have to do it again the next day. If she needs more practice, we do it again on the fifth day.
One thing Mary Grace really loves about this spelling program is that she doesn't have to do the dictation a second day if she does well the previous day. She has always been very motivated by being able to skip part of an assignment if she's done well on it earlier. I sometimes allow her to skip one day of copywork earlier in the week if she wants to try doing the dictation earlier than day four. Most of the time when she asks to go ahead and try the dictation, she does a good job on it.
I like that this curriculum is helping her not only to be a better speller but also to use good spelling in her writing. I also think that seeing her spelling words in the story helps her to notice how the correctly spelled word looks in a sentence and in a story. I really had no idea that simply practicing her spelling words this way would make a difference in whether or not she uses good spelling in her writing for school and in her just-for-fun writing, but I am seeing an improvement! And the fact that she enjoys doing spelling this way is definitely a good thing!
For students who need improvement in reading skills, the reading level gradually increases as the year progresses.
Spelling You See: American Spirit (Level E)
Instructor's Handbook $14
Student Pack (2 workbooks) $30
You can find more information about the different levels of Spelling You See by clicking here. From that page, you can also see samples of lessons from each level. And if you're interested in learning more about why Spelling You See is set up the way it is, there's more information about the philosophy behind the curriculum here. If you want to buy Spelling You See, you can do that by clicking here. And of course if you go to http://spellingyousee.com/, you'll find all of this information and more.
For your chance to win, enter below!