American Revolution Copywork Quotes
$0.00
Add more history to your writing regimen with these simple but profound quotations from key figures of the American Revolution. Carefully selected, these quotes can be used as a simple summer writing practice or to supplement a more in depth unit on the Revolution. Simple, forthright and best of all, absolutely Free!
Description
American Revolution Copywork Quotes
Looking for writing exercises that include a little history? This American Revolution Copywork Quotes freebie is one such resource. Your child can practice writing with quotes from 11 prominent patriots!
In general, copywork is used to model writing for your child. It offers practice for their penmanship, mechanics and grammar. In addition, we've selected the quotations carefully to enhance the writing experience with discussion on the Revolution and to inspire patriotism.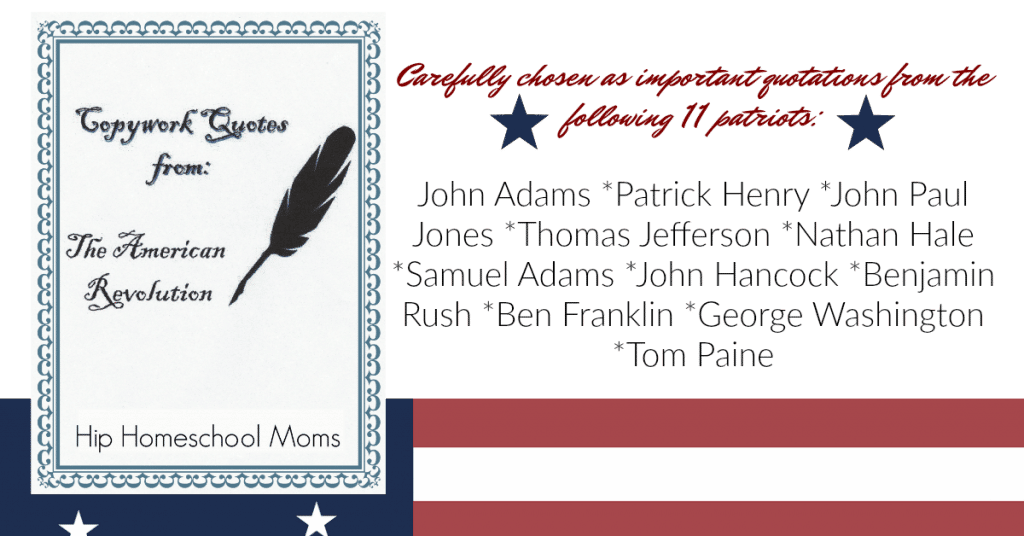 How to use this American Revolution Copywork Quotes in your homeschool.
These simple American Revolution copywork quotes could be used in many ways. Use them individually or along with a unit study. Likewise, they could also complement a history text. These quotes were selected to spark discuss on significant events and ideologies from the struggle for our independence. Here are some ideas on using them with one or multiple children:
Use the quotes to select new vocabulary or spelling words.
Have the children memorize their favorite patriot's quote.
Hold a discussion with your children regarding which quotes highlight struggles from the war. Are there any that remain concerns for our time?
Create a visual aid or graph demonstrating the role each patriot filled during the Revolution.
Which colonies were these patriots each from? Label them on a map of the colonies.
Get a great book about the American Revolution here:
The possibilities are endless. We hope that you will use an enjoy this free gift!
Only logged in customers who have purchased this product may leave a review.