4 Reasons NOT to Homeschool Summer
I have been homeschooling for more than 10 years now, and until recent years we have homeschooled during the summer too. While it wasn't the same activities or amount of work, it was still homeschooling during the summer.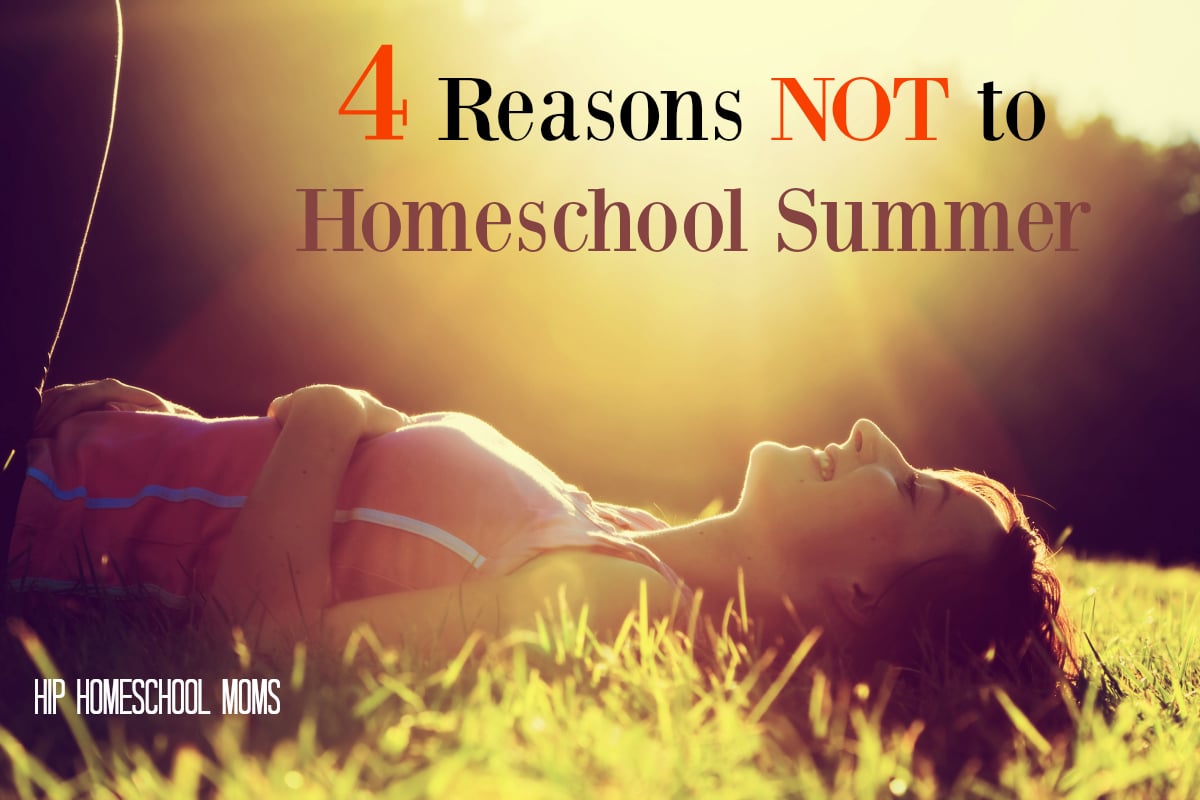 In all our early years our homeschool, summer consisted of what I called workbook or light mode. We would finish with our curriculum and move into sort of a transition mode where we kept up with some of the basic skills in math, grammar, and reading so that we wouldn't lose ground over the summer. (Using grade level workbooks from Barnes and Noble or Amazon was a great way to do this.)
Fast forward a handful of years and homeschool summer became more of a burden than a help. I am not sure if it changed because the kids were older and didn't need the structure and repetition of the basic building blocks, if it was just too much and burn-out was setting in, or if it was personality/learning style related. Whatever the case may be, we have moved to not homeschooling during the summer months.
Reasons NOT to Homeschool Summer
So now you're probably wondering what my reasons could be for not homeschooling over the summer! I think you will find they are pretty straight forward!
1. Mom Needs a Break
I don't know about you, but at a certain point I need to NOT be responsible for so much! Raising kids and keeping a house is a tough job, then add homeschooling onto that plate, and it is a recipe for burnout! By the time the nice weather hits, I am looking forward to soaking up the sun and mindlessly reading a book by the pool while the kids swim.
2. Kids Want Some Free Time
I am not just talking about quiet afternoons or a schedule-free weekend; I am talking about real time off. A real break from the schedules and notebooks. Each of my kids uses this time in different ways. I have one who wants to sleep in, one who wants to be up early to play as many video games as possible, and one who just wants to be able to choose what she is going to do and at what time.
3. Summer Schedules Bring New Activity Opportunities
Often during the summer there are different classes and activities available because other kids are off from school. There have been many times my children have enjoyed a fun art class, rocket science, pottery, and more due to the extra things being offered in the summer months. If we are tied to our own learning schedule, then there is no time for things like this.
4. Time to Regroup for a New Year
The summer months are a great time to sort out our homeschool room. I usually get rid of or donate things we have outgrown and dust and do a deep clean of shelves, carpet, etc. Then we store away curriculum we may use again and start gathering up things for the coming year. When we didn't really take an extended break, I was so overwhelmed with clutter and disorganization that it became suffocating. Having the extra time means not only do I get a much needed break but I also have time to wind down from the year and prepare for the coming year.
How about you? Do you homeschool through the summer? Why or why not?