I guess it never crossed my mind.
Not even once.
Not until my friend mentioned it.
"You look like a homeschool mom."
Actually, the conversation went something like this:
"I was out with the kids the other day, and someone came up to me and asked if I am a homeschool mom. I thought, 'Man, do I look THAT bad?'"
My guess is that I just blinked dumbly at my friend when she told me this because, honestly, I'd never, ever thought twice about "looking like a homeschool mom."
I mean, what does a homeschool mom really look like?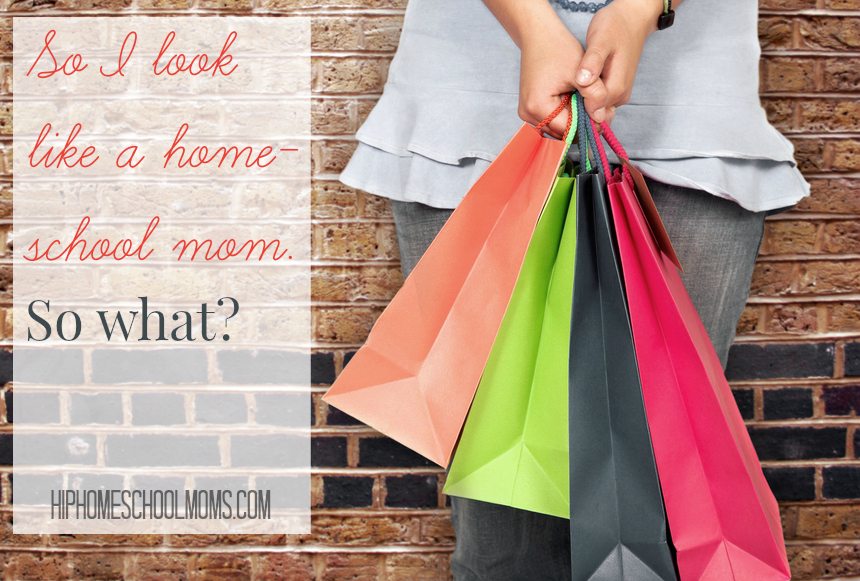 Evidently there's a label or stigma out there. Maybe she's the one with fifty kids, a limo-long van, messy hair, and frumpy clothes… I'm not sure, because I know that doesn't describe me. 😉
But really? What does a homeschooling mom supposedly look like? And why are we afraid of "looking like that"… whatever that is?
As I've pondered the whole "homeschool mom label" thing, I thought about the homeschooling moms in my circle of friends. We are a diverse group, representing various backgrounds, church affiliations, and personalities.
Some of us have a bunch of kids. Some of us have one or two kids.
Some of us drive vans. Some drive SUVs, or sports cars. Or trucks.
Some of us are divas. Some are jeans-and-tee-shirt gals.
Most of us are stay at home mothers, but I also know homeschooling moms who work from home, work outside the home, or have college degrees and a career history.
Some of us are crunchy conservatives. Some might be crunchy liberals. Or not-so-crunchy conservatives… or liberals. Or a million other things!
I wouldn't say that any of us necessarily "look alike." We live according to our personal convictions, dress according to personal style and taste and, honestly, I don't think we really even think about it.
We just are, and we let each other be.
And I think that's exactly how the Lord wants us to live.
As home educators, we all share some common ground, common values. But we are not all cut out of the same mold, and neither should we be. There is room for diversity, room for individuality, and room for growth.
Maybe I get that, and maybe you get it. Maybe your friends and family and the clerk at Wal-mart don't get it.
Maybe they lump you into a broad category of "that kind of mom." Maybe they slap labels on your head.
I say, who cares?
Let people lump and label. You don't have to get offended or prove them wrong. Just be yourself.
Forget the labels. Actually, let me rephrase that: REFUSE the labels.
Refuse to label others (your opinions and attitudes toward others do show, and they may affect people more than you realize).
Refuse to wear labels yourself.
People can think what they want and say what they want, but that doesn't change who you are. But first you need to know who you are and be okay with that.
If you deal with insecurity and feeling like you always have to prove yourself, ask God to help you develop confidence and self-awareness. Embrace your strengths, skills, and your own unique personality. God has equipped you to thrive as a wife and mom!
I honestly don't care if someone thinks I look like a homeschool mom because I don't believe that is a bad label in the first place.
The other reason I don't care is that I realize we homeschooling moms have the liberty to be ourselves, to live outside the box, to be original in a cookie-cutter-world, just like everyone else.
Maybe a lot of moms don't have the confidence to live outside the mold, but obviously you do. You are.
Live your life confidently. Live it graciously. Live it with conviction.
Show the world what a vibrant, fearless homeschool mom really looks like!
——————
Do you ever get asked if you're a homeschool mom? Does it bother you?