How to Homeschool with Coloring Books
Coloring books are the current rage! So why not use them in your homeschool? You've probably noticed how popular coloring books have become for folks of all ages–from young children to teens to adults. Some of us here at Hip Homeschool Moms recently had the chance to use some coloring books that were created to make teaching and learning more fun and memorable. We discovered that coloring books can make "doing school" lots more fun for both teachers and students!
12 Ways to Homeschool Using Coloring Books
Find some great educational coloring books like these!
Read it like a textbook, and color each page as you study the topics.
Use it to review topics after you have finished a textbook.
Let the topics be talking points for a unit study.
Turn each fact into a "Did you know?" trivia game by taking turns asking each other about interesting facts.
Let younger children focus on just coloring within the lines. Use it as hand-eye coordination building and pre-handwriting practice.
Cut out the pictures to make a collage or interactive diorama.
Underline or highlight new words. Then have your child determine the definition using context clues. Then look it up in a dictionary to see if the definition was correct.
Practice handwriting skills by using the text as copywork. After a block of text has been written, color in its speechbox.
Compare and contrast topics. Color similarities the same color and differences the different shades of the same color.
Create a timeline using the facts in the history-based coloring books. If it is a fashion coloring book, color and cut out the figures and place them on your timeline.
Use facts that you learn to write an informative yet creative story.
How a Non-Coloring Kid Uses Coloring Books to Learn
You would think that a kid who doesn't color would not be interested in coloring books, but just the opposite is true! This is Leann's story of her son and her experience with Dover's coloring books.
My son is in fourth grade, and he has never enjoyed coloring. He always had such a hard time coloring within the lines. We assumed this was because he didn't have the motor skills or interest in coloring well. This past summer, we learned that he has a binocular vision disorder called convergence insufficiency. Essentially, his eyes do not work together. As a result, his eyes struggle to focus to read and write. This also means he struggles to color.
So, why would we even consider using coloring books?
When our coloring books first arrived at our home, my son sat down and read the human body coloring book from cover to cover. From a room over, he would yell out to me facts that interested him. "Mom, did you know 7 muscles control the eye?" This one little statement led to a great discussion about whether his eye disorder is controlled by the eye muscles or the brain….something we had never even thought about!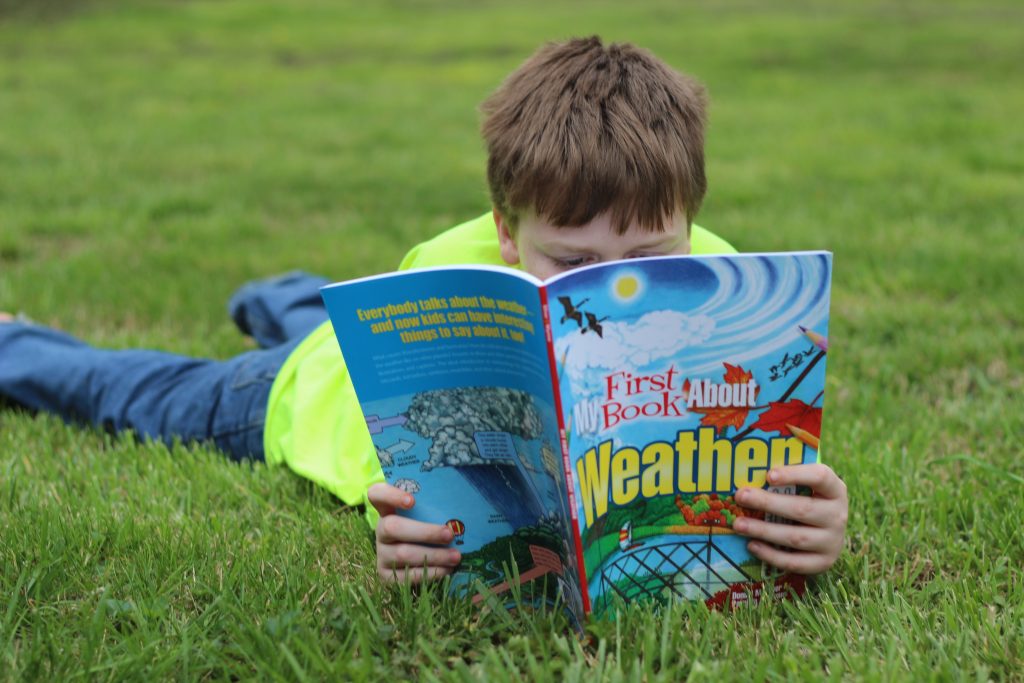 For the past few weeks, we've been using these coloring books as unit studies. We read about a topic and then discussed the vocabulary on the page. Sometimes we checked out books from our local library or researched online to find out more. However, many times the information found on these pages was just enough to pique an interest!
In fact, it is rare for us NOT to use a coloring book as a supplement to our studies. For instance, when we studied the Middle Ages, we read through at least 1 (sometimes 2 or 3) Dover coloring books each week in order to dig deeper into the content. During this study, we used Life in a Medieval Castle, History of the Sword, Medieval Castles, Medieval Jousts and Tournaments, Knights and Armor, Illuminated Manuscripts, Story of the Vikings, and Norse Gods and Goddesses.
One of the things that I love about Dover is that it publishes more than 1000 educational coloring books over various topics for science, history, nature, art, and foreign languages — even for preschool topics! If I need a book on a topic, I know that I can find one by Dover! Besides providing quality materials on a variety of subjects, they are also affordable — typically running about $5!
They're great for those who love to color too!
Now that you've read about how Leann used these coloring books with her son–who has never really enjoyed coloring–I'd like to share a little about how I've used them with my 13-year-old daughter who loves to color and be creative! Mary Grace has always enjoyed doing anything creative. She enjoys coloring, crafting, drawing, and lots of other artsy/crafty activities.
In fact, at times it's hard to get her interested in subjects (like science) which don't typically involve lots of creative opportunities. While she enjoys science experiments to some extent, what she truly loves is making pretty things! These coloring books have given her the opportunity to take a subject that she doesn't usually love and turn it into something that she looks forward to doing! The page below is one that she began coloring as we studied about weather. We used this page (and others that related to the topic we were studying) as a fun activity to help spark interest in the study and to give us ideas for topics we wanted to research further.
And while we're discussing using coloring books with older children and teens, I have to say that these coloring books are NOT just for young children! While the names of the 4 books we reviewed tend to make you think they're for very young children, they are great for use with older children and young teens too. They might even be useful for older teens who need a more simplified curriculum or those who want to use them as "jumping off" points for more research and exploration (like we did).
The coloring books we've recently used:
Recently we had the opportunity to review 4 Dover coloring books. Here's more information about the ones we received.
My First Book About the Brain
Discover the workings of the body's most complex organ! How does the brain control the rest of the body? How does it enable the senses to function, regulate speech, affect balance, and influence sleep and dreams? These 25 illustrations to color explain every aspect of the brain's important jobs, from communicating with the central nervous system to retaining memories. (Grade levels 3rd-6th. Ages 8-12.)
You can purchase this from Amazon.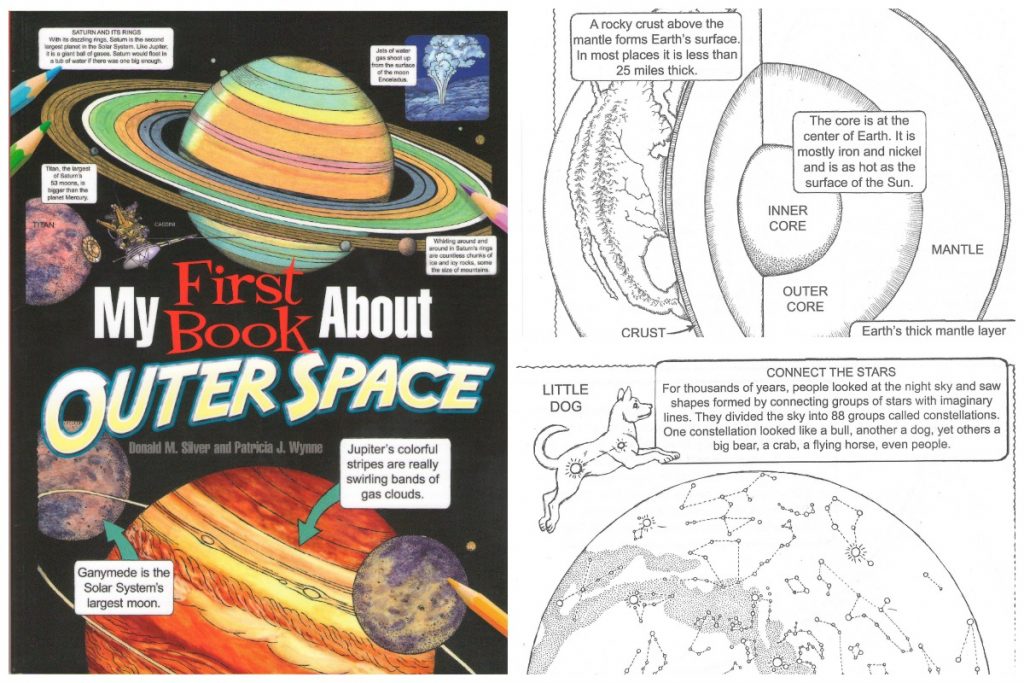 My First Book About Outer Space
Where do we live among the galaxies, what did people think before they could study the sky with telescopes, and what happened to Pluto? Thirty-nine illustrations to color answer these and other questions about our Solar System and beyond. Entertaining, easy-to-understand captions explain crater formation, constellations, weightlessness, space junk, and other fascinating subjects. (Grade level 3rd-8th. Ages 8-14.)
"My First Book About Outer Space" is a Moonbeam Children's Book Silver Medal Award winner! The Moonbeam Award is given out for books that inspire literacy and a life-long love of reading.
*Note: evolutionary information is shared on 2 sets of pages — discussing the Big Bang Theory as well as why the dinosaurs disappeared.
You can get this on Amazon.
My First Human Body Book
Here's the most entertaining way for children to learn how the human body works: 28 fun and instructive, ready-to-color illustrations that explore the muscular, skeletal, nervous, digestive, respiratory, and immune systems. Kids will discover how their voice boxes work, how many bones they have, how thousands of "tasters" on their tongues help them distinguish flavors, how the DNA in their cells is different from everyone else's, and more. Filled with astonishing details, this head-to-toe survey of the body is fascinating to read and fun to color! (Grade levels 1st-5th. Ages 6-10.)
This one is available on Amazon.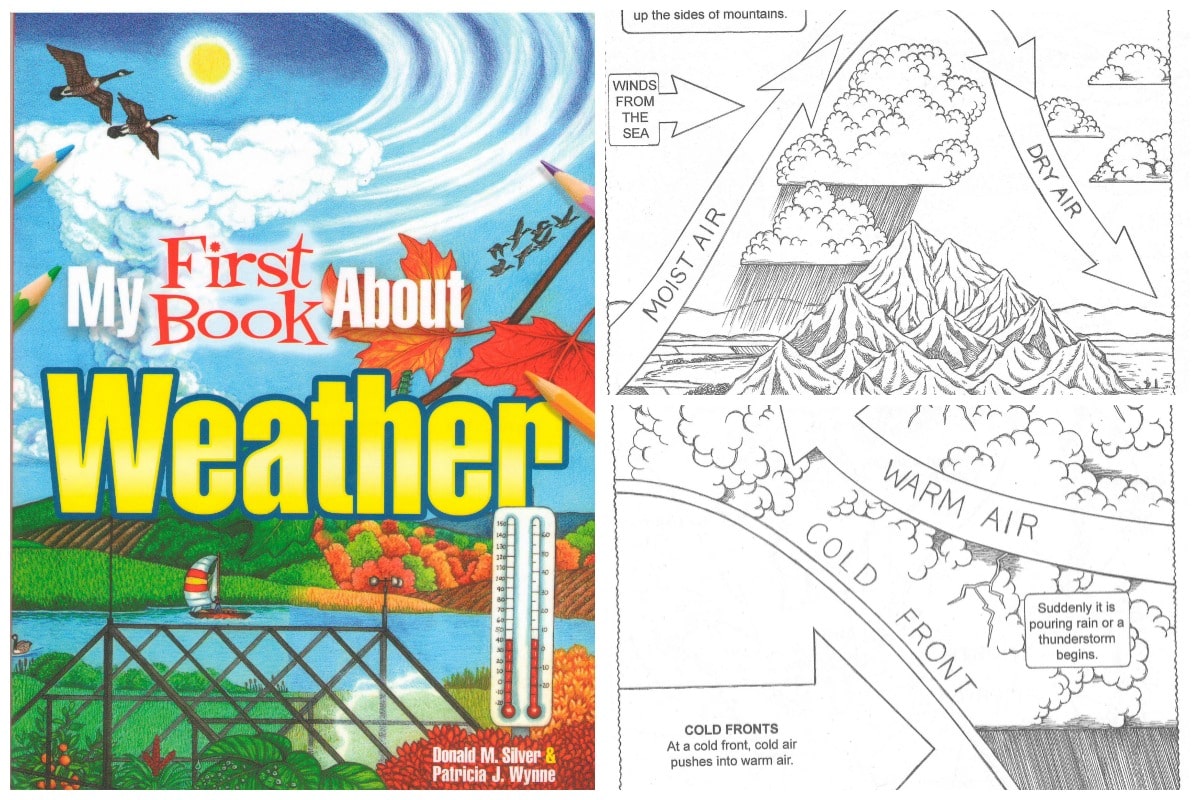 My First Book About Weather
Everybody talks about the weather ― and now kids can have interesting things to say about it, too! What causes thunderstorms and hurricanes? How do cold and warm fronts develop, and what's the weather like on other planets? Answers to these and other questions appear in 46 full-page illustrations and captions. The ideal introduction to meteorology, this coloring book explains blizzards, tornadoes, rainbows, mudslides, and other natural phenomena. (Grade level 3rd-6th grade. Ages 8-11.)
You can find this one on Amazon.
Wendy and Leann each received copies of the 4 books mentioned in exchange for an honest review of the products.