Being Grateful During the Stressful Seasons
Life is busy, and with the holidays upon us there is even more hustle and bustle. It can make it difficult to remember the importance of being grateful (especially) during the stressful seasons.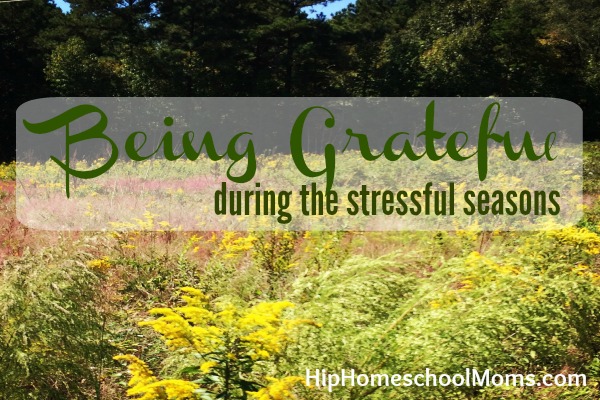 Stressful Seasons
Even the happiest, most spiritual "have it all together" people go through seasons in their lives when the stress load begins to feel unbearable. Homeschool families are often a one income family, which can make it extra hard to make ends meet.
Today's families, even Christian families, are not immune to major marital problems or serious behavior issues with children. Stress builds up.
Having a strong faith does not mean that you do not face incredible problems or that you are a constant solid rock in the storm. On the contrary, it means that WHEN life storms hit and you feel as though you will sink beneath the fearsome waves, God IS your solid rock.
Stand on the Rock
Learning to allow God to carry you through, learning to stand on the Rock – is the key. Knowing God is there for you is different than allowing Him to carry you through. There are simple things that you can do, tools to use, resources to tap into – that can make the idea a reality. It won't make the stresses of life disappear, but it will change how you process and deal with those stresses.
God doesn't keep this stress processing technique a secret. He spells it out for us clearly, in His Word. In Philippians, He tells us that we should take every situation to Him, by prayer and petition. Petition is a key word, as it means with supplication – an open pouring out of one's heart and soul to the Lord.
With Thanksgiving
"With Thanksgiving" are the instructions we are given as to how to go about this supplication. We should pour out our heart and soul, as we boldly go to the Throne (not anxiously) and make our requests known. There is something extremely powerful about truly giving thanks. It changes the heart. It heals wounds, it gives peace, and it will strengthen you.
"If you can think of only one thing to be thankful for – begin with that – and repeat."
Cultivating this heart of gratitude begins with deciding to follow the instructions God carefully provided.
If you can think of only one thing to be thankful for – begin with that – and repeat.
Find new things to be grateful for, and lift them up in praise to the Lord daily- right in the middle of your storm.
Begin your day with prayer, thanking Him for the little things, allowing your list to grow and your heart to open.
Sing praise music and hymns to the Lord to nurture your thankful heart.
Being grateful during the stressful seasons isn't the problem; it is the God-given solution to handling life stress during the tough times.