If there's a dad on your list who has everything, you'll like this list of gift ideas!
This game, Perfect Pitch, is great for dads! In fact, it's fun for moms and children too! It's simple to play, there aren't a lot of rules to follow, and it can easily be made more (or less) difficult depending upon who's playing.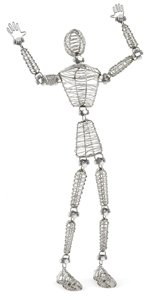 Here's a creative and fun gift idea for dads! If there's a dad on your list who needs some fun added to his work day, Adam the Doodles Man might be just what he needs.
Dads will love a calendar featuring pictures of his family or his favorite vacation memories or whatever else he enjoys! This Invent It! Photo Calendar Kit Plus with Software will help you create the perfect calendar for him.
Before Dad leaves the house for work, he'll love getting his daily dose of caffeine from one of these Blast Off Espresso Mugs!
If there's a Star Wars fan on your gift list, this "Expressions of Vader" t-shirt will make the perfect gift!
For the dad who'd like a little bit of fun on his desk at work, this Lego calendar will be just right! And he'll get to relive his childhood by rebuilding it each month.