Gift Guide to Games for the Whole Family
Do you have Family Game Night at your house? Do you and your children love playing board games? My husband and children and I have occasional Family Game Nights, and we have a lot of fun and (hopefully) create some fun, happy memories for our children. Here are a few of our favorite games along with some that are new to us but which come highly recommended by friends.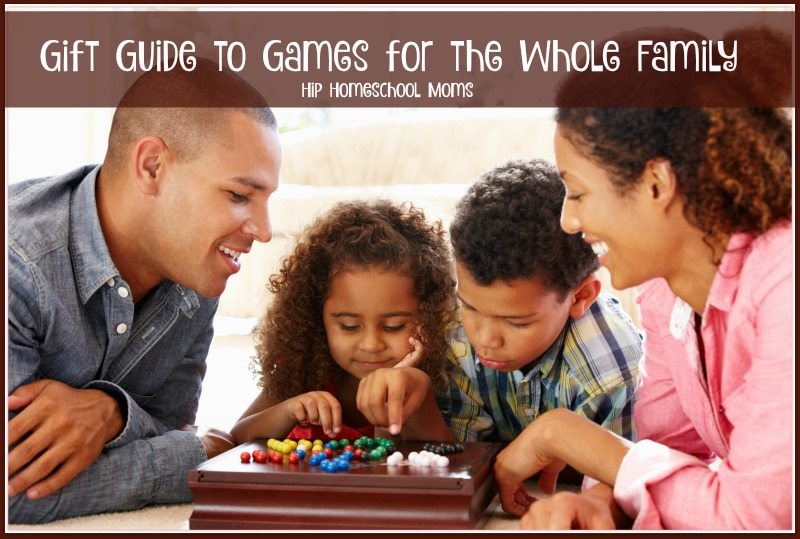 This game is for 3 or more players ages 10+ to adults. It seems like it would be easy, but it's not as easy as you would think! Players have 5 seconds to name 3 things that fit the given topic. One of the things I love about this game is that it has topics that kids might be better at (such as Dr. Seuss books) and topics that adults might be better at (such as Beach Boys songs). This makes it fun for everyone! And besides being fun, the players may even learn a few things! (But don't tell the kids!) There's also a Junior version available for about $24 for kids ages 6 to 15. Costs $15.00.
This game is for 2 to 8 players–kids ages 6 and up and for adults too! If you want a game that the family can play together and that will teach your kids about healthy choices, you might want to consider this game. It includes information about healthy food choices, exercise, and fitness. For example, if you get an unhealthy snack card, you have to see the nurse. Then you have to either roll an apple on the food dice or complete an exercise challenge to keep going. Costs $38.00.
Snake Oil Party Potion is a game I discovered on a friend's blog (A Mama's Story). It looked like lots of fun, so my family and I gave it a try, and we loved it! The version I included here costs about $12.00 and is good for children (ages 8 and up) all the way up through adults. If you'd like to see 2 more versions of the game for ages 10+, just click here. This is definitely on my Christmas gift list! Costs $13.00.
Bugs in the Kitchen is for 2 to 4 players ages 6 and up. If you're looking for a fun game to play with your kids but you don't have a lot of time, this one takes only about 15 minutes! The game comes with one of these great little Hexbugs Nano, but you can buy more as stocking stuffers just because they're so much fun on their own too. Costs $24.00.
Whoowasit? is a little different than most other games because the players work together to solve a mystery, so there's not an individual winner. It's meant for children ages 7 to 15. Younger children may need help a time or two to figure out the instructions, but if you're playing as a family, that won't matter anyway. 🙂 It's by Ravensburger, who also makes some really great puzzles! Costs $30.00.
Beat the Parents Family Challenge is a fun way to provide some friendly competition between kids and parents. The parents must answer questions that their kids probably know how to answer, and the kids must answer questions that the parents should know. It's meant for ages 6 and up for 2 or more players, and you can choose to play using easy, medium, or hard questions. There are some physical challenges (examples are Who can do the most jumping jacks in 1 minute? or Who can lie on his stomach and hold his arms and legs off the ground for the longest time?), so be prepared and have fun! Costs $17.00.
Say Anything Family Edition is another great game for parents and kids to play together! This one is for ages 8 and up and for 3-6 players, and it takes about 30 minutes to play. One thing I love about it is that it asks questions that get the family talking and learning about each other. (Example questions are What magic power would be the coolest to have? and What would make long car rides more fun?) Each person (or perhaps each team for larger families) answers the question, and the judge gets to choose the answer he/she likes the best. My family loves games from NorthStarGames, and this is another good one! Costs $12.00.