Fun and Simple Ways to Celebrate Birthdays
Recently on our Hip Homeschool Moms Facebook group, a discussion was had around fun and simple ways to celebrate birthdays aside from a big birthday party. Making birthdays special seems to be a common desire amongst moms – especially for their kiddies. Now while Pinterest is useful for great ideas, sometimes it can seem overwhelmingly like a lot of work, creativity, and money! And there is that big comparison issue we all struggle with. So, in the spirit of keeping things doable, fun, and inexpensive, here's a list of fun ways to celebrate birthdays with plenty of contributions from moms just like you!
Birthday Décor
Hang banners, balloons, and other fun birthday stuff the night before.
Sarah K. hangs a Happy Birthday banner the night before, while Amy T. said she did a big birthday balloon for her daughter. Cynda F. agrees that balloons are the best. She says, "When they get up in the morning, there are helium balloons, banner, and streamers that all say Happy Birthday. To save money, reuse all that stuff and buy a $25 helium canister and a package of balloons. It takes me all year to use up the helium, and the package of balloons lasts even longer than that."
Sabrina V's family likes to decorate the birthday child's door with streamers in the middle of the night, as does Whitney R. Keeping with the theme of décor, Carrie H. says that they put crepe paper on the bedroom door so that the child has to burst out of their bedroom like a gift themselves! Loretta D. does much the same thing, but since her three kids' birthdays are close together, they keep the banner up until all the birthdays are done.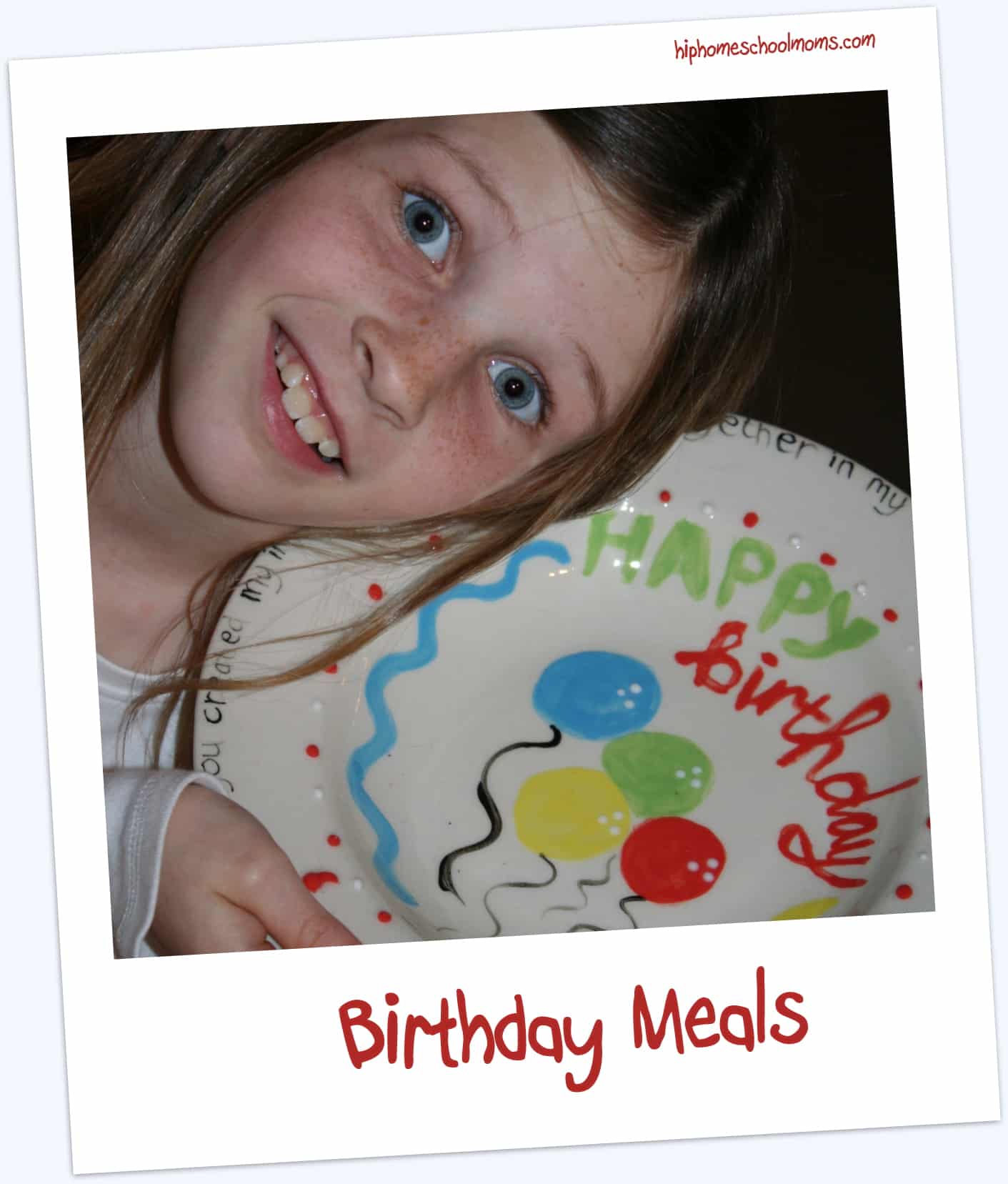 Birthday Meals
Making the birthday special with fun meal ideas can also be simple, yet memorable.
Our family has a special "birthday plate" that comes out only for the birthday person on their special day. We painted it a few years ago at a local clay café and it's not broken yet! They get to choose what they want for the evening meal, and it's presented with photos and fanfare on their birthday plate.
Sarah C. also gets her birthday child to choose the meals for the day, with a few days' warning to prepare. Stephnie B. and Lari H. agree that letting the child choose their birthday meal is a simple but special way to celebrate.
Many families like to start the morning with breakfast pancakes. Mia B. says that they sometimes create pictures of the kids' favorite things with the pancake batter or they'll do the same as Tiffany T. who says that traditional pancakes with sprinkles and a candle has been a big hit. Doughnuts are the another favorite, whether at home or out, says Laura H. With the flexibility of a homeschooling schedule, breakfast out with the family also makes for a cheaper restaurant visit.
As for that birthday cake, Theresa Y. keeps things simple but memorable with her suggestion of a birthday cupcake of their choice with a special candle to blow out.
Birthday Cards
Buying cards can be pricey. In our family, the kids get the same format card every year. It's a collage of about 20 photos of themselves from their last birthday to their present birthday. It's printed out on our home computer, stuck onto some construction card and the family gets to write long messages inside of all they love and admire about their special sibling or child. Other families do away with cards entirely, choosing instead to keep a journal that is updated every year. Blog posts are really popular as a special marker of the day. We do a special post every year for each child. My hope is to collate them together and turn it into a photo book for their 13th and 18th birthdays.
Birthday Gifts
Birthday gifts vary from family to family and are often budget dependent. Presenting the gifts can be done in fun, memorable ways. Tiffany says that they like to take their daughters to dinner on their birthday, and while they are out they get to open one gift. Marisa P. says, "We decorate the kitchen table for their birthday. They get a small 6″ cake, breakfast of their choice, plus they get a few gifts just from us. Both of mine love their birthday table!" Thinking about your child's favorite things can spark some great ideas for gifts. Marisa had a fun idea for her child this year. She says, "My daughter collects mini te
a sets, so we found some at Goodwill of all places, plus some books individually wrapped and a couple of "fun" gifts." In our family, gifts are opened first thing in the morning. The birthday child is not allowed to leave their bedroom in the morning, while the rest of us gather together. There's usually loads of giggling, whispering and fumbling about with gifts, card, camera and video camera before we line up and start our birthday march. We start singing Happy Birthday just before we enter the birthday child's bedroom. Said child then "wakes up" and we all get to enjoy the gift opening together. It's a tradition that my parents started and we've continued. The butterflies of excitement as the first notes of Happy Birthday are sung early in the morning are ones I still remember today!
More Birthday Fun
The Hip Homeschool Moms community is full of great ideas for making the day fun. For example, Jennifer K. has her kids wear a special birthday hat all day. Chrystal G. says they have the birthday boy wear a special birthday pin for the day. Many families have the kids choose their activity for the day. Sometimes it's as simple as heading to the local video game store to test play games. Emily K. says that they sing Happy Birthday repeatedly. As in again and again all day long at random intervals! Some families love to create scavenger hunts complete with riddles and rhymes, with gifts at the end of the game. While others like to be sure all the extended family come for coffee and birthday cake in the afternoon. But, what does seem to be almost unanimous amongst homeschool families as Julie Vinson Robertson pointed out: no school on birthdays!
These are just a few of our ideas. We're sure you have more to add! Please feel free to share some of your family's birthday traditions. And all the best for the next birthday celebration!