Free Printable Thanksgiving Math Game
Free Printable Thanksgiving Math Game (for Multiple Ages)
"Mom, I want some fun math games, too!"
That was the request my fourth grade daughter had recently. While she's knee-deep in fractions, my first grader is still learning basic math facts. He plays a lot of math games to help him learn them, and big sis doesn't want to be left out. I can't blame her!
A fun math game for a fourth grader? Coming right up! However, I know when my son sees her playing it he's going to want to play the exact. same. game.
Teaching multi-level children can sometimes be a challenge for us homeschooling mamas. One child sees or hears another one doing something that piques his interest. Then he wants to join in, but it might not be something that is developmentally appropriate for him. That happens a lot in my house.
Here's a Thanksgiving math game that BOTH of my kids will be playing this month. I created it specifically with multi-age children in mind!
Find Turkey's Feathers
Kindergarten-Second Grade
Oh, no! Turkey lost his feathers! Can your students help him find them?
Students roll a die and move around the game board collecting feathers as they go. The winner is the player with the most feathers at the end. After the game, students create a graph and answer questions about the feathers they collected in the game.
Adapted for PreK (Without the Game Board)
For younger students, hide the feathers around the room or house for them to find. After all the feathers are found, have them sort them by color and count how many feathers there are of each color. Have students answer questions like "Of what color feather do you have the most?" or "Of what color feather do you have the least?"
To have PreK students play the game with older students, have them help find the colored feather in the pile that the older student needs. For example, if the older student rolls and is to collect two red feathers, allow the younger student to count and select them from the pile.
Adapted for Third to Fifth Grade
Students follow the same game rules as stated in the K-2 directions. After the game, students complete the follow-up questions by writing their answers in fractions or percents.
If your upper elementary students aren't familiar with fractions or percents, try to think of ways to tie it into what they're studying. Here are a few suggestions:
• Multiples- After the game, write the first ten multiples of the amount of each color feather. For example, if they had six red feathers, they would write the first ten multiples of six.
• Multiplication- Write multiplication problems using the amounts from the game. If they had four red feathers and five yellow feathers, multiply those numbers together to find the product.
• Ratios- Compare the amounts of different colored feathers using ratios. For example, have them find the ratio of red to yellow feathers or green to brown feathers.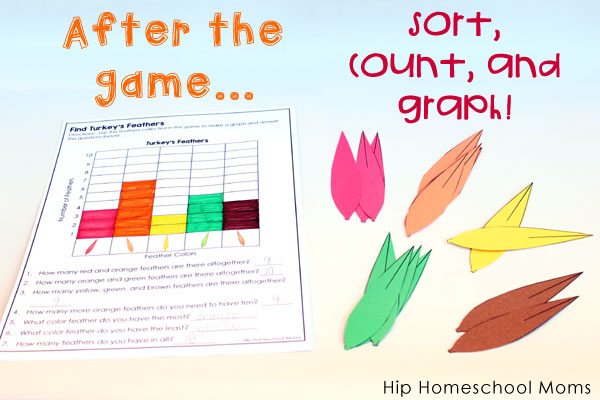 Ideas for Language Arts:
Older students might also like to use this game as a springboard for writing. Have them write a story about how Turkey's feathers went missing and how he found them.
Other ideas might be to create a "missing" poster for turkey's feathers or a comic strip telling his story. Let them use their imaginations and run with it!
Are your kids asking for some fun math games, too? You can download this Thanksgiving math game for FREE by clicking HERE. Detailed directions, game board, graphs, and other printables are all included!

Stephanie has been married for sixteen years to her high school sweetheart. They have two children: a ten-year-old daughter and a six-year-old son. Born and raised in Alabama, Stephanie has called Kentucky home for the last thirteen years. She enjoys spending time with family, reading, camping, hiking, and decorating. She also loves watching SEC college football. A former public school teacher turned homeschooling mom, she blogs at Primary Theme Park, where she shares theme-based ideas and activities. You can read more from Stephanie at Primary Theme Park.