Dear Homeschool Mom Who's Criticized for Homeschooling (10 Helpful Tips)
I hear from many homeschool moms who are openly ridiculed by friends or relatives for choosing to homeschool. Others may not be ridiculed, but instead, they are put on the spot and asked questions like, "How do you know you're doing a good job teaching your children? What if they aren't learning what they need to learn? How would you even know?" Some people say things like, "I think it's sad that your children don't get to go to school like 'normal' children. Don't you want your children to have friends?"
If YOU have encountered similar statements, I hope you'll keep reading because this article is for you!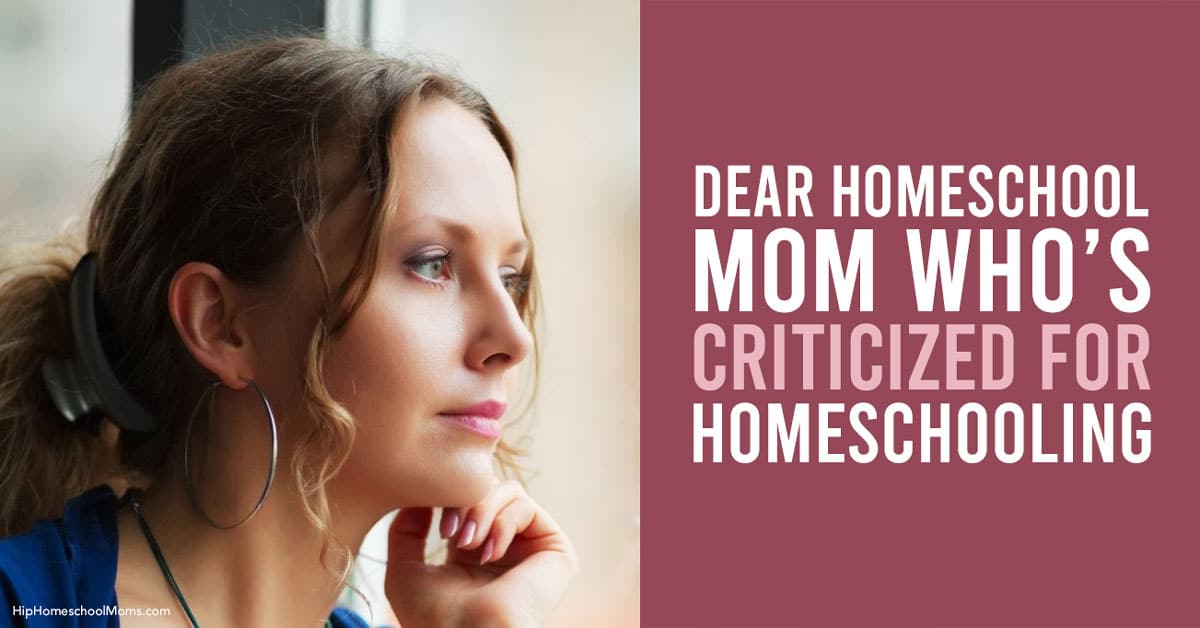 So what can you do if you find yourself in this situation? Or what if you've already been there and done that and want to be better prepared next time? Here are a few suggestions. (I would love to have your suggestions too! If you have ideas for constructive ways to handle this, please share in the comments below!)
1. Remember that people who are critical of homeschooling are (usually) simply uninformed!
First of all, I'd like to say that, even though it's very hard not to feel belittled, unsure, or just plain angry when friends and relatives (and sometimes even total strangers!) make these comments and ask these questions, remember that most people who are critical of homeschooling are simply uninformed. They honestly have no idea what a wonderful educational option homeschooling really is!
No, it's not polite for them to bring it up in a negative or accusatory manner; that's true. But instead of responding the same way, be aware that often, they are coming from a place of simply not knowing about homeschooling. (and some of these suggestions will be helpful to you in informing them, so keep reading!)
2. Keep in mind that sometimes–not always–those who criticize us for homeschooling are a little bit envious.
They may know that homeschooling is a really great option, but they may be too afraid to step out there and give it a try. Or maybe they think they can't do it for financial reasons. Or perhaps they mistakenly feel like we look down on them for sending their children to school. They might mistake our enthusiasm for feelings of superiority. Keeping this possibility in mind may make it easier for you to respond in a positive, information-sharing way.
3. Impossible as it may seem, try not to get angry.
Reacting with anger, or being defensive, causes the other person to feel like we have something to hide. Maintaining quiet confidence goes a long way toward letting that person know that you're certain you're doing what's best for your children. And to tell the truth, reacting kindly may also make the other person, whether she admits it or not, less likely to be so confrontational next time. Many people just feel silly when they gear up for a fight and don't get one.
4. Give that person some information about homeschooling and how effective it really is!
There is a lot of research that gives statistics and information that clearly show how well homeschooled students perform in college, in their communities, and in their jobs as adults. But many people simply don't realize this!
Copy and paste the links to some excellent research studies and give them to the critics so they can see the research for themselves. (I'll leave links toward the end of this article.) Just be sure to offer in a kind way so they'll know you really mean well. (If the critical person refuses to accept the information you offer, you'll know he/she isn't truly interested in whether or not homeschooling is effective but instead just wants to pick a fight. In that case, you should give yourself permission not to worry about that person's opinion!)
5. Be confident that you've made the right choice for your own family.
If you don't feel confident that you're doing what's best for your children, it will be very easy to become worried and upset when others criticize or question you. It might be good for you to spend a little time reading these articles (referenced below) to build up your own confidence and become better informed about the benefits of homeschooling.
Once you truly feel great about your decision, it will be much harder for others to cause you to question your reasons for homeschooling or your ability to homeschool.
6. Know that it doesn't matter if you have a college education or not. Research shows that simply having a desire and willingness to teach your children helps ensure that your kids will be well educated.
There is plenty of research showing that it makes very little difference in a child's academic performance whether the homeschool teacher has a college degree or not. It's just a fact. It turns out that having a keen interest in the student's (your child's) performance is much more important than having a college degree. Not to mention the low student-to-teacher ratio and the ability to choose or adapt curriculum to fit your child's specific needs. It only makes sense that homeschooled students would be well-educated under these circumstances!
7. Even though it sounds very simple, it might help to teach your children how to respond for themselves when questioned by adults and what school they attend.
My children are older now, but when they were younger, when asked where they went to school, they often answered, "Oh, we don't go to school!" When an adult hears that statement, he or she almost certainly thinks, Those children aren't being taught anything! They just said they don't go to school! I realized that that wasn't a good way to begin a conversation, so I taught my children to simply say, "We go to Hilton Christian Academy." Often, there were no more questions after that. If someone asked where the school was located, I simply joined in and said, "That's the name of our homeschool." For some reason, simply having a name for our school seemed to cause others to feel it was a more legitimate schooling option. (In my state, we don't have to have an official name for our homeschool, but we gave it this unofficial name for our own purposes.)
8. Speak positively about your homeschool to your children and others whenever possible.
If your children hear you saying positive things about your homeschool, they will be more likely to do the same. When grandparents and other relatives hear you and your children saying good things about your homeschool, it makes it that much harder for them to be critical.
9. Get your husband on board if possible.
Unfortunately, some folks will criticize and question the mom about homeschooling but would never do such a thing to the dad. If your husband is willing, have a signal that lets him know you need him to come to your rescue! Talk with him ahead of time (if you're going to a family gathering and know ahead of time that this might be an issue) and have your signal and his responses ready. (I sometimes text message my hubby if I need to be rescued–even if he's just across the room. That way I can communicate with him privately and don't have to worry about being overheard.)
If you've already spoken with the critic and haven't been able to make any headway, you may simply need your husband to say that he supports your efforts and that the two of you agreed together that homeschooling is best for your children and that the conversation is now over. If your husband won't come to your rescue, you may have to agree to disagree with the critic (see suggestion #10 below) and simply state that the conversation is now over.
10. If all else fails, agree to disagree.
If you have a friend or relative who just won't stop being critical or negative about homeschooling, you may have to speak to him or her in a very honest way and simply say something like, "When you criticize our homeschool, you're not just hurting me; you're also hurting my children. Our homeschool is important to them and to me, and being critical not only hurts our feelings, but it also tears down the pride that my children have in our school and in their academic achievement. I understand that you don't agree that homeschooling is the right thing for us to do, but I don't need your permission to make this decision for my children. Let's please agree to disagree on this and simply not discuss it anymore. If you can't agree to this, then we'll have to limit our time together. I don't want to do that, but I will if I have to."
Ideally, we would never find ourselves in these kinds of situations. If and when it does happen, though, it's always best to be prepared to kindly and accurately respond to the critic(s). I hope the articles referenced below will be of help to you!
Also, if you have any kind suggestions for dealing with such a situation, please share in the comments!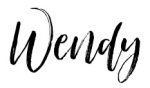 For easy reference, I'm including links to some articles and studies that you may find helpful.
Socialization:
When folks have questions about homeschooling and socialization, read this article showing that socialization is not a problem for homeschoolers. In fact, most homeschoolers know how to get along with children (and adults) of all ages instead of just same-age peers.
Comparisons:
When people want to know how homeschoolers compare to students who attend public school, read this article showing how American homeschoolers measure up.
You May Also Like:
Are You Worried About Homeschooling and Socialization?
Forced Association Is NOT Socialization
Helping Your Children Develop Good Study Skills