Two Weeks of Valentines for Couples
So often we homeschooling moms struggle to find time to nurture our relationships with our husbands. It's hard to make time for our husbands when we're so busy (and often so overwhelmed) with homeschooling, cooking, cleaning, and just trying to keep everyone fed and alive! That's why we created two weeks of valentines for couples! We know it's a small thing to give your husband a valentine (or two, or three…), but it could be the beginning of a new emphasis on making your relationship with your husband a priority.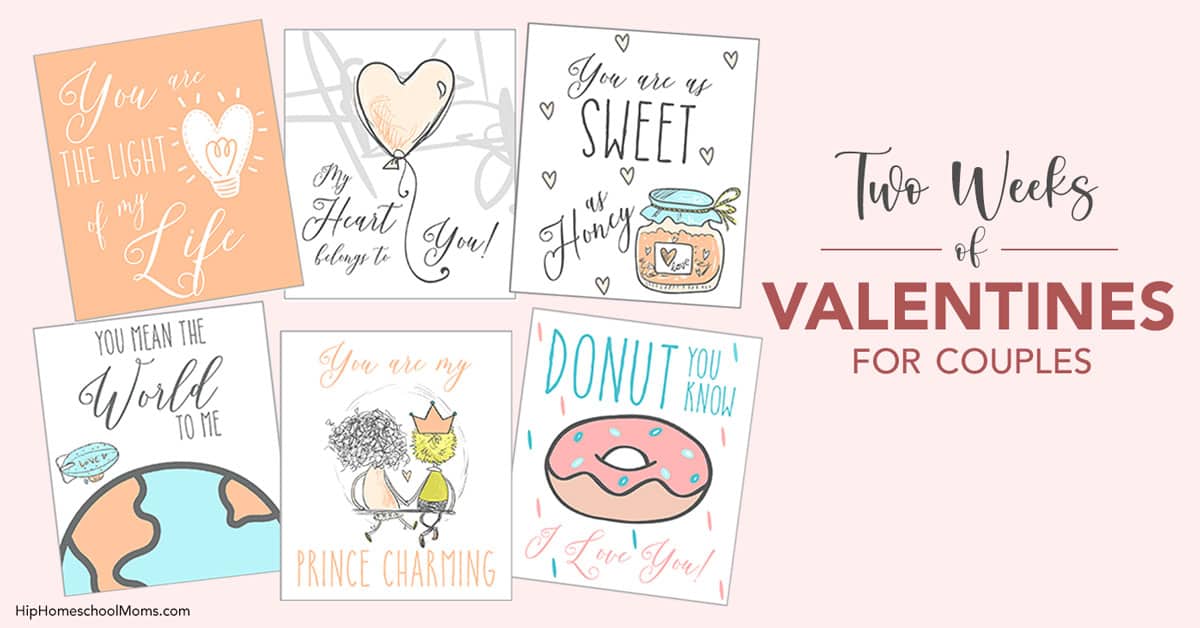 Several years ago, I found a set of 14 Valentines and printed them out. Each morning from February 1st through the 14th, I cut one out and wrote a message on it (either sweet or suggestive or whatever seemed to fit that day's card and mood). Then I tip-toed out to my husband's car and left that day's card for him to find when he got in his car to go to work. Sometimes I added a piece of candy or something else I thought he might like. Some days I just left the card. The main point was that he would know I was thinking about him.
Some days he would call me and say something about the card I left for him that day. Other days he didn't mention it. My husband isn't typically a very emotional or sentimental guy, but I knew he liked them and appreciated that I left them for him. However, I didn't really know how much they meant to him until Valentine's Day was over.
The morning after Valentine's Day was over (the first day that there wasn't a card to leave in my husband's car), I casually mentioned that, since Valentine's Day was over and all the cards were gone, I wouldn't have a card to leave in the car for him anymore.
I had hardly gotten the sentence out of my mouth when he said, "Oh no! Don't stop!" I don't know if he even remembers saying that, but I remember. It let me know how much he had enjoyed it when I left those cards for him for those 14 days. Even though he hadn't made a big deal out of it, those cards (and the time I spent writing on them for him each day) meant something very special to him.
Ever since that happened, I've been meaning to have a set of valentines created to share right here on Hip Homeschool Moms for those of us who might like to leave 14 days of Valentines in our husbands' cars or lunch boxes (or wherever else!).
This is a sweet and thoughtful gesture that's easy to do, but you never know how much it might mean to your husband! As moms and teachers, we stay so busy and are always in such a hurry. I'm sure our husbands (and we ourselves) sometimes feel like we get lost in the busyness of every day. We probably don't make time for our husbands as often as we should.
So I want to challenge you to download these Valentines, print them out, and give one to your husband each day from February 1 through Valentine's Day. You never know what it might mean to him! Take a moment to write a message on each one. Do it each day, or write them all at once if you need to. Do whatever works for you and the amount of time you have, and treat your husband to some extra thoughtfulness and kindness during this season of love.
Important note: If you're reading this article after February 1, that's ok! Just use these 14 days of valentines beginning on whatever day it happens to be, and keep giving them to your hubby until you run out.
I've included several different kinds of Valentines in this set so that you have a lot of options for different days and moods. Some of them are sweet. Some of them are fun. Some of them are a little bit suggestive. It is our hope that these Valentines are a blessing to you and your husband!
To download your set of Valentines for Couples, click this link!