Wildlife Adventures Unit Studies
Wildlife Adventures Unit Studies
Hot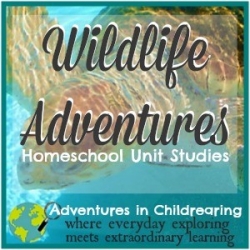 Teach the whole family – together
Each unit highlights a different animal and includes bible, handwriting, science, spelling, vocabulary, language arts, history, geography and more (just add math)!
Additional links for more research, and reading suggestions included
Hands on Learning projects and activities for art and creative homeschooling
Save time & money and learn to use the study of God's creation to inspire your students and help them develop a life-long love of learning!
Choose from different unit studies including Sea Turtle, Dolphin, Seashells, Jellyfish, Sand dollar, Manatee, Bald Eagle, Magnificent Frigatebird, Butterfies, and more.
User reviews
My daughters (13, 7, 5) all enjoyed the Sea Turtles study. Not only is it a fun topic, it was done in a way that they could each learn at their own level. I love projects we can do together and this is definitely in that category. It's affordable, easy to begin right away and work into our schedule, flexible, and educational fun! I look forward to doing more in the Wildlife Adventure series. Our next one is jellyfish!
Pros
open and go learning for wide age range
Wildlife Adventure Studies are very thorough and hands on. My kids loves them! I like how simple I can adapt them to our schedule.
Do you recommend?
Yes I do recommend
I just received my copy of Wildlife Adventure Studies, and at first glance I am impressed! I have three kids from preschool through 3rd grade and this unit has something for each of them. I like unit studies that enable us to work together as a family and has something for each child's grade level. I also like that it includes a suggested schedule, but it's also very flexible. I like having a schedule to draw ideas from, but also the ability to tailor the unit to the way my family works best. I can tell my kids will really enjoy it this school year!
Pros
Includes a suggested schedule for those that want one done for them, but is very flexible and can be tailored to those that want to create their own schedule. Includes resources for further learning if you want to dive even deeper into the topic.
(Updated: August 03, 2015)
My family 5 is finishing up the Dolphins unit study. My kids have special needs and it can be hard to find a study we can all do together and learn. Keli created a fabulous study designed to bend to the student's abilities! I am thrilled with the outcome!
My children learned science, geography, history, and more from this meaty 50+ page study. They have even extended out use of it from the 5 days recommended into another week!
I love that all I had to do was download and use. Simple to see, print, read the instructions, and use. Takes a weight off this momma's shoulders.
I recommend this unit study for the very little up to high school age. You only need to pick and choose what material and to what depth of study you should go.
Pros
Multiple grade capable unit study, lots of interesting history about dolphins
Cons
There were lots of hands on ideas to try as a mom of 5 with differing needs I would have enjoyed even more kinetic ideas to learn about dolphins.