Start your Homeschool Year Strong
We've been homeschooling for several years and between managing our home-based business and homeschooling, our daily routine is a work in progress. What I have found is that we have to get the routine set because that is the key to a successful homeschool for us. We work hard organizing so we can start the homeschool year strong.
The routine does not have to be rigid … but it does mean my elementary and middle school aged boys understand the procedure for school. During those early weeks, there are several things I do to organize our school year to help us have a successful year.
Have a Master Plan
First, I have already completed a Curriculum spreadsheet (Excel file) for all of our boys through the end of their high school years. No, I don't have their curriculum all figured out that far out, but I do know there are certain subjects they have to be taught and I know if we already have the curriculum for it or not. With most of the upper level curricula, they have a logical order and progression. Most of the sciences require a specific level of math to have been mastered before they can attempt the science. Several years ago I spent months figuring all that out and getting it on a spreadsheet. But, just because I have a curriculum for a subject doesn't mean it will work for every child. I've had to adjust curriculum from one publisher to another when it didn't fit all of my boys. Once a specific curriculum is working, it is easy to know what the next level is. I use this spreadsheet to know what they have completed and what is next (and if I have any curriculum for that subject).
Create a Schedule
Second, I create a schedule for each of my boys. With them taking some classes virtually, some classes at our local co-op, sports and other activities that have set schedules, we have to get those set in stone and then work around them for the other curricula. I am posting the Word documents so you can use and modify them for yourself.
Once we have the schedules in place and have gotten accustomed to the classes that have set times, we relax the schedule and they can do their work in whatever order they choose. Getting our routine settled usually takes a good eight weeks for us.
Use a Daily Checklist
The last thing that I do that has made a huge difference in my boys getting back in a good routine is creating a Daily Checklist. The boys check off all of their work as they complete it throughout the day. Once completed, I transfer their information into my calendar and I save their records with their notebooks annually.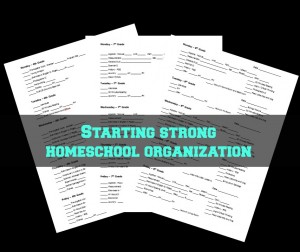 My Planner
Speaking of calendars, I don't use any of the fancy planners out there on the homeschool market, it is simply a weekly/monthly planner from Amazon. I use the monthly calendar section to schedule vacations, soccer games, field trips, etc. I use the daily calendar section to list what they do daily in their school work. Since we focus on mastery, I'm not so worried about recording grades because they will have successfully mastered the material or they do not move forward. However, since my oldest son is taking high school level classes this year, I will have to be more diligent about recording grades!
So, that is it. That is how we organize our homeschool schedule to ensure the start of good routines. What are some of the things you do to help your children be successful in their day? If you have questions, leave a comment below! And be sure to share if you appreciate the article and the materials I gave, it helps get the word out about our blog!
Remember to walk out your faith and not just talk about it… be a blessing to somebody today!