Science In the Ancient World
Science In the Ancient World
Hot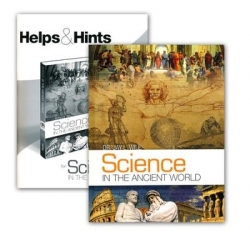 Science in the Ancient World is the second book in a hands-on, multilevel elementary science series that introduces scientific concepts using history as its guide. Because each lesson is built around an activity or experiment, it is engaging for all K-6 students. In addition, there are three levels of review for each lesson, so the parent/teacher can choose the depth at which each student is expected to grasp the material. The course contains roughly 90 hours of instruction, 35 of which are composed of hands-on activities.
The course covers the scientific work of natural philosophers who lived from about 600 BC to the early AD 1500s. It concentrates mostly on what these ancient scientists got right, but it does spend some time discussing what they got wrong, because even the mistakes that scientists make can sometimes advance our understanding of the natural world. Of course, when the students are taught something that is now known to be incorrect, they are made aware of this fact!
User reviews
We completed this one and Science in the Scientific Revolution and finished the second half of the first book all in one year and had two months left to start a third book from another author, only because this author's next book wasn't available yet.. My son loves science and reads it on his own and then we go over the questions. We only did a few to the experiments, as my older child is special needs and needs much help. But it was easy for my younger student to read through the experiments and understand what was happening and expected. We completed those we were most interested in. Wish these were available when my high schooler was younger. I have heard he plans to write a total of 5. We can't wait for the others to come out.
Pros
Well written. Easy to read and teach from and also easy to follow for an independent student.
Do you recommend?
Yes, without a doubt!