Review Detail
4.7
27
0.5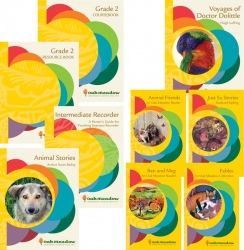 I think the con of moving slowly was entirely intentional. This curriculum is focused on allowing children to be children. If you are looking to push your kid ahead academically, I do not believe this is the program for you. My daughter adored this program and I had a lot of fun with her while using it. She still brings me the curriculum, saying she wishes she were still in kindergarten and wants to do more of her current classes like Oak Meadow did. I cannot say how it would have gone in further years. I had an injury that prevents me from doing too much of the hands-on and outdoor activities which were essential to the courses. Otherwise, I'd have loved to continue using it.
I do not think this curriculum would meet the state standards for what is expected of a kindergarten student. For example, children here are expected to count by 10s to 100 before the end of the year. This course only went from one to 10.
This is a fun, engaging, no pressure sort of curriculum. There is very little preparation required, making it supremely easy for the adults involved.
Comments