Review Detail
4.2
25
0.5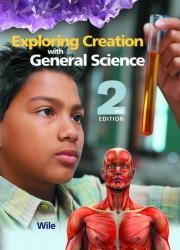 I used this book with a STEM minded 6th grader and a humanities based 7th grader. I really, really like Jay Wile's blog, his talks at homeschool conventions, the little Reasonable Faith book he published, and just everything I've heard about him as a person. He knows homeschoolers well and you can feel his appreciation and encouragement for them when you hear him speak. His blog could easily be required reading for Christian teens (his Reasonable Faith is for my teens).

Onto the General Science text specifically.

We liked that they could work together, and the experiments were simple to execute. It was one book instead of a jillion parts and an expensive lab kit.

We didn't like that science suddenly became a slog to get through. It went from discovering amazing things about the world around us to vocabulary cards, studying for tests, and slogging through fat chapters of verbose text.

We did not finish the book and I will not use it with my younger children. I just don't see a valid reason to make a 7th or 8th grader work through a textbook just as fat and as much work as a highschool one with far less depth.
Pros
written for homeschoolers, mostly uses common household items for experiments
Cons
super wordy, dry, my way or the highway
Do you recommend?
Not really
Comments