Homeschool Road Trip to Explore the World's Longest Cave System!
Join us and explore the World's Longest Cave System!
We are so excited to announce our spring Homeschool Road Trip location! From April 28 – May 1, 2019, we will enjoy exploring the world's longest cave system, having some time to get to know other homeschooling families, learning together (parents and children!), and relaxing and having fun together.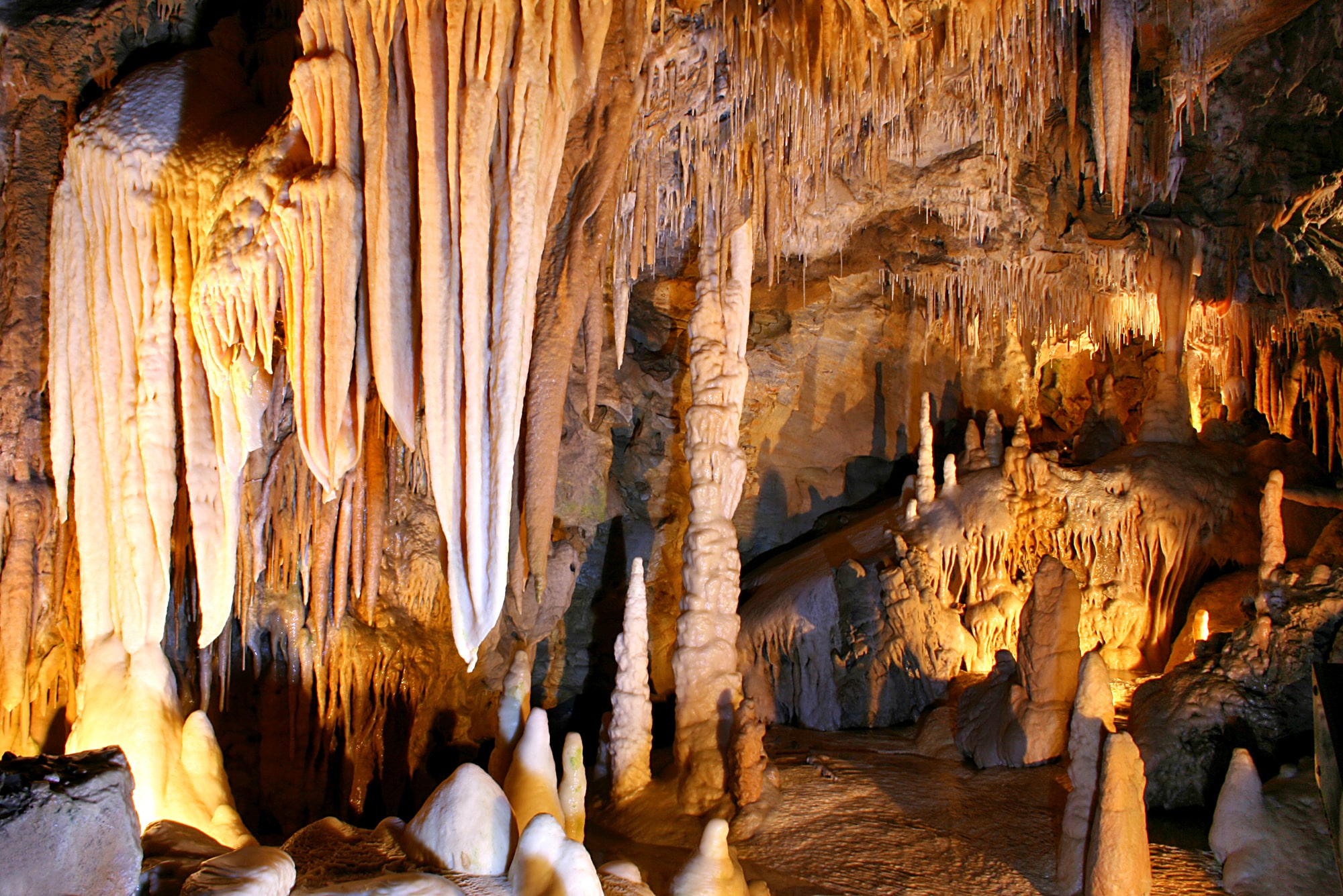 What: Homeschool Enrichment Adventure Road Trip to Explore the World's Longest Cave System!
When: April 28 – May 1, 2019
Where: Cave City, KY
Deposit Amount: $250 per family (non-refundable)
[wpcdt-countdown id="148736″]
[mks_pullquote align="left" width="800″ size="24″ bg_color="#9488ad" txt_color="#3f3f3f"]Did you know that speleology is the study of caves? It is! And we'll be doing it while we're there![/mks_pullquote]
We have chosen options that allow us to make our spring trip be super affordable! We want every homeschool family to have the opportunity to join us on one of our H.E.A.R.T (Homeschool Enrichment Adventure Road Trips) trips!
Keep reading to find out more about what we'll do while we're there. We think you'll agree that this 4-day, 3-night trip is packed with fun, educational, affordable activities you won't want to miss!
What will we do on our Homeschool Road Trip?
Mammoth Cave
Mammoth Cave National Park was established in 1941. It is one of the world's longest known cave systems (which is how it earned the name Mammoth Cave) with more than 400 miles having been explored. The park was established in 1941 to protect this complex and beautiful cave system as well as the beautiful rolling hills found above it. This cave system has seen people from Native Americans to early pioneers and from enslaved guides to well-known explorers, and we're going to have the opportunity to learn about it and explore it together!
[mks_pullquote align="left" width="800″ size="24″ bg_color="#9488ad" txt_color="#3f3f3f"]Did you know that temperatures inside Mammoth Cave stay at about 54 degrees year round?[/mks_pullquote]
Diamond Caverns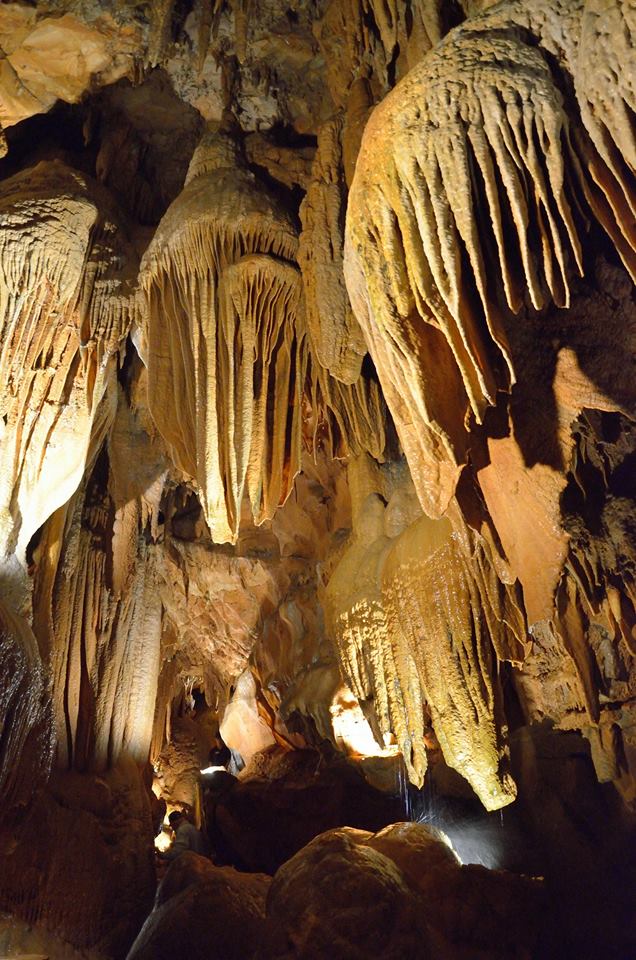 In Diamond Caverns, we'll see the beautiful, intricate drapery deposits that line the halls in cascades of naturally colorful calcite. This cave has been altered very little during its 140-year history of being open to visitors, so we'll see its natural beauty and enjoy its comfortable temperatures together. (Similar to Mammoth Cave, which is adjacent to Diamond Caverns, the temperatures in Diamond Caverns stay at about 58 degrees all year.) Diamond Caverns is located within the Mammoth Cave Area International Biosphere Reserve and is surrounded by Mammoth Cave National Park, a World Heritage Site.
Lost River Cave
Our experiences at Lost River Cave will be lots of fun, but we will get dirty! Be prepared to have lots of fun, and be sure to bring a change of clothes! (As those of you who've gone on Homeschool Road Trips with us already know, we will share tips and reminders with you before the trip, so don't worry!)
We are extremely excited to be able to offer something extra special at Lost River Cave! We will have
Delaney Rockrohr-Eaton and Annie Holt there with us to make this experience not only educational but also lots of fun! To learn more about education at Lost River Cave and about Delaney and Annie, keep reading!
Education at Lost River Cave
The goal of the nature center at Lost River Cave is to engage, educate, and empower people to understand the value of nature in their lives. To do this, they provide educational opportunities that promote these values and ideas.
Engage: Provide nature-centered activities, like the Junior Naturalist Program, day camps, scout and 4H programs, and the Nature Trading Post that are designed to increase curiosity and awareness of nature with hands-on experiences.
Educate: Provide hands-on, place-based education that engages the mind and immerses children and parents in an environment that makes strong connections with the real world and what students have learned in their homeschools. These opportunities for parents and students of all ages, and they meet Next Generation Science Standards.
Empower: By allowing free access to the nature trails, we provide a pathway for better mental and physical health as well as environmental stewardship. As families become invested in their surroundings — admiring nature's beauty and learning how to respect its inner workings — they begin to see themselves as caretakers, rather than consumers, of their environments.
Our Educational Guides at Lost River
Delaney Rockrohr-Eaton. Delaney Rockrohr-Eaton is the Chief Naturalist at Lost River Cave. She has a degree in Biology with a specialization in Aquatic Field Ecology from Western Kentucky University. Following graduation she conducted research for WKU in aquatic food webs within karstic and non-karstic systems, focusing on Stable Isotope Analysis and nutrient shift in detrital pools of the riverine algae Cladophora. Currently, Delaney is a non-formal educator and a Certified Interpretive Guide for the Nature Center. She is a Certified Educator in the National Environmental Education Curriculums Project Wet, Project Learning Tree, Project Wild, and the Leopold Education Project. She is also in the process of becoming certified as a Professional Environmental Educator by the Kentucky Environmental Education Council and the North American Association of Environmental Education. In her free time, Delaney enjoys sewing, photography, learning new things, and being outdoors. She currently lives in Bowling Green with her husband Nick and their dog Mara, cats Poe and Cal, and milksnake Kit.
Annie Holt. Annie Holt is the Nature Center Director at Lost River Cave. She has been on staff at Lost River for 12 years and volunteered there for about 5 years before joining the team. Annie grew up in the area and received her degree in Geology from Murray State University. During her college years, she spent her time underground as a Park Ranger at Mammoth Cave National Park. After graduation Annie became the Assistant Director at the Center for Cave and Karst Studies at Western Kentucky University where she headed the Karst Field Studies Programs and lead the Geophysical Investigative Research division of the center for 10 years. However, missing the 'Ranger' life led her back to a park, Lost River Cave this time. There she is a Certified Interpretive Guide, a certified Kentucky State Professional Environmental Educator, an Educator for the Project WET (and all its subprograms), Project WILD and Project Wild Aquatic, Project Underground, Project Learning Tree and its Secondary Education Modules, Flying Wild, and Project Archaeology national curriculums. Annie lives in Bowling Green with her husband Kevin and their son Max, 2 dogs, 1 cat, 1 snake, 1 bearded dragon, and 2 gold fish.
Annie and Delaney will be our guides on the Cave Geology and Cave Ecology tours.
We will experience both programs–cave geology and cave ecology. Along with the Cave Boat Tour (which we describe in more detail below), they give students and parents a view of both the upper and lower passageways of the cave.
The geology and ecology programs will give us an unusual experience by immersing us in the environment. We will actually have the opportunity to crawl and climb in the upper passageway of the cave! We may see cave adapted organisms up-close and personal along with fossils from the geologic depositional environment. By the end of the program, students will be able to:
Discuss the importance of adaptation for the survival of underground organisms.

Identify evidence of the deposition of the local bedrock and of sedimentary rock beds.

Use observations to support evidence that chemical and physical weathering create underground karst features.
As part of the Cave Geology and Cave Ecology programs, we will experience:
Animal Encounter
This program is designed to provide students with living examples of multiple types of animals. Students will be offered tactile experiences with most of the featured animals. By the end of the program they should have a better understanding of:
camouflage

animal diets

animal structures

skin, fur, hair and scale textures
Some of the animal ambassadors that can be part of the experience include: Local Species-Rough Green Snake, Corn Snake, Black Rat Snake, Cotton Tail Rabbit, Lincoln Salamander, Spotted Salamander, Tiger Salamander, Non-Native-Tarantula, Ball Python, Russian Tortoise, Tegu, Axolotl, and Hissing Cockroaches. Animals for each encounter are chosen by the presenter and are based on particular needs that day.
Bluehole
Geology, ground water, history, ecology, and chemistry. Nothing pulls these subjects together like a karst bluehole. Lost River Cave's four blueholes have been, and continue to be, the scene of amazing science and human interaction. While on the tour, we'll visit the 4th and final bluehole and learn about some of the interesting facts and folklore surrounding these windows into the underground.
[mks_pullquote align="left" width="800″ size="24″ bg_color="#9488ad" txt_color="#3f3f3f"]Did you know that a bluehole is a large marine cavern or sinkhole which is open to the surface and has developed in a bank or island composed of a carbonate bedrock? [/mks_pullquote]
Wetland Netting
Netting is an exciting and immersive experience that will allow us to discover what lives beneath the surface of the water in the Wetlands at Lost River Cave. Hands-on learning is encouraged as children and parents get up close and personal with macroinvertebrates. As dip nets are shifted through reeds and water, insects are flushed out and safely captured along with leaves and algae. Participants then sift through and look for critters. Hand lenses, simple i.d. booklets, and curiosity help guide parents and children in this natural encounter.
Cave Boat Tour
Lost River Cave offers Kentucky's only underground boat tour, two miles of nature trails, and 68 acres of natural bliss in the middle of metropolitan Bowling Green. The Cave Boat Tour begins with a walk in the valley. There our guide will share the tale of the blue hole and disappearing Civil War soldiers. Then we'll board the boat at the cave entrance. (Be sure to duck your head until the passage opens into the cathedral-like cavern!)
Geocaching
Bring your smart phone and use simple instructions from the Visitors Center to turn your phone into a GPS! If you happen to have your own GPS, you can grab a copy of the coordinates, plug them in, and go hunting.
Treasure Mining
Inspire your budding geologists as they pan for gemstone or fossil treasures! They'll find Rose Quartz, Amethyst, Pyrite, Amber or even Horn Coral! Along with the bag of treasure-filled sluice material, children receive a key card which will help them identify their new treasures.
Hidden River Cave
This cave offers something very unique… we will walk on the world's longest underground swinging bridge! Go beyond your previous idea of what a cave can be on this tour. We will see how Hidden River Cave ties into the story of Horse Cave and the Caveland area. See wildlife, historic equipment, and natural features that we won't see in any other cave on this trip.
American Cave Museum

This two-level museum features, of course, caves and is a state-of-the-art showcase of underground natural history-a little bit of Smithsonian in rural Kentucky! Here we'll be able to get an in-depth look at even more history and science related to America's natural caverns through educational and informative exhibits. It's history, science, and fun all in one location!
At the American Cave Museum, we'll have the opportunity to read and learn more about:
Karst Geology: Discover the unique issues and formations only found in karst formations, as well as important links to our past.
Groundwater Quality: Learn about the issues affecting our most important resource and what we can do to protect it.
History of Caving: Go beyond modern headlamps and rope. Get acquainted with Caveland icons such as Floyd Collins, and hear the story of our Cave Wars.
Archaeology: Find out about the vast human history that can be discovered in caves.
Cave Wildlife: Explore the diversity of life inside caves, and find out about the unique animals that only inhabit the subterranean world.
Cave Formation: Did you know that caves and the cavities your dentist fights against have a lot in common?
Crystal Onyx Cave
Crystal Onyx Cave is one of the most beautiful caves in the USA. The lighting is exceptional and is designed to show these beautiful formations. This cave was discovered in prehistoric times and was rediscovered by modern man in 1960.
[mks_pullquote align="left" width="800″ size="16″ bg_color="#9488ad" txt_color="#3f3f3f"]Your children may hear about evolution, cave men, etc. on this road trip. You will want to take the opportunity ahead of time to discuss your family's beliefs on these topics. We personally believe it's good for children to learn that there are different beliefs related to these topics. If our children are to understand what they believe and why they believe it, they must also understand that there are other schools of thought on these topics. [/mks_pullquote]
Corvette Museum
If you have a car lover in your family, you may enjoy exploring the museum's 80 Corvettes in periodic settings. You'll be able to test your knowledge at interactive trivia kiosks and even check out a 2015 Stingray up close in the lobby. And of course there's a Corvette Store where you can buy souvenirs and a Corvette Cafe for those who get hungry.
Sinkhole That Swallowed Eight Corvettes
Whether or not you have a car lover, you'll definitely be interested in learning more about the sinkhole that swallowed eight Corvettes in February of 2014! (Don't worry! The building was properly reinforced following the event, so it's safe to explore!)
There's a special exhibit where we'll learn more about what happened and why. The exhibit is divided into sections including The Day, Media Coverage, Pop Culture, Cars Affected, The Recovery, Karst Landscapes, What It Took to Fix the Sinkhole, and The Grand Finale combining photos, videos, informational text, and interactives to create an experience that is enjoyable for all ages.
"We were able to put some of the parts from the sinkhole Corvettes back into our cave, and we now have a web cam that allows visitors to actually search in the cave for the car parts," said Frassinelli. "I think my personal favorite is the Corvette crane game which allows you to remove boulders, debris and Corvettes from the sinkhole. The designers even put the cars exactly how they were in the sinkhole. Of course, the game is a lot easier than it was in real life!"
Upon exiting the new exhibit, visitors will see the renovated Skydome that reopened summer 2015 as well as all eight Corvettes from the sinkhole including the 1992 "1 Millionth" Corvette and 2009 ZR1 "Blue Devil" that were restored by General Motors. One car, the 1962 Black Corvette, will undergo repair in the Museum's new Maintenance and Preservation Department, allowing visitors the opportunity to actually watch the restoration work for themselves.
Watch this video to see the sinkhole swallow the Corvettes.
Art Souvenir
We are in the process of planning a special art project that will serve as souvenirs from our trip! We'll share more information about this as it is available.
[mks_pullquote align="left" width="800″ size="16″ bg_color="#9488ad" txt_color="#3f3f3f"]Please be aware that specific details and activities may need to be adjusted during our trip due to weather or other unforeseen circumstances. We do not anticipate having to make any changes, however, we have learned that travelers must be flexible. [/mks_pullquote]
Add-Ons
For those who want to add some extra fun and adventure to this trip, we'll have some available add-ons! If your family doesn't want to participate in these add-ons, that's ok too.
Lost River Cave Zip lines
Get ready to fly! Lost River Cave offers two thrilling zip line adventure tours!
Flying Squirrel: Fly through the treetops and zip over the valley's largest blue hole surrounded by breathtaking natural beauty. We'll have professional guides lead us on an exhilarating trip through the forest canopy. This adventure includes three zip lines that begin when we step off an 80-foot bluff that will send us soaring through the trees.
Lightning Bug: This zip line is a perfect way for little zippers to learn the ropes! Most zip lines don't allow small children to participate, but this one does! In fact, participants must be between the ages of 3 and 10 and weigh under 70 pounds. This guided tour provides an excellent opportunity to build confidence and a sense of accomplishment for younger children. (A parent or legal guardian is required to be present for the duration of the child's zipping experience and will have to sign a waiver and release of liability.)
Flying Squirrel $35/person (an hour)
Lightning bug $20/person (half hour)
*Zip lines require closed-toe shoes to participate!
Hidden River Rappelling
Price per person is $35
*Rappelling requires closed-toe shoes to participate!
Jellystone Park Mammoth Cave
For this trip, we will allow local people who aren't staying at Jellystone Park with us to participate in our off-site activities. We cannot, however, allow you to participate in our on-site activities, meals, etc. In other words, you can participate in the activities listed above, but not the things listed below that will happen at Jellystone Park.
We be staying at Jellystone Park Mammoth Cave during our trip. This will not only allow lots of time to visit and get to know other homeschooling families, but it will also help you save money! All of the activities listed below come with your stay at the park. And our cabins all come with kitchens (either full kitchens or kitchenettes–depending on which type of cabin you choose), so we'll save lots of money on meals!
What will we do at the park?
If you have not been on one of our Homeschool Road Trips, we spend a great deal of time focusing on relationships. We want our families to become life-long friends and our children to look forward to seeing each other at the next Road Trip. We believe we have succeeded in creating this atmosphere. But don't take our word for it… click here to read the reviews on our Facebook Page. Once we know how many families are traveling with us, we will nail down the various activities we will participate in.
Here are some of the inside activities we will be choosing from:
karaoke
family dance
family game night
crafts, ceramics, and tie-dye shirts
bingo
a game room
"leave no trace" education
Here are some of the outdoor activities we will be choosing from:
volleyball
corn hole
kickball
hey-hey-hey rides
shaving cream whiffle ball
movies at the amphitheater
jumping pad
mini golf
activity pool
Be Introduced to the Go RVing Lifestyle!
We have a fun new sponsor joining us for this trip… GoRVing! So many of us secretly yearn to take our homeschools on the road, so we thought you would really enjoy this sponsor! They are hosting a fun educational scavenger hunt and a bonfire with s'mores for all of those who are staying at the park! We'll also have the opportunity to explore an RV up close and personal!
What About Accommodations?
The Cumberland Cabin is pictured below:
Meals
One of the ways we've made this trip so affordable is by saving money on meals. It's very expensive to provide meals, and with so many families having food allergies / restrictions, we decided to make it easier and less expensive by having families provide their own food. (For those who go on the trip with us, we'll provide more specifics about area grocery stores as we make plans for the trip.) Again, these prices don't include meals because we won't be providing food on this trip. Your family will need to stop by the grocery store on the way and pick up food to cook in your cabin.
There are 30 cabins that have full kitchens. If you want to be sure to get a cabin with a full kitchen, be sure to pay your deposit and reserve your cabin early! Once these 30 cabins are reserved, they will no longer be available. The other cabins have kitchenettes, so you can still cook in your cabin — you just won't have a complete kitchen to use. (Unless you make friends with another family that has a full kitchen!)
We will be posting recipes to cook over fire pits and on grills to make it easy to plan your meals! We'll let you know when those are available. And of course you're free to bring a grill for your family if you would like to do that!
The camp also has a Nathan's, so you'll have the option of buying hot dogs, hamburgers, pizzas, chili cheese fries, corn dog nuggets, and more if you decide you want to do that instead of cooking.
Towels and Linens
Please keep in mind that towels and linens are not provided by the camp! Our families will probably bring sleeping bags instead of bed linens. If you don't have sleeping bags, though, or if you just prefer sheets on your bed, you can bring bed sheets from home. Once you reserve your cabin, you'll know what size bed sheets you'll need to bring.
You'll also need to bring your own towels and wash cloths. (Keep in mind that you'll need kitchen towels and wash cloths too!) My (Wendy's) family has these Turkish towels that we use for camping, and we love them! They dry fast so they stay fresh smelling even if we use them for several days. We couldn't find small ones to use for washcloths, so we took one towel, cut it into small washcloth-sized pieces, and stitched around the edges (to prevent them from unraveling) to use as washcloths and cloths for the kitchen.
Costs
Your family's actual cost will vary, based on what options you choose for your accommodations, activities, and add-ons.
Accommodations
We will update this spreadsheet to reflect which cabins are available. All the Cindy Bear Cottages have been reserved.

Activity Fees
Adults (13 years old and up) = $250 / person
Children 5-12 = $200 / person
Youth under 5 are free.
NOTE… Lost River does not normally offer the Cave Geology and Ecology tour to children under the age of 9. If you want your children ages 3-8 to go on the Lost River Cave Geology and Ecology tour, you will need to add $65 for each child in that age group. We have negotiated a special tour so the little ones will be able to experience the amazing educational aspects of this piece of the tour. Lost River has agreed to offer this tour but they will have to purchase equipment specifically for this age group.
To determine the cost for your family:
1. Choose your type of accommodations. Note these are per night. Our trip is three nights, so take your cost per night and multiply by 3.
2. Add up the costs for the activities for your family by age.
3. Add in any add-on activities you plan to participate in. (Note these will probably be done on the afternoon of Wednesday, May 1st so you may want to stay an additional night in the cabin. If so, just be sure to add an extra night to your total.)
Payments, Cancellations, and Refund Policies
Your deposit of $250 is due upon registration. We will offer a payment plan (divided up by the number of months left) with the total balance being due on By March 31st, 2019. Deposits are non-refundable. We cannot make any changes or offer any refunds after February 15th.
Note: We require a minimum of 10 families. Therefore, until we meet this minimum number, this trip will not be considered "confirmed." Should we not reach our minimum number required, we will issue a full refund of all payments. Also, we have a maximum of 50 families, so first come first served. By your deposit payment, you acknowledge your understanding and agreement of the cancellation and refund policy.
Ready to Register?
Complete this form and we will send you an invoice via paypal for your $250 non-refundable deposit. If you don't see the form below… click this link.