Review Detail
4.7
27
0.5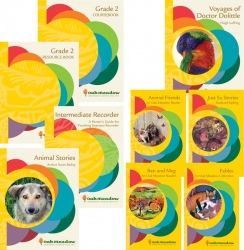 This is a great program that respects the wonders of childhood and introduces children to academic concepts in a developmentally appropriate manner. This program is especially wonderful for children with learning disabilities who need more time to absorb what they are learning. The pace is gentle, and the subject matter and activities keep my child's interest. I also really like how there is a distance learning option, which we may use later on for transcript purposes.

The only potential down side to this program is that it does not align to current public school standards. Literacy and math concepts aren't really covered until the first grade, which (while developmentally appropriate) is a bit behind current school standards. So, if your child is transitioning from public school to OM they might find the pace too slow and become bored with the content (or they might appreciate the relief hehe). I am told that if you sign up for the distance learning program that they will tailor the program to fit your child's academic needs, but I can't vouch for that since we have yet to attempt this.
Pros
Ease of use, enjoyable, perfect for children with learning disabilities
Cons
Does not aling with current standards, some children may find the pace of the first few years too slow.
Comments