Review Detail
4.6
9
0.5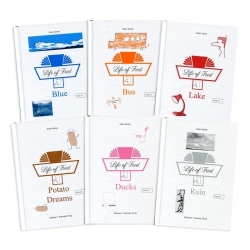 I bought these to help encourage my eldest who enjoyed the Life of Fred, but was not a fluent reader. I was disappointed that the readers were full of sight words. It is not clear what level these beginning readers are for, but even the first book has all sorts of difficult vocab like the contraction "can't" and the multi-syllabic word "ready" which made my daughter not want to continue the series. We are successfully using an OG-based phonemic reading program and these books are not compatible since they are full of very advanced phonograms.
Also, my struggling reader was frustrated by the wonky layout. Things like text changing from blue and large to small and black, occasionally omitted punctuation, and speech bubbles are rather confusing for emergent readers!
As much as my children adore Fred (in the math series), I don't think my children would want to read these stories again and again when they are able to read them independently.
Pros
sturdy books, funny Fred
Cons
difficult reading for emergent readers
Do you recommend?
For super Fred fans, but not for beginning readers
Comments