Homeschool Programming Review
I have had the opportunity to review a product that I believe to be very rare. When I first saw an ad for Homeschool Programming I stopped to look because I had never seen a computer programming curriculum for kids.
Here are a few things that stood out to me right away:
*Only basic familiarity with using a keyboard and mouse to select and run programs, navigate application menu systems, and generally interact with your operating system are needed to begin. Along with being able to save and retrieve files.
*There is no prior computer programming experience needed (even from the supervising adult).
*The lectures are in video format using images of the actual program you are learning in (in our case Visual Basic).
*There are no online subscriptions or time limits so you can truly run this program at your own pace, and with multiple children in your home without having to get more workbooks or permissions for more uses.
After finishing just 3-4 of the Chapters my 9 year old third grader is creating his own little "programs" In the photo below he created a basic program where you click to find out things like, "How to find me . . . go to the ps3" and "Click here to find my address." He looks forward to each new lesson to see what else he can learn to add in to his "program." After finishing each lesson he spends time playing around with his own "program".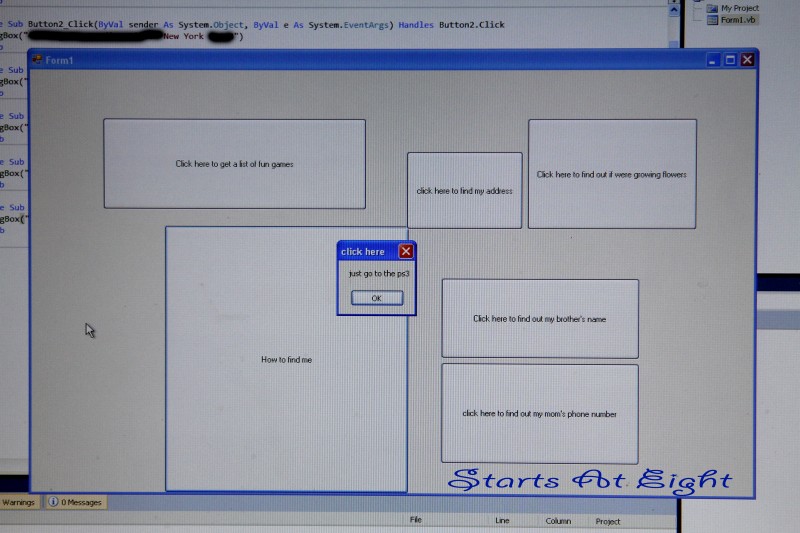 After getting 5 Chapters in, we hit a spot where their Your Turn section was harder than we could handle. I knew there must be a solution somewhere but could not recall. I was pleased to find that the Homeschool Programming
Getting Help Form
was easy to fill out and I received a reply with 24 hours. Of course I had just forgotten about the Solution Menu I had loaded into my computer when I loaded the program! So silly, everything I needed was right there all along. It was so nice to get a quick and helpful response back so that we could continue on with the program!
In July I will be doing a final review of Homeschool Programming's Kidcoder – Windows Programming Software. I look forward to sharing some more thoughts and experiences with you at that time and am thrilled we will be able to offer all of our readers a giveaway from Homeschool Programming at that time!
Heidi lives in upstate New York where the winters are long & cold, but where she truly appreciates the lack of extreme weather such as tsunamis and hurricanes! Her house is filled up with her loving husband of 13 years, 3 busy children, & 2 dogs (Muffin & Oscar). Homeschooling started out as a trial run with a child beginning 2nd grade, & almost 6 years later has become a lifestyle which brings great joy. You can often find her behind her camera, or working something out in Photoshop. Since beginning this homeschool journey she is learning to knit, crochet, & even to quilt! Her love of reading was passed on to her children & can be seen in the numerous book reviews she writes on her blog. You can find her blogging at Starts At Eight.
I have always thought of myself as being "electronically challenged." My children are much more "tech savvy" than I am because they have grown up with computers, cell phones, and all sorts of other electronic devices. But I want them to know how to do more than just play on all of these devices. I want to feel like they are learning something useful and not just goofing around with their time spent on the computer, etc.
When another Hip Homeschool Moms team member told me about Homeschool Programming, Inc., I was interested right away. She told me that the program looked like fun. After looking at it, it looked like something that my kids could learn from even though I don't have any programming knowledge myself. I was eager to try it out!
The courses available are:

KidCoder: Windows Programming—First semester course (intro to Visual Basic)
Kid Coder: Game Programming—Second semester course (Visual Basic game programming)

TeenCoder: Windows Programming—First semester course (intro to C#)
TeenCoder: Game Programming—Second semester course (C# game programming)
Teen Coder: Java Programming—First semester course (into to Java)
Teen Coder: Android Programming—Second semester course (Android programming in Java)
I'm doing the TeenCoder: Windows Programming course with my 15-year-old son. He loves all things technical, so I figured this would be a great opportunity for him. At first he really wasn't too thrilled about it. He prefers to spend his computer time playing. He wasn't happy about the thought of turning the computer into a learning opportunity! I encouraged him to try it just to see how he would like it, though, and he did.
So far it has been a great experience for both of us! He has really enjoyed learning how to do some basic programming and has found that it's not the boring experience he thought it would be. He's having fun! He hit one little snag where he wasn't sure what to do, but he was able to figure it out with some help. We simply went back to the video and watched it again until we understood what to do. There is also a place on the website to email for help as well as a community forum and FAQ page.
He is definitely making progress, and I'm looking forward to seeing what he'll be able to do once he's farther along in the program. It's really a fun program, and it's something we both look forward to doing! The videos are fun to watch and give very good, clear information. I'm enjoying spending this time with my son while we both learn, too. (He could easily do it without me, but I chose to do it with him because this is information I'd really like to learn from too.)
I would like to encourage you to take a look at the Homeschool Programming, Inc. website to get more details on all of the programs they offer. You can see an overview of both the KidCoder and TeenCoder courses here.
In a few weeks, I will post another review letting you know how things have gone as we continue learning more. I hope you'll come back to read that review too! And of course I have to thank the Homeschool Programming, Inc. folks for generously providing me with this curriculum to use and review.