Homemade Dark Chocolate with Rose Petals
Since the coming month is the month of chocolate, love, and roses, I thought it would be great to share a delicious homemade chocolate recipe…with rose petals! Nothing spells love like homemade, and it's even better when you can combine love, chocolate, and herbs together!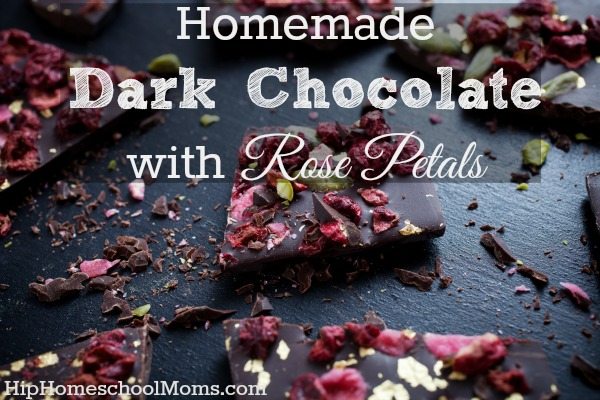 Who doesn't love chocolate? To most of us it just doesn't seem normal to not love chocolate, but I know you chocolate haters are out there, and that's OK – I really do try to understand. 🙂
For many, chocolate is a sanity saver for stressful times, a comfort food for sad hearts, and a pick-me-up when you are dragging your feet.
Chocolate is also associated with guilt because chocolate treats can add unwanted weight to our figures and is looked upon as something that is not healthy.
Well I have GOOD news for you chocolate lovers out there…chocolate isn't just junk food anymore: it actually can be and should be good for you! You have to snack smart though – most chocolate sweets found in grocery aisles are not good for you due to the high content of sugar and other unhealthy ingredients.
Today I'm going to show you how you can make chocolate that is not only good for you, but can actually make you healthier! And, if you add herbs to the chocolate, you only make it that much better for you.
You may be wondering how chocolate can actually make you healthier.
Well let's take a look at some of the ingredients.
Dark Chocolate – To get the most benefits from eating chocolate, make sure that it's at least 70% cacao. Dark chocolate contains magnesium, fiber, iron, copper, potassium, manganese, selenium, zinc, and phosphorus. It's full of antioxidants, can lower blood pressure and cholesterol, and may improve brain function and heart health. [1]
Coconut Oil – Organic, cold-pressed, unrefined coconut oil is one of the healthiest fats around. I add it to different foods every day for my family, to make sure we are benefiting from it. It's used for hair and skin care, weight loss, heart health, immune health, and improved digestion, to name a few things. [2]
Rose Petals – Rose petals have astringent properties and can relieve headaches, nervousness, and insomnia. [3]
Cinnamon – Cinnamon is good at stabilizing blood sugar levels-what a perfect addition to add to something sweet!
Raw Honey – Raw honey is full of living enzymes, vitamins, minerals, and many nutrients. [4] I use raw honey instead of sugar as a sweetener as often as I can. It's so good for you!
Now for the recipe.
Homemade Dark Chocolate with Rose Petals
Recipe Type
:
Dessert or Snack
This homemade dark chocolate is yummy and good for you!
Ingredients
1/2 cup cacao powder
1/4 tsp. cinnamon powder
1/2 cup coconut oil
3 tablespoons raw honey
1/2 tsp. vanilla
3-4 tablespoons dried rose petals
Instructions
Slowly melt the coconut oil over low heat.
Stir in cacao powder, cinnamon, and vanilla.
Place mixture in fridge until it begins to solidify. This step is necessary so that the honey doesn't sink to the bottom below the coconut oil while hardening.
Stir in honey.
Fold in rose petals.
Pour into pan or molds.
Refrigerate until firm.
Homemade candy is so much fun to make with your children or for someone you love.
What kind of healthy treats do you like to make with your children or for your family? Please share it with us in the comments!
REFERENCES
1. 7 Proven Health Benefits of Dark Chocolate (No. 5 is Best). (2013). Retrieved January 25, 2016, from http://authoritynutrition.com/7-health-benefits-dark-chocolate/
2. Health Benefits of Coconut Oil | Organic Facts. (2015). Retrieved January 26, 2016, from https://www.organicfacts.net/health-benefits/oils/health-benefits-of-coconut-oil.html
3. Red Rose Petals, Organic. (n.d.). Retrieved January 26, 2016, from http://www.bulkherbstore.com/Red-Rose-Petals-Organic
4. Raw Honey. (n.d.). Retrieved January 26, 2016, from http://www.bulkherbstore.com/Raw-Honey