Make Ahead Macaroni and Cheese Recipe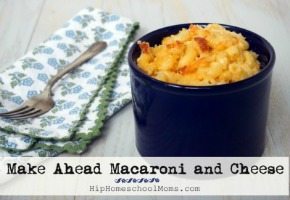 2 lbs. (32 oz.) elbow macaroni
6 tbsp all purpose flour
2 tsp dry mustard
1 tsp kosher salt (plus more for salting pasta water if desired)
1 tsp seasoned salt
1 tsp black pepper
8 tbsp unsalted butter
1 clove garlic, peeled and minced (optional)
5½ cups 2% milk
2 eggs, beaten
3½ cups cheddar cheese, freshly grated
2 cups Italian cheese, freshly grated (Asiago Fresco, Parmesan, Romano, or blend is preferred)
1½ cups Panko style breadcrumbs
4 tbsp unsalted butter
½ cup Parmesan cheese, grated
Preheat the oven to 350 degrees F. Lightly butter two 9X13" baking dishes.
Prepare the macaroni according to package directions for an al dente texture.While the pasta is cooking, prepare the cheese sauce. Once the pasta is al denta, drain and set aside.
Measure the flour, dry mustard, salt, seasoned salt, and pepper into a small bowl; stir together with a fork to combine.
Melt the butter in a large saucepan set over medium heat until it becomes frothy.
Add the garlic to the butter and saute for 30 seconds.
Stir the dry ingredients into the frothing butter until smooth.
Cook and stir the base mixture for another minute or two, or until it thickens to the point that dragging the spoon across the bottom of the pan leaves a clean streak for several seconds.
Remove one half of the thickened roux from the pan, and then slowly stir it into the beaten eggs to temper them. Once the eggs have been tempered, add them back into the roux and stir to combine.
Add the milk into the roux all at once, whisking the base mixture to break up any lumps. Continue to cook and continually whisk the sauce until it becomes thick enough to coat the back of a spoon.
Remove the sauce from the heat, and stir in the grated cheeses until completely melted.
Fold the cooked macaroni into the cheese sauce until it's completely coated.
Divide the macaroni evenly between the two prepared baking dishes.
Prepare the topping by combining the melted butter, bread crumbs, and cheese until the bread crumbs are fully coated and begin to clump.
Divide the topping in half and sprinkle evenly over the macaroni in each of the baking dishes.
Bake both pans of macaroni and cheese in the preheated oven for 20 minutes or until the topping is golden brown and the sauce is bubbly. Serve one pan immediately.
While enjoying the first pan of macaroni and cheese, allow the other pan to cool to room temperature. Then tightly cover the baking pan with heavy duty aluminum foil and freeze it for up to 3 months.
When you're ready to use this pan, thaw overnight in the refrigerator, and then bake for 30 to 35 minutes at 350 degrees. F.
Recipe by
Hip Homeschool Moms
at https://hiphomeschoolmoms.com/make-ahead-macaroni-cheese-recipe/