Dear Clearwater Beach, Can I Just Be Honest with You?
Dear Clearwater Beach,
Can I just be honest with you? When we arrived and were checking into our hotel, I was a tiny bit disappointed that we did not have a Gulf view. I am a beach girl, I grew up on the coast of NC, and being near the water is my happy place. I long to not just be near water, but to see it as well!
However, the very first day I realized what a blessing it was to have the bay view! Not only were we still looking at water, but with each weather change and passing day, we were graced with a front row seat to God's artwork in the sky. That very afternoon that we arrived, a storm was clearing. As we moved around our hotel room getting situated, we ventured out on the balcony of my room at the new Hampton Inn at Clearwater Beach to get a lay of the land, so to speak. But the sky is what beckoned us. There, like a neon sign, was the most amazingly vivid double rainbow I've ever seen!
That afternoon set the stage for the rest of the trip. Every day, whether it was a storm rolling in or a spectacular sunrise or a breathtaking sunset, we got to see them up-close and personal–reminding us to look for the blessings in all circumstances. Those spectacular sunsets are waiting for everyone regardless of budget constraints! But I loved the storms too. I took one of the most amazing panos of a storm rolling in at sunset. Watching that storm coming in was breathtaking!
Let me back up for a moment, I actually traveled to Clearwater Beach close to thirty years ago. The name of the hotel is now lost in the fog of my way-too-busy mom-brain, but it was a grand hotel on the beach – evoking images of Frank Sinatra, the brat pack, and old Hollywood. I was nervous – no, to be honest, I was terrified – to be on this big adventure alone at age nineteen, and I guess it showed. I remember passing a restaurant with its perfectly laid black and white marble floor to get to huge doors that led outside. As I timidly peeked out those doors to see who was out there, I was practically swept off my feet by a virtual welcome wagon of elderly patrons. They invited me right into their group as if I was a long lost grandchild – and simply would not take no for an answer. We spent the entire weekend together, playing games, talking, sharing meals and our lives. Little did they know what an important role they played in launching my love of travel. It blossomed right there under their warm gazes and friendly ways. It has been close to 30 years since I visited that Clearwater Beach, and I was utterly shocked to see all of the changes. It was almost unrecognizable.
Even though the quaintness and charm of old Hollywood have mostly disappeared, what has replaced it is a vibrant community filled with interesting people from all over the world and every walk of life! My beloved beautiful white sand beach is still there and is now lined with friendly open-air restaurants, every water sport one could ever dream of, a huge assortment of hotels to fit every budget, and boating excursions to suit every possible interest. That same white-sand beach where we laughed and got to know each other so long ago is not just maintained, but perfectly fussed over – even more than I remembered. I watched it being groomed and raked on one of my early morning strolls, which just shows me the commitment Clearwater has to keeping the beach clean and pristine. That view made me feel as if I had left my cares behind and traveled to some extravagant, exotic destination… yet I was right there in Clearwater where this respite is affordable and easily accessible!
I was pleasantly surprised to actually find a slice of old Hollywood – actually I should say "old Clearwater Beach" – still remained. Bob Heilman's Beachcomber Restaurant really conjured up that feel of nostalgia and the old Clearwater Beach I so fondly remember. This restaurant was charming, and our meal was perfection. The wait staff's attention to the most finite detail was impeccable. The ambiance, with soft lighting and piano music, was divine. And that wine list certainly had something for even the most discriminating customer, which I most certainly was not. I cannot tell you how wonderful it was to sit there and just enjoy the moment. I reminisced as I watched the "regulars" at the bar laugh and chat. It almost felt like I was watching my welcome wagon friends from my first Clearwater Beach visit. But along with this precious slice of old Clearwater, the restaurant has expanded and updated several times and is going through another renovation as I type this. With all the beauty of the new, I'm thrilled to see they have managed to retain the charm of the past as well.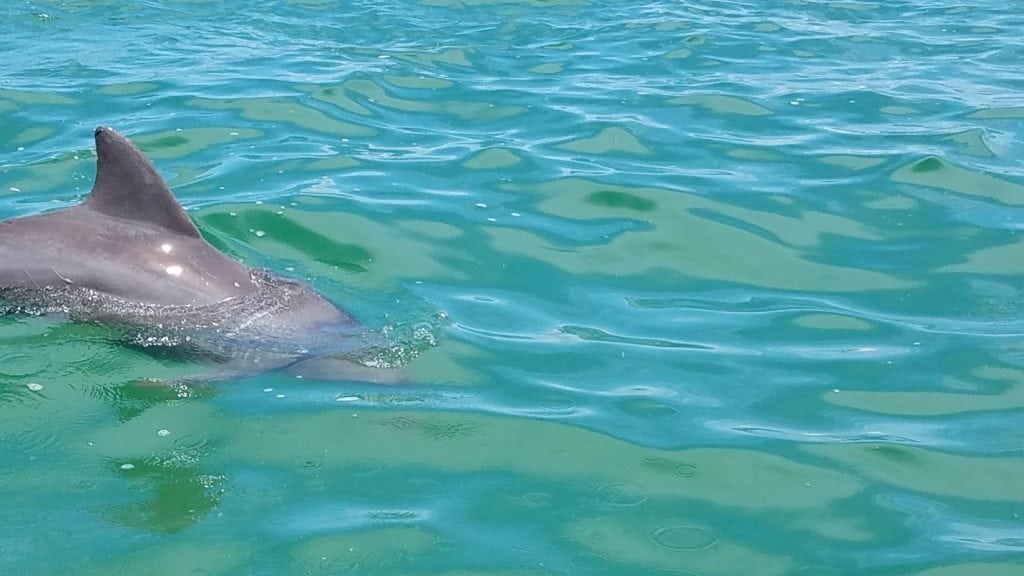 I was thrilled to see something else new on this trip–dolphins! My son Blake, who came with me to Clearwater, and I were absolutely mesmerized by the abundance of graceful and playful dolphins. I've never seen so many dolphins in the wild! So dolphins and Clearwater have become synonymous…. always and forever connected in my mind. With Clearwater Marine Aquarium hosting Winter and Hope, that would seem obvious. However, on every boat ride we took – even the ones where we were not searching for dolphins – we saw them. Some were quietly lurking on the perimeter of the boat–just watching. Others were completely ignoring us and busily diving for their lunch–showing us just enough of their beauty to make us want to chase after them! Still others seemed to be playful and friendly–jumping and swimming close as if to invite us in for a race. We were even able to enjoy watching them from the Bistro on the 6th floor of the Hampton Inn.
My Clearwater Beach trip had one more very big difference, the most important one. This time I shared it with my youngest son, Blake. I had the opportunity to introduce him to the new Clearwater Beach. He shares about it from a teen's perspective. https://hiphomeschoolmoms.com/what-clearwater-beach-has-to-offer-from-a-teens-point-of-view/
Thank you for giving me the opportunity to rekindle this long-dormant love affair with your beach! My son has now caught the travel bug and has fallen in love with your beach's beauty. We can't wait to return!
If you love this article about Clearwater Beach, don't miss this article about Clearwater Beach Marine.